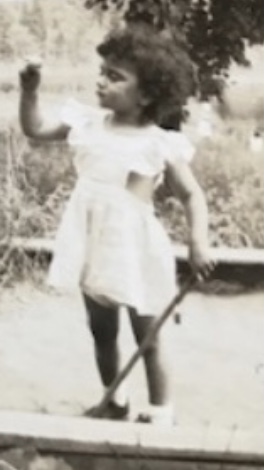 What a cutie!   But seriously I'm here to give you some advice.
Be a more adventurous eater,  try the sushi.
Don't fight with your mother so much,  you'll find out later she was usually right.
Practice the piano so you can play something besides Fur Elyse.
Don't abandon your theatre dreams and someday you may be a star.
Forget that lucrative job offer and join the Peace Corps.
Buy the shoes and eat the cake.
Take marriage more seriously and maybe you'll get it right the first time.
And please check back every few years if you're not too busy.
RetroFlash / 100 words
Dana Susan Lehrman
Dana Susan Lehrman
This retired librarian loves big city bustle and cozy country weekends, friends and family, good books and theatre, movies and jazz, travel, tennis, Yankee baseball, and writing about life as she sees it on her blog World Thru Brown Eyes!
www.WorldThruBrownEyes.com
Characterizations: funny, moving, well written