I suppose most memorable family vacations have something that goes wrong.  And so, I remember our trip in 1962.
I suppose most memorable family vacations have something that goes wrong.
It must have been something my father planned.  We had arrived a number of months earlier in Dacca (now Dhaka), and it could have been a December school break, but I think the trip was mostly designed to make my mother happy.  She had found her life since arriving there stultifying–no job, hard to find a crack in the male-centric culture where some women wore burkhas, a tiny ex-pat community in a poor, struggling and crowded land of heat and flooding.  Although she prided herself on doing the unusual and getting to know the world, this was not going well.
Why not explore, maybe something a little out of the way?   The plans sounded great–a train ride, a trip to India with a rich heritage of festivals, an ocean beach. And so we headed off to Puri.
The train:  My mother and father, younger sister (ten years old) and I (twelve) set forth on the short, bumpy airplane ride to Calcutta, where we were to take the overnight train.  We would eat on the train, bunk down, and then awaken to the oceanside town.  Unfortunately, the reservations we thought we had, we didn't.  If we wanted to get there, we could go in the second class car however.  Some eye rolling and exasperated looks ensued, but with no real alternative, we did.
The car we boarded was crowded, but it did have seats, and we found two wooden benches facing each other with everything else crammed in helter-skelter.  People had brought along food and bags overstuffed with assorted possessions; we stuck out with our Western dress, luggage and pale faces.  As far as I knew, everyone was friendly enough, if bemused.  This would be a long, long, long trip.  At every stop, vendors would thrust bits of food through the windows, and we might have bought something (I seem to remember oranges), since there was no dining car option and we hadn't planned ahead.  It was hot, of course, and so the windows were open, but the precious breeze also bore smelly soot and cinders from the smokestack as we screeched along.  We didn't talk much and tried to make the best of it.  My travel outfit of cotton plaid skirt and weskit, and everything else, was coated in gray grime by the time we arrived.  As hours wore on and darkness fell, we tried to sleep sitting up, while those around us settled in, leaning on each other, and took over every spare spot, be it the floor or the luggage racks.  Finally my sister was able to squeeze in a spot in the rack above us, and I dozed on and off.  I doubt either parent slept a wink.  There must have been a toilet option; I think I remember seeing the railroad ties passing underneath it.
The town:  At last, sleep-deprived, grumpy, and definitely worse for the wear, we arrived.  It was morning; streets were bustling and full of color.  We took a taxi through town to our hotel, as my mother took pains to educate us about the fabulous yearly Jagannath parade, famous for enormous ("juggernaut") floats to honor the gods.  The dense crowds would press in and people would throw themselves under the giant wheels and be crushed, according to European descriptions she had read. (Although, according to Wikipedia, it seems most likely that deaths would be accidental, not sacrificial.)  In any case, it made a big impression on me, and I was horrified.  We weren't there at the time of the festival, but I cast a wary eye as we drove through the streets, just in case we would run into an unexpected crush of people and gargantuan rolling floats.
What I did notice were many people with enormous limbs, grotesquely enlarged to several times the normal size.  This was elephantiasis (lymphatic filariasis), the result of endemic parasites that block lymph drainage, and a local scourge.  At some later point, we visited the Jagannath temple, but were disappointed that we were only allowed on the outside, where a scattering of people begged, many afflicted by the parasite.  No parades, no colorful temple interiors, just a suggestion of what might be, tempered by the reminders of earthly sufferings.
The ocean:  The hotel was a sort of low whitewashed colonial-style bungalow with exuberant bougainvillea in front of the verandah, its charm not completely making up for the heat.  Of course there was no air-conditioning, although it had big, slow ceiling fans in the darkened rooms.  Across the street was the wide expanse of dirty sand, stretching off in both directions.  The ocean air was a relief. The beach was fairly empty, but there were some very persistent hawkers who came by every few minutes with simple beaded necklaces, woven hats and bags, which we dutifully purchased.  It turned out that the ocean in these parts was known for its fierce undertow, and we were advised to hire one of the fellows with the strange pointed white caps that identified them as lifeguards.  My mother had never been much of a beach person, and this did not convert her.  She knew about undertows from living in San Francisco–the Pacific Ocean there is also famous for its treachery–and she spent most of the time nervously eyeing her children in the waves with the guardian white caps, fearing they would be swept out to sea at any moment. This was not turning out to be a vacation to cheer her up, and she was not one to hide her opinions.
We stayed there a few days.   It was, indeed, a break from Dacca, and we kids were fine, and we did take away memories.  I imagine that my parents found their main source of enjoyment in their cocktails on the verandah–in truth, no small comfort.  Words may have been exchanged. I remember little of the return trip, but am confident that it did not include cinders flying into the open windows.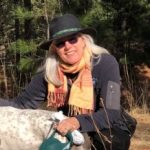 Khati Hendry
Characterizations: moving, well written