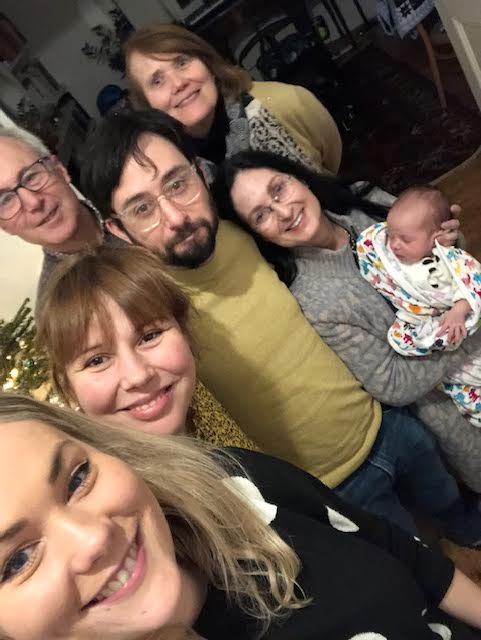 I come from a long line of family photographers. I love my family history and the information that is embedded in these old photos. I am fortunate to have some dating back many generations. I like to keep the tradition alive. The photo below is the oldest photo in my collection. It is undated, but based on the age of the sitters (my great grandparents) and type of clothing, I date it to the late 1800s. These are my father's maternal grandparents. His grandfather was the root of the depressive gene and did not live into old age, unlike his wife, who will be seen again, surrounded by her five children.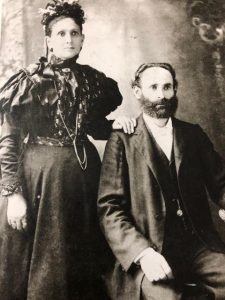 My paternal great grandparents, Hannah and Samuel Prenksy.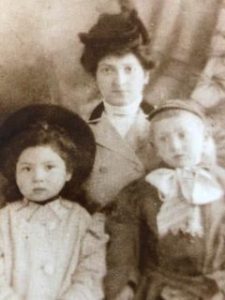 My maternal grandmother, Belle Potoksky (changed to Perlis) Stein, and her oldest children, Anna and Joseph. I believe this is before they emigrated to this country, so taken about 1905.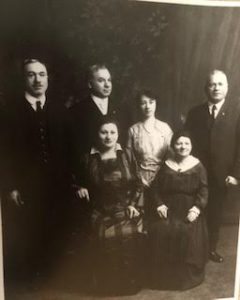 My paternal grandfather's family. Sam Sarason is standing, on the left, with the mustache. He died in 1943. Brother Ben had no children. On the right, brother Jacob has a son (also named Ken, like my father, named for the same grandfather) and a daughter Rae, who was a favorite cousin of my father's. Sisters were Yetta, Pauline and Eevia Rifka, whose family ran the kosher dairy in St. Louis. Pauline's husband worked with Sam, running the general stores in the MO, MS and AK territories.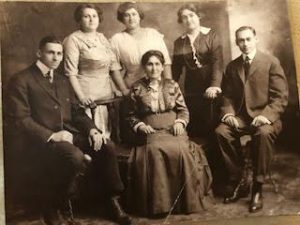 My paternal grandmother's family with elderly Hannah in the middle. From left to right, Joe, my grandmother Lizzie, Sarah (who had no children), Fannie, Meyer, who changed the family name from Prensky to Prentis in 1925, as he ascended in the corporate ranks in General Motors. This photo is from the early 1920s.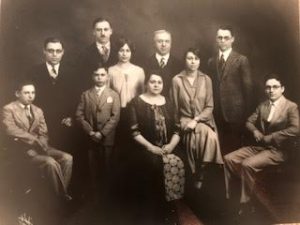 My father's family, 1926. His parents in the center (Lizzie seated, Sam behind her, my 12 year old father, standing to left of his mother).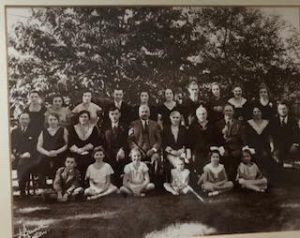 Dan's mother's family, the Bravers. His grandmother, Bessie and grandfather, Harry are the last two people in the second row on the right. Their three daughters seated in front of them. Dan's mother, Gladys on the right, at the end of the row, beside her two sisters and young cousins. She was born in 1927, so this photo dates probably to 1932.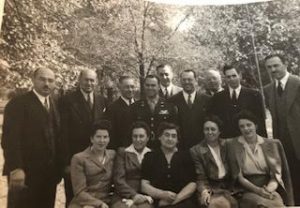 The Sarason family (with in-laws, Aunt Fannie, her husband and Uncle Meyer Prentis), gathered for their father's funeral, November, 1943. My father is in uniform, in the center of the photo.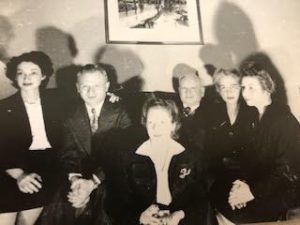 My mother's family at her engagement party, 1946.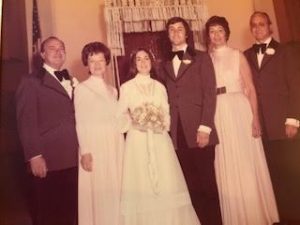 Our wedding, June 16, 1974 surrounded by our parents.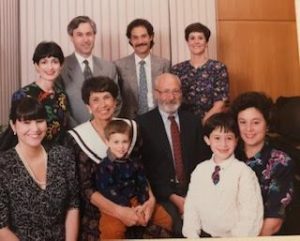 Gladys Pfau's 65th birthday party, surrounded by her five children, me and her two oldest grandchildren, September 12, 1992.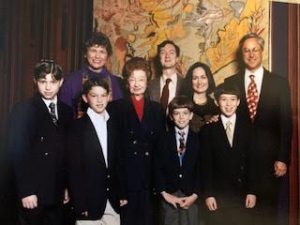 Sarason family at David's bar mitzvah, Oct. 10, 1998.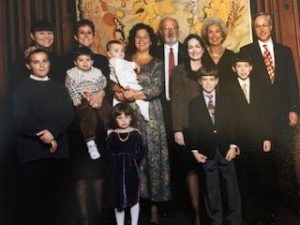 Pfau family at David's bar mitzvah, Oct. 10, 1998.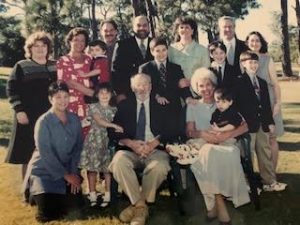 Dan's parents' 50th anniversary party, December 25, 1999.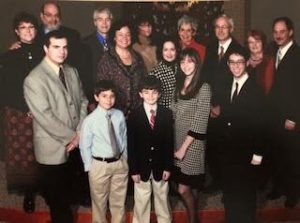 Rachel Pfau's bat mitzvah, December, 2009.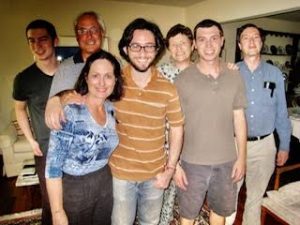 Sarason/Pfau family gathered after our mother's funeral, August 17, 2010 (Vicki was in CA at her last week of her summer internship).
Pfau family gathered for nephew's wedding, Sept, 18, 2021.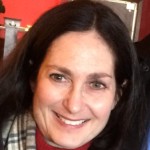 Betsy Pfau
Retired from software sales long ago, two grown children. Theater major in college. Singer still, arts lover, involved in art museums locally (Greater Boston area). Originally from Detroit area.
Characterizations: moving, well written