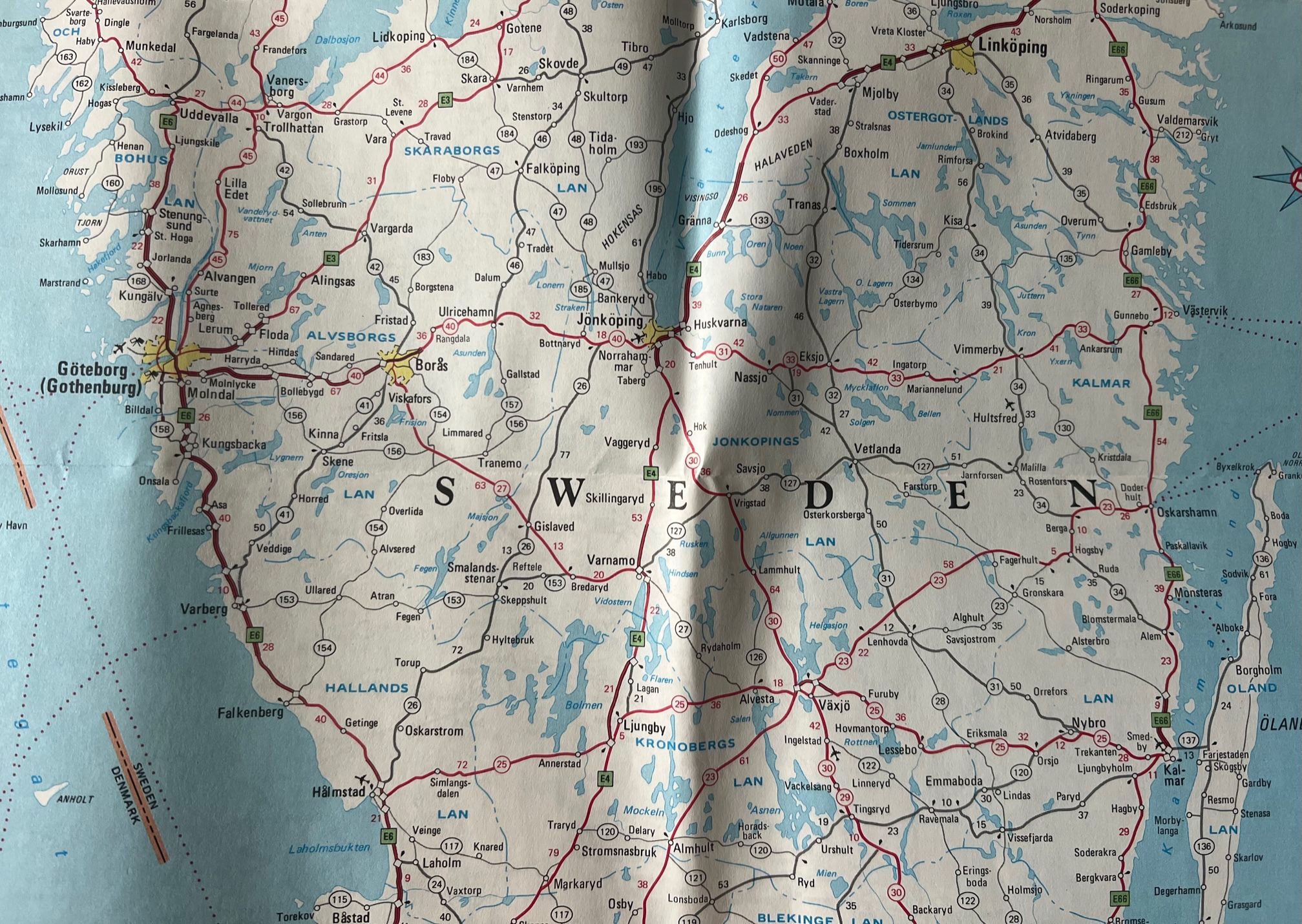 "Hi mom, it's me, calling from Sweden."  This will have to be short.  It is expensive.  "When was Grandma born?"  "What was her father's name?"  I need some crumb of information if we are to have any luck tracking down relatives, and this was all unplanned. 1897.  Carl Corsberg, from "Smaland". That will have to do; she knows almost as little as I do.
And yet there we were, in the middle of southern Sweden, at the Swedish Emigrant Institute, full of old ship manifests, church records, US and Swedish census data, microfiches.  It was now or never.  It was 1998, and we were on a road trip through Scandinavia.   At the last minute, researcher Sally had discovered that we would pass through Vaxjo, the site of the Institute, on the way to Stockholm, so why not try to track down my Swedish genealogy?  About which I knew nothing, other than those few fragments just now gleaned from my mother.  I was the skeptical eye-roller.
It is not so easy to research Scandinavian names.  Historically, most Swedish family names changed each generation, taking the father's first name (e.g. Nils Anderson) and turning it into the child's last name (e.g. Gustav Nilsson), whose own child would be, say Sven Gustavson—and so on.  To make it worse, there seemed to be a recurring handful of names  (Magnus, Sven, Gustav, Karl, Peter, Anders etc).  And "Smaland" is not a town, but the region of Sweden from which came most of the many thousands of emigrants who left in the late1800's.  In fact, so many emigrants went to the Midwest, the Institute sponsors annual "Minnesota Days" reunion events.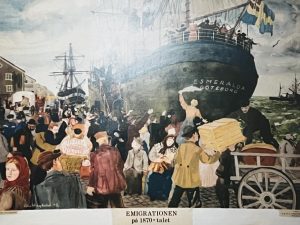 The young man on the staff who helped us, reluctantly at first given our meagre information, got more excited when he found the name was unusual;  Corsberg (in Swedish, Korsberg) was probably a place name, possibly adopted from a stint in the army where "knekt" names were used to distinguish between all the fellows with identical names. There was hope.
He quickly dug out evidence of Korsbergs, at least one of them born in Korsantorp (close enough to make it the source of a knekt name), others from Brunshult, both spots reportedly close to Hjortsberga (the only name on any map), and not far from where we were in Vaxjo!  The chase was on.  We hazarded fruitlessly through one lane roads in forests and farmlands in the general direction of Hjortsberga, hoping for some revelation in the red or yellow painted wooden farmhouses scattered over the landscape.  No magic.
Shadows lengthened, and we made our way to Hjortsberga, where we came upon the inevitable town church.  Figuring that we might as well make use of what remained of the late summer evening, we ambled through the graveyard with little expectation, armed with a rudimentary list of names from the Emigrant Institute.  And there were the headstones!  Korsberg, Brunshult: bingo.  Unbelievable.
Who knew, maybe some relatives still lived in the area.  On the street was a phone booth, with a phone book (not unbelievable in 1998).  Go ahead, look inside.  There were indeed a few Korsbergs.  I had to be prodded to make a cold call to a random name, and struggled when a Swedish-speaker answered.  But Ingalil connected me to daughter Lina, who knew some English; when she understood the outline of our story, she thought maybe we should speak with Vivi, the widow of an elderly Korsberg who still lived out on the old family farm.  We were invited for coffee and cake (what else?) the next day.
Vivi lived in a red farmhouse out in the countryside–we may even have passed it the day before.  In the grass on the side of the road, sat an ancient engraved stone reading "Brunshult"—not a town, but a place.  And so we met up with Ingalil, spouse Bo, Vivi, and son Matts to sit around the table, tell stories through Lina our translator, and pore over an ancient bible with names on the frontispiece.  The family tree we had constructed made clear how the farm would have passed from oldest son to oldest son, which matched up with Vivi's deceased husband and his parents.  There was lots of smiling and nodding to make up for the language gap, and piecing together the old records was a bit of a stretch, but everyone was willing to give us the benefit of the doubt that there could be some family connection.  Of course, I had brought no pictures or documentation from the US, just my word.
Then suddenly Vivi's face brightened.  "Oh," she cried, "the Americans!"  She disappeared up the stairs and returned with an old photograph.  There was Carl, the son who had emigrated, with the wife and children he had acquired in Colorado, sitting proudly in a formal group picture.  And the daughter the front row, the last one on the left, I recognized–my grandmother Esther.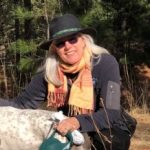 Khati Hendry
Characterizations: moving, right on!, well written