A quick list. Good riddance to a number of things, some of which passed through my life but briefly, others that lasted a long time.
P.E. class.
Prayer meetings.
Striving to be a Virtuous Woman (a la Proverbs 31).
Carbor paper, and typing up multiple copies of office memos for distribution and filing.
Bow tie blouses and power suits as requirements for being taken seriously in a career.
Worrying about whether others take me seriously.
Birth control.
Diapers.
Hiring babysitters.
Tampons, and the biological imperative that necessitated them.
Good riddance!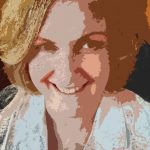 Susan
Characterizations: been there, funny