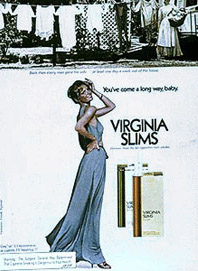 If you don't remember that slogan, lucky you.
Growing up with smoking is the best deterrent.
Growing up, every adult I knew smoked. In the house, in the car, in restaurants, and remarkably, on planes. It astonished me that people were allowed to light fires in a contained space at 30,000 feet, but there wouldn't have been any passengers otherwise. I can only imagine what we smelled like then. Years later, as smoking waned, we'd come home from an event where it was allowed and have to air out our clothes and wash our hair.
So, in perfect Madison Avenue fashion, smoking was marketed to women as being liberating and cool: "You have your own cigarette now, baby." Wow, lucky us. And what distinguished this puppy: it was longer and slimmer than regular ones. Yup, because a woman could never be too slim or too sexy. That's the progress we fought for!
Patricia
Patricia is a co-founder of Retrospect, and generally can be found two standard deviations from the mean on most issues. Lover of chef's tasting menus, cute shoes, and the music of Brahms.
Characterizations: been there, right on!, well written