When my mother died, I inherited her photo albums. She had been meticulous about keeping photos in these albums and taught me to do the same. Taking them apart and deciding what to do with my parent's memories was a sad and labor-intensive task. I vowed I would cull through my own albums so my children would not have to decide what to do with over 50 albums I had stored in my attic.
For some pictures, it was easy to say good riddance. But the photos of people I love – that's another matter.
For some pictures, it was easy to say good riddance. Like my mother, I had filled albums with photos of scenery. These were fun to look at in the afterglow of a vacation, but easy to toss as the memories of beautiful landscapes faded with the years. But the photos of people I love – that's another matter. My decision to remove them from the albums, discard the ones that didn't hold meaning, and scan the best ones into my computer was incredibly time consuming. As I closed in on 2003, the year we bought a digital camera, my impatience and frustration approached a breaking point.
I know. I could have sent the pictures to a service to have them digitalized and put on flash drives. But I would still have to have dismantled those albums and decided which pictures I wanted to keep. Plus, I wanted to edit the photos I was keeping. As I lightened one that was dark, there was my grandfather in the background. Some needed cropping and most benefited from a touch up here and there. Now the last of those bulky albums is headed to the trash. Good riddance to that and to this tedious task.
I gave each of my kids a shoebox filled with pictures of them and their kids, with my blessing to do whatever they wanted with these. Look, laugh, and toss. Save some or all. They were out of my house, which felt pretty good. Interestingly, they all liked the ones of their children I had printed out over the years to frame or put in grandmother brag books before my phone took over that function. You see, they have so many more pictures of their kids than I ever took of them, but their vast collection of pictures resides on their phones. I still love actual photos in frames, and I think they were struck by how nice it was to see baby pictures of their kids that they could actually hold.
The result of this project is that I now have all of the important pictures on my computer, and I saved the very best organized by year in one of these: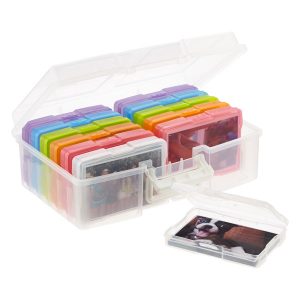 You can get them in craft stores or on Amazon. One year in each little case (except for very special years that required two cases) and four larger cases altogether. That's so much easier to manage than 50 large and heavy albums. I feel pretty good about this achievement. But letting go of sentimental things is just not in my wheelhouse, so now I have yet to figure out how to part with the framed photos, the ones I love best, all over my house.
In addition to tossing so many photos, I organized the pictures of special vacations and events (only snaps that included people) into paperback photo books via Mixbook. There are many online services that help to produce condensed and light-weight memories. I just can't let go of these yet. My last project, a trip to Alaska in 1998, is about to hit the scanner.
I guess I have merely edited my photo collection, just as I will have to edit all of my belongings when I decide to let go of this big, old house of mine where I have lived in for 43 years, and downsize. But for now, baby steps. As I tossed each empty photo album in the trash, I thought good riddance to that. I have kept the important part, the memories, on my computer and in my head.
As Paul Simon said in his song Old Friends,
Time it was
And what a time it was
It was . . .
A time of innocence
A time of confidences
Long ago . . . it must be . . .
I have a photograph
Preserve your memories
They're all that's left you
Of course, now I have to organize all of those photos that live on my computer. And cull through the framed photos that inhabit every room of my house. I guess there are a few I could junk, but how do I get rid of old family photos like these?

I invite you to read my book Terribly Strange and Wonderfully Real and join my Facebook community.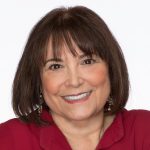 Laurie Levy
Boomer. Educator. Advocate. Eclectic topics: grandkids, special needs, values, aging, loss, & whatever. Author: Terribly Strange and Wonderfully Real.
Tags: photos, memories, downsizing
Characterizations: well written