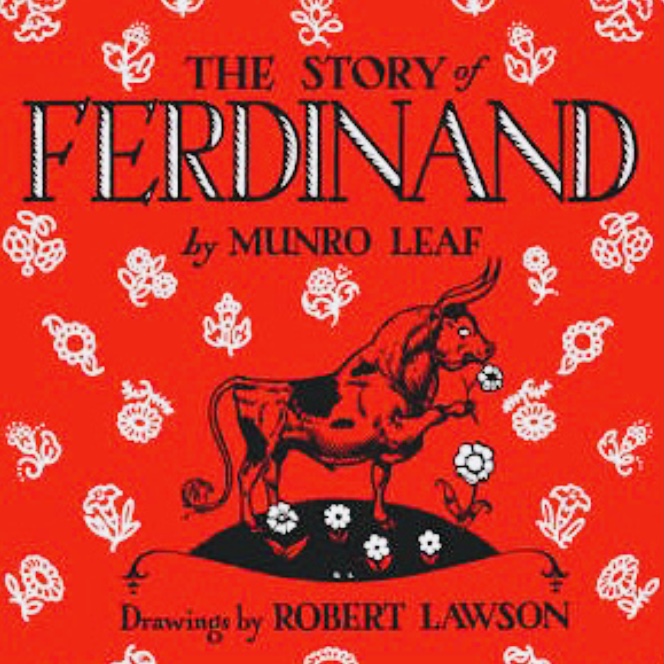 "Once upon a time in Spain there was a little bull and his name was Ferdinand."  So begins one of the most cherished children's books of our time,  and my own childhood favorite.
The Story of Ferdinand,  written by Munro Leaf and illustrated by Robert Lawson,   was published in 1936 while across the Atlantic the Spanish Civil War was raging.
But as a child I was oblivious to the book's anti-Fascist,  anti-violence polemic,  nor attuned to it's message of acceptance for children with differences.
And I certainly didn't know that Hitler had ordered the book burned as degenerate literature,  or that in Franco's Spain it was banned as anti-Fascist propaganda until the death of the dictator decades later.
And I don't think I was bothered at the time by the concept of bullfighting,   perhaps I was too naive to realize that the bull always loses.   I simply loved the book for it's sweet,  funny story,  and it's delightful illustrations.  (Decades later on a trip to Seville,  and against my better judgment,   I went to a bullfight that haunts me to this day.)
Of course you may know the story –   unlike the other young bulls who love to run and buck,  Ferdinand is content to sit under a "cork tree"  and smell the flowers.    And when by a serendipitous and humorous twist of fate he's taken to Madrid to fight in the bullring,  he catches the scent of the flowers in the hair of the lovely senoritas.   He sits down in the middle of the ring to enjoy the smell,   ignores the provocations of the disgruntled matadors,   and as he won't fight,   he's sent back home.
Ferdinand's mother worries about her unusual progeny,  but she sees he's neither lonely nor unhappy,   and so leaves him to his peaceful pursuit because – as Munro Leaf so wisely tells us –   "she was an understanding mother,  even though she was a cow."
What a better world it would be if we all stopped to smell the flowers,  like that little Spanish bull named Ferdinand.
Dana Susan Lehrman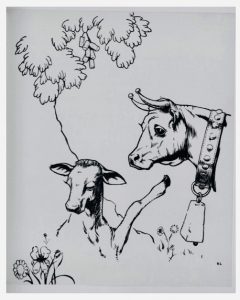 Dana Susan Lehrman
This retired librarian loves big city bustle and cozy country weekends, friends and family, good books and theatre, movies and jazz, travel, tennis, Yankee baseball, and writing about life as she sees it on her blog World Thru Brown Eyes!
www.WorldThruBrownEyes.com
Tags: Ferdinand, Bullfighting, Spain