Example 1: High School, 1968. Trigonometry test. I walked by the desk of a girl I liked – not romantically, but a nice friend. I looked at her test sheet, and quietly said words to the effect: "problem 12 – divide by two." She did, thereby earning 5 more points. My rationale: She obviously understood the problem and the math; why should she get penalized by a brain fart? And maybe she'll be nice to me.
Example 2:  One of the sillier features of "advanced" high school mathematics textbooks and introductory college texts on the same subject is to put answers to the problem sets in the back of the book, but only give answers to the even or odd problems. For the same trigonometry class described above, we had the teacher's edition on the bookshelf at home, no doubt given to my father by virtue of his employment on the math faculty at Cal Poly in San Luis Obispo. In that edition, the answers to all of the problems were in the back.
Did I use the teacher's edition, complete with all the answers for my homework assignments?  You bet. I found it an efficient way to learn. You do the problem, and if the answers I got didn't agree with the book, I reworked the problem, sometimes beating my brains out, until I got it right and understood how to get there.
So far, so good. Since I always did my homework, and showed my work, no problem, correct? Well . . . at the end of the semester, our homework scores were added to the score on the final exam in arriving at the grade for the course. I routinely figured out that I needed a 6 or so on the final (out of 50) to score an A for the semester. So I had an advantage.  My rationale: I learned better, and wouldn't need the homework scores anyway to raise my grade on the final. My clone brother, also in the class, had a different moral view, and he never looked at the teacher's edition.  (This added to my sometime nickname of the evil twin). Years later, he asked me why I took the approach I did. I gave him the answer again – I figured this was a better way to learn – and  much to my surprise, he said, "Ok. Makes sense to me."  So people's views do change.
Example 3: College: 1971: Elementary Intensive Russian. Double credit. Hard. For absolute beginners. Except the best students in this class had at least a year of high school Russian, but didn't think (I guess) that they were up to the intermediate level course. Or maybe they wanted an easy A for a six-hour course. So they breezed through and others of my ilk struggled – I struggled, and after a single semester of intermediate Russian the next year, the professor said, "Mr. Ed, we like you. You work hard. But you should not take any more Russian."  Years later, after having read "The Spy Who Came in From the Cold" I arrived at a way of feeling good about this: The CIA recruited from these classes, and my non-language Econ classes and other papers might have interested them in me.  But "ne govoru po-rooskii."  Thank God, perhaps. I would have made a lousy CIA agent, had I survived at all.
Example 4, from family lore: One's career as an officer after graduating from West Point, the Naval Academy, and I presume, the Air Force Academy, is enormously enhanced by high class standing, and severely limited by graduating in the lower half of the class. High class standing is notably reflected in choice of assignments and promotions. (There are exceptions; Dwight Eisenhower is probably the most stunning example of a Cadet at the bottom of  his class rising to the highest ranks.) At any rate, in WW II, the Army drafted my father, like most all college men, and shipped him to boot camp. Those who scored high on their written diagnostic tests were asked (or sent?) to officer training. Some of those spent a year or two in college, now on the Army's nickel, and then were admitted to the military academy. Such happened to my father, who, as a result, never saw combat in WW II. But the point of this example is that he had already spent two years at the Colorado School of Mines, got drafted, had another year at Amherst College, and then went to West Point.
West Point's math and engineering program was rigorous, and many still flunk out today because they cannot pass it. Electrical Engineering claims many victims. (The Naval Academy, I'm told, has a less rigorous course.)  My dad had already had these courses at the School of Mines and Amherst, so he breezed through the science and math, and got his first choice (as a high ranking graduating cadet) when he was finally commissioned as an officer. He saw no combat and served his time without incident, although he had a few close calls flying B-36's. Did he cheat and receive a higher class rank as the result of taking hard courses twice? I don't think so. But others in his West Point class who didn't have the class standing to escape dangerous combat suffered severe casualties in Korea. Nevertheless, if this week's prompt is broadened to encompass taking advantage of unfair advantages, and because West Point was basically his second (or third) bite at the academic apple, maybe he did have an unfair advantage, akin to cheating, which may have saved his life. It's impossible to run down the what-if's in this story, and and we never discussed the ethics of it. The only close reference was an off-the cuff comment he made, saying, "It's easy, ICTB," meaning, it's easy, "if course taken before."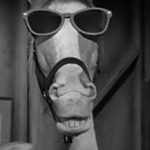 Mister Ed
Characterizations: been there, funny, right on!, well written