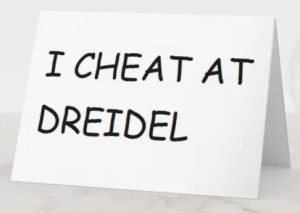 Not 'ha, ha' funny but what is funny is I immediately thought of romantic cheating and not competitive or educational testing cheating. Hmmm.
Here are some interesting 'facts' I found out about 'Relationship Cheating':
The French cheat  more often.
Marriage counselors consider faking orgasms as cheating.
Most mammals are polygamous.
Social media has led to more cheating – going back in time to revisit old flames.
Do those people who lack the 'cuddle hormone' and have a medical excuse?
Statistically most people have or will stray.
Beware: Illicit liaisons occur most often on Wednesday afternoons.
Christians admit cheating more often than Jews – my guess is that the Old Testament God is less forgiving?
Blonds cheat more often then non-blonds.
Summary: I will share my email and phone passwords with my future significant other.
P.s. I am not Jewish but I thought the 'I cheat at Dreidel' image was funny.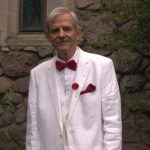 Kevin Driscoll
(Mostly) Vegetarian, Politically Progressive, Daily Runner, Spiritual, Helpful, Friendly, Kind, Warm Hearted and Forgiving. Resident of Braintree MA.