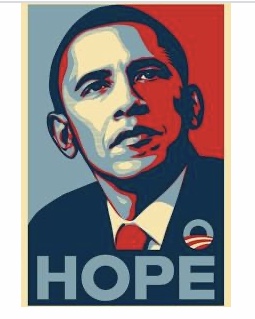 My folks, and my uncles and aunts were always politically active and die-hard liberals ,  and as children my sister and I and our cousins were used to hearing political rhetoric around the dinner table.
Yet despite that red diaper babyhood,  I was seemingly apolitical and remained so well into my own adulthood .   I don't know why,  perhaps as a reaction to my passionately political parents,  or because of my own non-aggressive personality,  or a desire to avoid confrontation at any cost?
When conversations turned to politics I would often clam up,  probably to the bewilderment of many friends,  and always to the annoyance of my husband.   He's a news junkie,  is very opinionated,  and always ready for a political debate himself,  and so he'd call me a Pollyanna.  He'd tell me I was living in LaLaLand,  saw too much theatre,  read too many novels,  and obsessed over unimportant things like color schemes and redecorating the apartment.
And then suddenIy in 2008 in my 60s I awoke and I realized that getting Barack Obama elected was more important than staying in my comfort zone.    I went to Doylestown, PA  with my friend Toby to work for the Obama campaign and get out the Democratic vote.
On that electrifying election night Toby and I stayed on the phone together waiting for the returns, and when they were in we cheered over the wires,  taking full credit when Pennsylvania went Blue!
And now with another election looming in the midst of Covid,  and in the midst of the biggest fight of our lives,  we all know what we must do.   Put on your mask and go get out the vote.
Dana Susan Lehrman
Dana Susan Lehrman
This retired librarian loves big city bustle and cozy country weekends, friends and family, good books and theatre, movies and jazz, travel, tennis, Yankee baseball, and writing about life as she sees it on her blog World Thru Brown Eyes!
www.WorldThruBrownEyes.com
Tags: Barack Obama, Political Campaigns