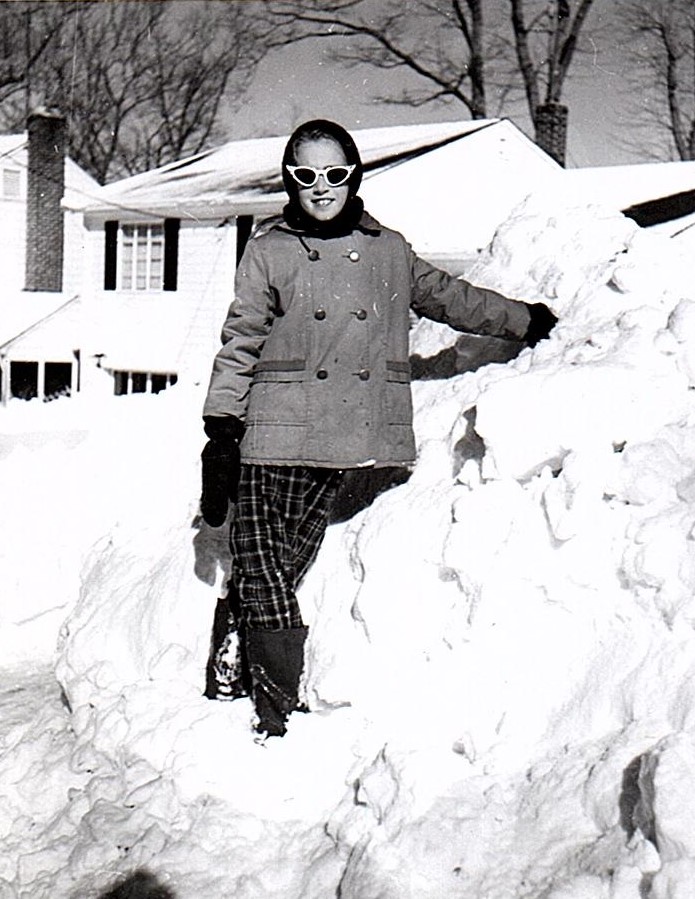 Since I moved to California in 1972, I have rarely missed snow. I especially don't miss shoveling the driveway, the school bus skidding on black ice, and sliding around the Brandeis campus on a cafeteria tray because I'd otherwise take a tumble. In California, we can drive to the snow if we want to experience it. I remember fondly one series of snow days from my childhood, and, not so fondly, a harrowing mountain drive in snow.
"Uh, John," I asked, "have you ever driven in snow?" "No," he replied. "Is that a problem?"
In February, 1961, when I was seven, New Jersey had what my dad called "The Great Snow." There was so much snow over a short time that school was canceled for an entire week, and my dad didn't go to work. When not hunkered in their houses, people in on our block, even the adults, went sledding down the street. At first, the snowdrifts were so high that they not only were over my head, but were almost above my mom's head. Shoveling wasn't even an option for a while. I remember that week being a lot of fun (as long as I wore my sunglasses as pictured to prevent my eyes from tearing), alternately playing outdoors and returning home for hot chocolate.
Many years later, in late 1983, I was dating John, a native Californian. He invited me to come with him to Colorado for the New Year's holiday. We were to visit his brother Michael and girlfriend in Denver, and then continue to a two-bedroom condo in Copper Mountain, where we could cross country ski, ice skate, and celebrate the beginning of 1984. All went well in Denver as we got our rental car, drove to Michael's house, and acclimated to the altitude for a couple of days. However, I noticed that John wasn't familiar with operating in the cold weather, for example, leaving doors open for the heat to escape.
A few hours before we were to leave for Copper Mountain, Michael announced that he had invited another couple to join us. Soon they tromped through the door with grocery bags. Although they didn't appear pleased to see John and me, I thought it was generous of them to provide food to share, until I saw that the bags contained nothing but bottle after bottle of hard liquor and the occasional cocktail mix. Six of us couldn't fit into one car, so John and I had to drive up to Copper Mountain in the rental car, following Michael and the others.
As we were getting into the car, Michael approached and said to John, "There's a lot of ice and a prediction of snow in the mountains. Remember about how not to use the brakes." John looked at him, completely puzzled.
"Uh, John," I asked, "have you ever driven in snow?"
"No," he replied. "Is that a problem?"
Driving in the Rocky Mountains to an altitude of more than 10,000 feet over icy roads? Yup, that's a big problem, I thought. "Move over, John, I'm going to drive," I said.
As I got in the driver's seat, I rewound my mental tapes for snow and ice driving. It had been about a decade since I'd had to do it. Over the following several hours, I managed to follow Michael's car a lot of the time. The Rockies lived up to their name with rugged roads, sharp turns, and huge cliffs that I tried not to look at. The mountains must have been beautiful, but I dared not look at anything except the road ahead.
Despite the occasional snow flurries and large trucks in our way, we arrived without incident. I was sufficiently drained not to be upset about being relegated to the living room's pull-out sofa as the recently invited couple, after plunking the liquor on the kitchen counter, beelined toward the bedroom that we'd been promised.
The next few days were pleasant, as John and enjoyed the snowy scenery that was spectacular, despite unexpected bouts of altitude sickness. We were so short of breath that we couldn't go cross-country skiing. Drinking alcohol in any amount was out of the question, as we endured the sneers of the hard-drinking couple and the smirks of the waitress in the restaurant ("lowlanders, I see"). At last, a few days later, I went ice skating on the huge lake surrounded by mountain peaks. We took a midnight sleigh ride through the mysteriously quiet countryside, with snowflakes falling on our noses.
Soon it was time to make the scary descent from Copper Mountain back to Denver, which frayed my nerves as I gingerly steered and rarely braked. Major gratitude when we arrived in one piece. We were eager to get away from the booze-soused couple, hop back on a plane, and return to the Bay Area, without any snow. After we landed in San Francisco, we drove back to the Peninsula and, in a gesture of rebellion, went to a Japanese restaurant and had sushi. Copper Mountain might have had magical snow, but at that moment nothing could have been better than the diversity of California.
Thank you to my father, who so assiduously annotated and dated the photos, including the featured image, that I now have from my childhood.
Marian
I have recently retired from a marketing and technical writing and editing career and am thoroughly enjoying writing for myself and others.
Characterizations: right on!, well written