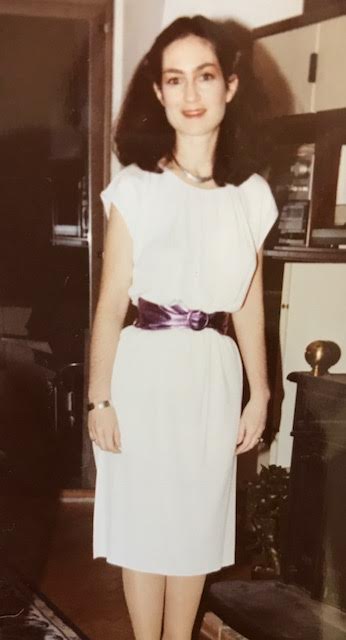 I was rushing to pack for Boston, but took the phone call. It was my client at the Farm Bureau Insurance in Indianapolis, calling to say the signed contract was being FedExed to my office. Perfect way to start my birthday weekend. Dan and I had lived apart for almost 8 months by this point, but we saw each other every second or third weekend and every one felt like a holiday. This weekend included my birthday and his company Christmas party. I had to look outstanding, as none of his friends understood why he "let" me take this job and move to Chicago to start my career in sales. I was going to WOW them.
To that end, I had gone shopping. I didn't have much money, but decided I wanted a "knock-'em dead" dress for the party. This was 1978, the height of disco. A friend referred me to her favorite store in Chicago's Gold Coast and I'd found a dress I really liked the previous Saturday, but wanted a male opinion, so called J-P on Monday. J-P was a client, but we had become good friends. He lived in a high-rise next to my office, had great taste, never made a move on me, claimed his girlfriend was in primal scream therapy (I never met her) and we had fun together, going out often. He was also a six foot tall black guy with a huge Afro. He had an unusual backstory…too long for this tale.
I called and asked if he could meet me at My Sister's Circus over lunch. He warned me he was wearing "George". "What was 'George'"? His full-length fur coat! There was not doubt the folks at the store thought J-P was my pimp, but we didn't care. We were having too much fun. He approved of the dress (which had long slits up both sides and was cut low in the sleeve holes). He taught me to sit like a lady in it. He loved the cinched-in electric purple belt. Later in the week, we shopped for an alternative belt and hair barrettes, as I wore my hair longish with a body wave. I was ready. I still have all of it (I stitched the skirt slits part way up for a little more modesty). I wear the barrettes all the time. (The featured photo was taken four years later before the Cultural Ball, once I had moved back to Boston; I got good use from the dress.)
Dan lived with two other guys in an untidy apartment in Brookline. I rather dreaded staying with them, as no one cleaned. And Dan had just bought his first BMW. He emptied our bank account without asking me. I had threatened divorce and seen a lawyer (my brother's college roommate, but still…I was upset). So this was a delicate point for both of us. He met my flight, took me to his apartment, where I changed and off we went to his company Christmas party. We were staying the night with friends in Norwell, south of Boston, so I didn't have to deal with the dishes in the sink and the all-male bathroom.
And wow them I did! I danced the night away to Donna Summer, Gloria Gaynor, and the other Disco Queens of the moment. Everyone marveled at how stunning I looked, and I could brag that I had closed business that morning. A large group of us went to Locke-Ober for dinner after, a historic, excellent restaurant, now unfortunately shuttered, but really high-end at the time, famous for its Lobster Savanah. Then on to our friends overnight. They made a lovely breakfast for us and we lingered and chatted.
To my great surprise, instead of heading to Brookline, our next stop was Boston. We pulled up in front of the Ritz, the elegant old hotel across from the Boston Public Garden on that crisp winter day. It was my birthday. I thought, "How wonderful, Dan is taking me here for dinner", but he told me to take my suitcase as well. I couldn't believe it: we were checking in! And not just into any room, but a suite with a working fireplace and a view of the Public Garden!
A butler laid a fire in the fireplace, Dan presented me with a dozen long-stem red roses as well as my birthday and Chanukkah presents. For my birthday he gave me a delicate peignoir set. It didn't fit (nothing ever does, but he got a lot of points for the thought) and for Chanukkah (a December baby frequently just gets one big present…not fair!), he presented me with a book by Balanchine describing every great ballet. He knew how I loved ballet. I was taking a wonderful class in Chicago at the time. It was so thoughtful and much appreciated.
We dressed and went to the beautiful dining room. He reserved a corner table overlooking the the Public Garden. By now it was dark and all the Christmas lights sparkled in the vista below. It started to snow lightly and we were engulfed in a magical winter wonderland. It was SO romantic. We had a marvelous French meal, topped off by profiteroles, our favorite dessert. The entire evening could not have been more perfect.
I flew back to Chicago the next day, warmed through and through with all his romantic gestures. Years later, when we talked about that glorious weekend, Dan jokingly said that the snow was the most difficult to arrange.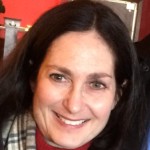 Betsy Pfau
Retired from software sales long ago, two grown children. Theater major in college. Singer still, arts lover, involved in art museums locally (Greater Boston area). Originally from Detroit area.
Tags: Ritz, dream birthday, Balanchine book, romance
Characterizations: been there, funny, moving, right on!, well written