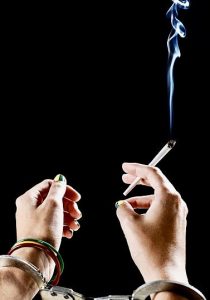 We met in the hospital.
I was in the ER,  24 years old, 5 months pregnant and blistered with hives.
My face was swollen beyond recognition.
The staff doctor was taking tests before administering meds,
They assigned me a room while I waited.
That's when Pamela and her captors arrived.
I remember seeing a policewoman in the open doorway.
She was about 30 years old, tall and thin, gigantic boobs.
She had platinum blonde hair tied in a ponytail.
She was dressed all in black with 5"platform heels,
thick pancake make-up and black liner lipstick,
huge golden earrings, tattoos everywhere,
and a thick silver handcuff on her right wrist.
She was assigned the bed next to me.
The cops attached the cuff to the bedpost,
then stood outside to guard the door.
She sat up, spit her gum in a napkin
turned to me and said
"Hi, I'm Pamela, got a cigarette?"
Just then my nurse appeared with the news.
My rash was diagnosed as an allergic reaction I received
while driving with the window down on the New Jersey Parkway.
I happily swallowed my medication.
She also said they were keeping me overnight.
I never knew why Pamela was admitted, or why she left.
I do remember shadows in the middle of the night,
awkward thuds, muffled threats, loud cursing.
I remember seeing a policewoman in the open doorway
as she escorted Pamela out of the room.
Before I shut my eyes, I saw the silver cuffed wrist,
the long blonde pony tail hanging down
on the back of her black leathered vest.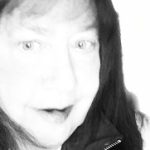 pattyv
Characterizations: moving, well written