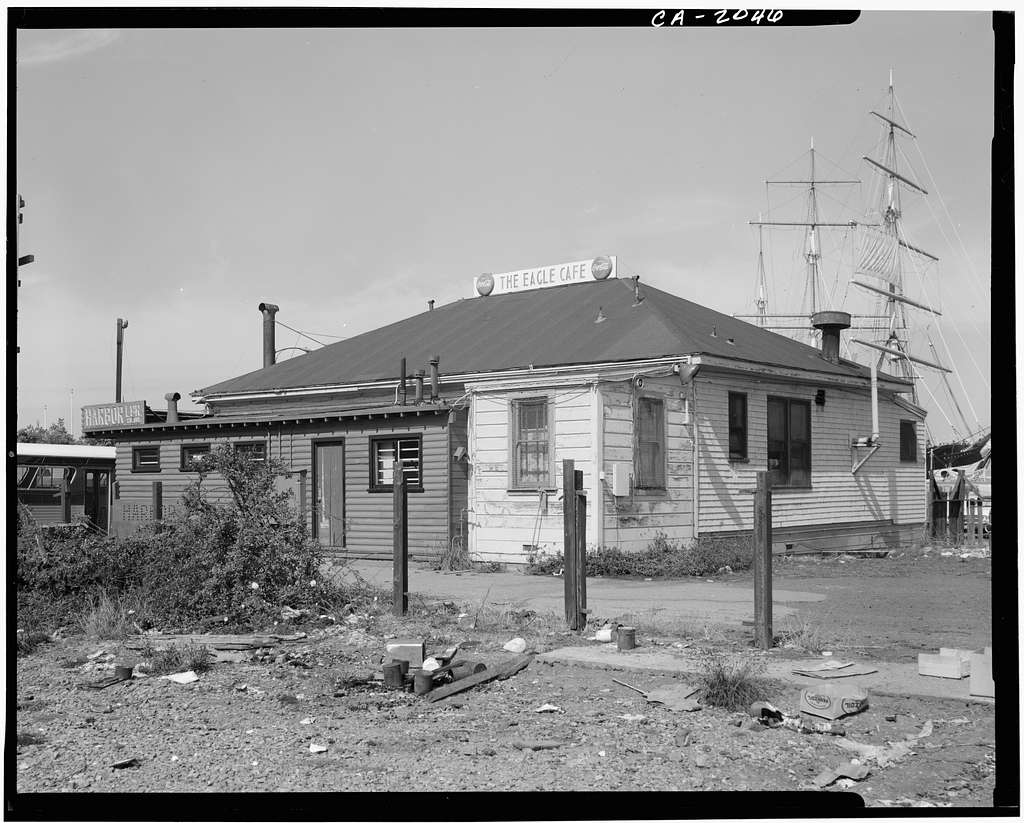 Author's note:  The way holidays were, will be this year, and how I'd like them to be, are vastly different, and so I'm presenting three narratives in one. You can search my previous pandemic stories for how I channel Cassandra. Also note that the Eagle Café pictured in the featured image is the one described in the story. It was later restored and moved to Pier 39, resulting in nothing remotely like the original.
Each year, everyone complained that we were not spending enough time with them.
Holiday Fatigue
Growing up, I really enjoyed Thanksgiving, Hanukkah, and New Year's Eve and Day in all the happy holiday ways and with occasional unusual adventures. About 20 years ago this began to change. In the fall of 2001, my father was seriously ill and we had a scaled back Thanksgiving dinner with immediate family. Between that time and Hanukkah, we cared for him 24/7 until he died on the first night of Hanukkah. As part of a more intimate Hanukkah ritual, each year I add a Yahrzeit candle to the one for the first night.
The next year I met Dick, who comes from a much larger and more interactive family than mine. Two daughters and two of the grandsons live in Auburn, a 2-1/2 hour drive under the best of circumstances, and close to 4 on holidays. Their holiday gatherings are huge celebrations, often lasting multiple days, further enhanced by Dick's birthday being on New Year's Eve, entailing more presents and cake.
After a couple of years of celebrations, the novelty began to wear off, especially preparing food to bring, picking up my mother in Oakland, and somehow incorporating a visit to my brother and sister-in-law, who live on the way to Auburn. Each year, everyone complained that we were not spending enough time with them. I've repeatedly invited the entire clans to our home, but they refuse, claiming they don't want to drive that far (huh?) and that we are the geographical outliers (which is true).
The holidays have become Groundhog Days, feeling like a series of unsatisfying drive-by stops. By the time we return home from a long weekend, I'm exhausted and already dreading next year. Does this sound whiny and ungrateful? Yes, absolutely, but alas, it's true. It doesn't help that after the time change in November my "seasonal blahs," just below the level of full-blown seasonal affective disorder, kick in. I'll write more about that for an upcoming prompt.
Cassandra Visits Again
So, this fall is different, and it's the virus' fault! Cassandra was visiting me in full force, and I knew what was going to happen. Despite the horrific trending of the virus, I felt rescued from the holidays. It was clear that a Thanksgiving get-together would be too risky. No one else in the family seemed to be listening, though. In October we received emails from one of Dick's daughters "Looking forward to Thanksgiving." Later: "Noah [youngest grandson] really wants to see you."
Dick was already planning the drive up and the extra warm clothing we'd need. "I'm very hesitant about this," I told him. Cassandra was looking over my shoulder and hissed in my ear, "Tell them no!" "You're right Cassandra," I thought, "but let's wait it out. I'm already the skunk at the picnic often enough."
"Dick, why don't we wait to make a decision for another couple of weeks and see what the trends are?" I suggested. Dick, being a computer science PhD, is big on trends and data, so this appeal worked. After the election, it became clear that the virus would keep exploding and there would be more restrictions. "Tell them now," Cassandra urged. "Not yet," I whispered. "The data shows that family gatherings are responsible for so much of the spread," I told Dick, "and we don't know the contacts of all the folks who'll be in Auburn." I stopped there.
A week ago, I received a copy of Dick's email to his kids, saying we weren't coming for Thanksgiving. It was too risky. They replied that they understood. "Noah will really miss you," Dick's daughter replied. One of the other daughters indicated that we could have a Zoom like we did for Passover. I replied that I was all for it, and to please invite their dogs so we could see them, too!
After our Zoom on Thanksgiving day, we will have a quiet meal, with gratitude for all we have and thanks that we have stayed healthy through this pandemic.
My Favorite New Year
The year 1976 would turn into 1977 the next day. I was answering phones in an advertising agency in San Francisco and dating Peter. We'd met in my office building's elevator when we were on our way to the agency's office. He worked for a supplier of slides (remember them?) and was delivering some to the art department. Peter had said "Entrez-vous, mademoiselle," and I chattered away in French in reply. He blanched, as I found out later, because those were the only French words he knew.
Peter was the only human being I knew personally at the time who had less money than I did. He lived in a studio flat on Pine Street in the Tenderloin. He would call me from his office because he didn't have a phone. On weekends I'd leave my studio apartment in Oakland and drive to his place because he didn't have a car. Peter moonlighted as a stage technician at the San Francisco Opera with the goal of getting a job in lighting design. He had fun stories about Kurt Herbert Adler, the director, who would check the stage for tacks and debris after each performance.
Finances made our dates very simple, and New Year's Eve must have been no exception. I don't remember a thing about what we did—possibly because of the influence of alcohol and marijuana. But as dawn broke for the New Year, we made our way to the waterfront piers to a run-down shack that housed the Eagle Café. There, sitting on wooden benches and gazing out the windows at the waves, you could have breakfast and unlimited cups of coffee for about $2.
The rest of the café was taken up by a group of Italian American dock workers, longshoremen who'd just gone off duty, who were having drinks. One began to sing. Soon another, and another, burst into Italian songs. We didn't understand the words, but the message was so joyful, we couldn't help but try to join in. The whole place was singing in the New Year, and we relished it. We stayed for hours, drinking coffee and never wanting that day to end.
I've had more elegant New Year's celebrations since, but nothing as warm and fun as that early morning with Peter, at the Eagle Café, with the New Year at its happiest, and 1977 filled with promise.
Marian
I have recently retired from a marketing and technical writing and editing career and am thoroughly enjoying writing for myself and others.
Characterizations: moving, well written