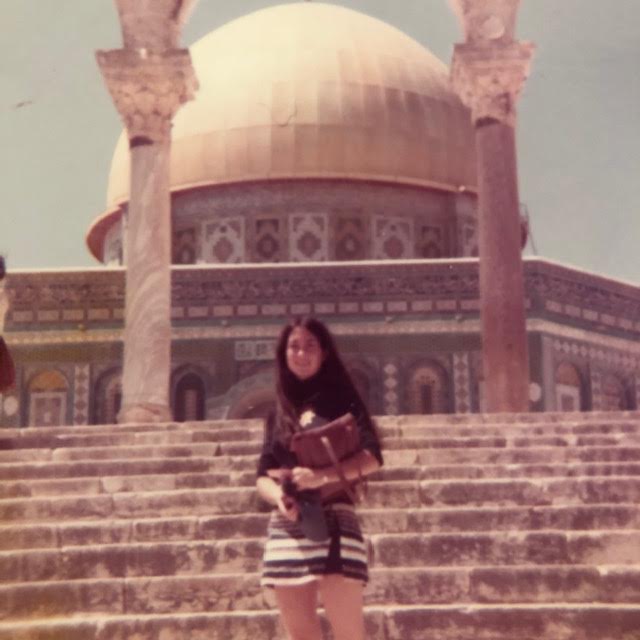 By 1972 I was half-way through Brandeis and had not seen my brother in two years. He was studying to become a rabbi at the Hebrew Union College in Cincinnati, but was spending two years in Israel, one as part of the regular curriculum, the second at Hebrew University in Jerusalem, digging more deeply into his field of Rabbinic Thought and Talmud. Our father decided that I should visit him over the summer, before he returned that autumn. I could get a personal tour of the Holy Land. The only problem was that my brother was busy with his own agenda and I was an inexperienced traveler.
Dad was also clear that I would fly on El Al, the Israeli airline, on a student airfare ($300 roundtrip), with an open return, hoping as part of my return, I could stop over in Geneva to visit my beloved cousin Alan, and also stop in London for a few days, if that could be arranged. It had not been by the time I left. I had never been outside the country (going to Windsor, Ontario – south of Detroit – for dinner didn't count), and only flown on my own a few times, so this was quite an adventure and I was a fairly timid person.
That year Michigan was not even on Daylight Savings Time, as happened from time to time; something about messing up the cow's milking schedule (there used to be a lot of agriculture in Michigan). My flight schedule was crazy. I lost an hour just flying from Detroit to JFK in New York, then had a long layover, flew on to Montreal, flew overnight to Orly in Paris (no De Gaulle airport yet), then on to Lod airport in Tel Aviv. It seemed to take forever to get to Israel.
Fortunately, my boyfriend, Bob, had a job painting the walls of JFK that summer, so met my flight and sat with me for several hours. I was very much in love with him, though it was a difficult relationship. He wasn't Jewish and my parents didn't approve. He had a wandering eye and would test the waters elsewhere. We'd breakup, or just fight. He would shortly give up on the other woman and we'd be exclusive again. I would date others too while he wandered (see Basketball Jones), but I pined for Bob. So I was thrilled to spend time with him before boarding the security van at the El Al gate.
El Al has always had rigorous security. In 1972 some Japanese terrorists had just shot up Lod airport days before I arrived. Yes, Japanese! I don't even remember what that was about. In their 72 years as a nation, Israel has always been under some sort of threat or attack. It has made the Israelis a tough, no-nonsense people. However, I found rudeness everywhere. When it was time to go through security, we were lined up and really frisked, all but stripped-searched, then put on vans and driven out to sit alone on the runway an hour before the flight. No one was getting near that plane.
We flew on to Montreal, then Paris. The flight was almost empty, I had a row all to myself. A French-speaking older couple started a conversation with me. My French was still quite good at the time and we had a nice conversation. They delighted me when they told me they thought I was Parisian! What a compliment to my speaking ability and how I carried myself. I lay down to sleep and they tenderly covered me with a blanket, a lovely, thoughtful gesture.
We arrived at Orly the next morning and had to disembark, though we could not leave the gate area. We re-boarded and eventually continued the long flight to Israel. My brother would meet me, but was taking his last exams in Jerusalem. I was in Tel Aviv, an hour away. I just had to sit and wait. The bullet holes from the recent terror attack were still visible in the glass of the walls. I sat until Rick showed up, looking at those bullet holes with growing anxiety.
I was happy and relieved to see him. We warmly greeted each other after such a long absence. We've always been close, despite our almost five years age difference. Yet, now there was a new gap. The high school girl Rick had left behind had blossomed into a young woman. One of the first things I did was take a birth control pill. I think this rattled him a bit. This was not the 17 year old Betsy he'd last seen.
I arrived in Israel on June 16, our parents' 26th wedding anniversary. After getting to Jerusalem, we sent them a telegram to let them know of my arrival and congratulating them on their anniversary. We made our way to the men's dorm of Hebrew University, where Rick lived. The semester was over, most of the students gone. Rick had gotten the key to a friend's room for me to live in while I stayed with him in Jerusalem. But it was a MEN'S dorm. There were no facilities for women. Rick has to guard the door when I wanted to shower (separate from the bathroom). I zipped into the bathroom, hoping to avoid detection. One morning I had my leg up on the sink, shaving (I did have some clothing on), when a man entered. Startled, he quickly backed out, but I swear, he would never be the same. I always imagined that his hair turned prematurely gray on the spot!
The cafeteria was closed but each student had a cubby for their own food, so we could have breakfast in the dorm. Rick and I do not look much alike. He is tall with dark eyes and auburn hair. He still wore glasses, though now wears contact lenses. I am short, slight, though curvaceous, with long, black flowing hair, green eyes and wore contact lenses at that time. No one believed we were siblings and the boys teased my brother on his conquest. We were mortified.
Rick had certain responsibilities, as he would be a leader (madrich) at a youth village that summer and had meetings to attend, as well as being much more religious than I was/am, so attended services on Friday night and Saturday morning. We still managed some good sight-seeing and visiting during my time with him.
We headed over to the old city, to the Temple Mount. The Featured photo is in front of the Dome of the Rock, supposed to be the spot where the prophet Muhammad ascended to heaven. For a woman to enter, she must have her arms and legs covered (now that I think about it, I don't remember needing to cover my head, but I probably did, and am sure that I had a hat). You can see that I wore something with sleeves, so could pull them down, but, as was fashionable in 1972 (and in heat), wore a mini-skirt. My brother lent me his jacket to wrap around my legs so I could enter and see the inside, which was architecturally interesting.
We walked around to the Wailing Wall, all that remains of the Second Temple, destroyed by the Romans in 70 CE. I stood close, touching the ancient stones, looking at the folded prayers in the cracks and thought of my grandfather, how pleased he would be that his grandson would become a rabbi (and distinguished scholar); how much he would have loved to see this himself. He was an ardent Zionist, he dreamed of the State of Israel. He died in 1964 before the Old City came under Israeli control. I was overwhelmed by emotion, thinking of my grandfather. We wandered through the old streets, but I was jet-lagged and the heat was overwhelming. A "Hamsin" had blown in; a hot dry wind from the desert. The temperature would reach 103 degrees on some days of the trip. I don't do well in heat. I melt. We found food and rested.
We visited the Israel Museum on the following day and took many photos in the garden.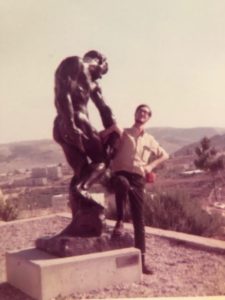 Part of the museum includes the Shrine of the Book, where the Dead Sea Scrolls are housed and Rick explained it all to me.
Later in the day, we visited cousins of our father, unmarried sisters who lived at the King David Hotel. My brother had done an excellent job of finding relatives who lived in Israel, including a cousin of our mother's who had been lost to the family since WWII.
We arose very early on June 19 to visit Masada. It was extremely hot. We did not hike up, we took the cable car. It was so interesting to see the site of the last hold-out of the Zealots against the Romans before all of Judea fell and our people were doomed to leave the Holy Land, were dispersed into the vast diaspora. The site was excavated in the '60s by Yigal Yadin and has become a huge tourist destination.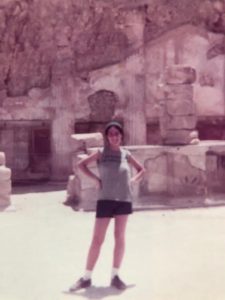 From there, we continued on to Ein Gedi, an oasis with natural water falls in the Negev desert, then on to the Dead Sea, which does make one as buoyant as claimed. Just before leaving for this trip, I had a chicken pocks vaccination, which I could not get wet for a week, so I couldn't totally immerse. You will notice a white bandage on my arm. That is covering the vaccination site.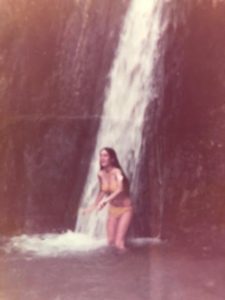 During dinner at a cafe back in Jerusalem, we ran into a Brandeis buddy of mine, staying on after his Junior year abroad. He agreed to take me shopping in the stalls and markets. Bargaining was neither mine, nor my brother's long-suit.
Mitchell and I headed out for the market place. I am not a souvenir-seeker. I might buy some clothing, or something to mark my trip, but I won't buy just for the thrill of shopping and I didn't have much money. But I wanted a sheep skin shearling coat for myself and one for Bob. Mitchell successfully negotiated on my behalf and I got the prized coats, though I could never get mine to smell very good and eventually gave it to one of Dan's sisters. (Bob and I spent one more semester together, Dan and I have had 47 years together.) I have no idea what Bob did with his coat. I also bought a Yemenite dress, long with fancy cross-stitching across the bodice. My parents, who visited my brother in February, 1971 brought a white one home for me and I wore it often. This one was a bit too long and I never wore it. I still have both dresses.
Rick and I only had a few more days together before he had to report for his summer job. I was to remain in Israel for a few more weeks. We went to a Jewish agency recommended by our father (who worked for the Jewish Welfare Federation in Detroit). We met with a man who said I could work on a kibbutz picking olives, or on an archaeological dig outside of Tel Aviv. I thought the second sounded more interesting, so opted for that and got information on the time and location for housing and where to report.
Now Rick and I headed north. We went to visit long-lost relatives in a suburb of Tel Aviv. Our maternal grandfather, Samuel (Becken) Stein left Bialystock, Lithuania in 1906 after horrific pogroms, but two of his sisters remained behind. After the first world war, Bialystock was no longer in Russia, but was now part of Poland. The sisters were married with families of their own. One daughter was married to a Zionist, who saw what was going on in Europe and fled, overland, in 1937, arriving in Palestine two years later.
Our grandfather had been in touch with his niece at some point, long ago, but none of us even knew her name. After the Holocaust, Israel set up a huge network to help survivors track down missing loved ones. My brother went to this agency asking to locate a woman whose mother's maiden name was Beckenstein and came from Bialystock. That was all he knew. The person who helped him said he had served in the army with someone originally from Bialystock named Yacov Nishri. Perhaps he could help and gave Rick his contact information. Sometimes miracles do happen. Yacov was married to our mother's first cousin, Paula! Rick met her before I arrived. He told me there was a strong family resemblance. She was thrilled to meet him.
We took the bus up to the Nishri's Ramat Aviv apartment. It was so hot that I had braided my long hair, then crossed it Heidi-style, across my head. Paula opened the door, was taken aback, then pulled me into her arms and held me for a long time. She said I looked like her dead sister, Eshki, murdered by the Nazis. She and Yacov spoke many languages, but not a word of English. It didn't matter, they were warm and welcoming and just fed us, like any Jewish mother. Rick translated from the Hebrew. I have no photos of them because the flash broke on my camera, so I could only take outdoor photos for the rest of my trip. They had two married daughters and grandchildren living south in Dimona, and one daughter, Hannah, a year older than me, who I did not meet that night. We spent the night on their couch.
We continued to the walled, Medieval city of Akko, an old Crusader village on the Mediterranean Sea. We explored the town, the walls, the old cannons. Rick took my photo from various vantage points.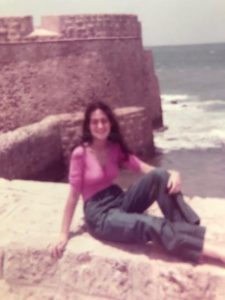 The little Arab boys screamed things at me. I asked my brother what they said. He informed me they were calling me a whore. His reaction was somewhere between bemused and aghast. I was decidedly NOT amused. I loved that pink leotard and wore it to all the college dances. We continued on to Haifa to visit an elderly friend of his; how he knew her, I don't recall. She had a lovely apartment and was a charming hostess, but this was not how I wanted to spend my time.
Rick delivered me to the people who ran the dig and we said our goodbyes. We had a mostly pleasant vacation together, limited though it was. I was now on my own. The dig was Tel Kasilah, run by Ami Mazar, a well-known archaeologist. His team had been digging at the site for years.
Digging was a long, slow process. We volunteers stayed at a youth hostel near by. The group in town at this particular moment were a group of born-again Christians, looking to do good work in the Holy Land. They were of all ages, but I was put with a group my own age. I discovered they had already been through their own trials and tribulations; one was a recovering alcoholic, one a recovering drug abuser. I don't remember what the woman's story was, but she had one too. This is why they turned to Jesus in their recovery. To say that I felt out of place would be a bit of an understatement. None of them were in college.
We arose at 5am to start work before the sun was too hot. We finished at 2pm. The professionals looked after the volunteers. They wanted to be sure we didn't get too much sun. We were provided with a mid-morning snack of cream cheese and jelly on small bagels and lots to drink. The site overlooked suburban Ramat Aviv, with inviting swimming pools, as we labored under the hot sun.
"Pick, shovel, scrape". That was our mantra. I had dreams of finding interesting things and some parts of the dig were interesting, but most of it was backbreaking and boring. The site was divided into squares by pieces of string and each group worked within its string quarter. We went down layer at a time, first with a pick axe (the guys did that work), then shoveling up the loosened dirt, sifting through it to see what had been unearthed, then sweeping the area clean with small brushes. We would call over one of the professionals for an assessment before we began the process again. Broken bits of pottery were a dime a dozen and were brought to a tent to be washed and catalogued by Sara, one of the team.
We had interesting visitors come to take a look. Yigal Yadin, who had excavated Masada came by. Moise Dayan, hero of the 6-Day War, famous for his eye patch and his eye for women, gave me the once-over. It was believed that the site dated back 2,000 years to the time of King Solomon, so it was important, but the work was grueling. "Pick, shovel, scrape".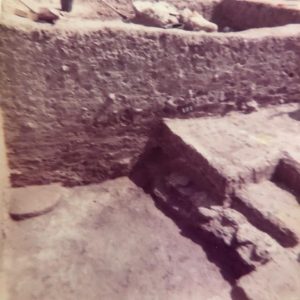 This was one of the squares with stairs and the base of a round column, the only one found to be dating back thousands of years.
I couldn't continue to work under the blazing sun and finally asked if I could help Sara with the pottery under the tent. My request was granted. I washed the individual pieces and tried to find matches, ancient puzzle pieces, while Sara inventoried each shard. She also kept an eye on each of us. I kept hoping to improve my tan, but she wouldn't allow it, knowing that my fair skin would burn up. Sara let me take one of the jug handles home, as there so many of them; too many to be considered valuable. Since I don't really shop for souvenirs, this was my one great artifact to bring home.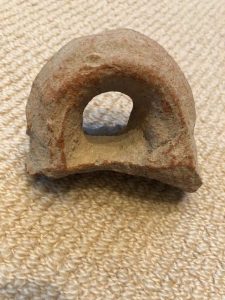 I took a photo of our band in our square to commemorate our time together, but I had had enough.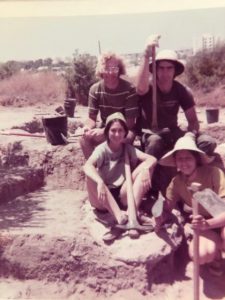 I contacted my cousins the Nishris. I wanted to stay with them for the remainder of my trip. On my last day of the dig, I wore a bright pink halter top. I really wanted that sun tan. I hadn't considered the strap mark where my bathing suit blocked the sun. I got very badly burned, probably a second degree burn, as it did more than peel, it blistered and liquid drained out. I was sore for days.
Paula and Yacov greeted me warmly, with hand gestures and a bit of Yiddish. At this point, I knew a few Hebrew words too. Mostly they smiled and tried to feed me. I smiled back. Their daughter Hannah, fresh out of the army and now working for the phone company, came home. She was just a year older than me and her English was very good. We were just two cousins, having fun. She took me to the beach in Haifa the next day where I got even more sunburned. She looked very glamorous, wore a lot of makeup, with her hair slung across her face to hide a bad scar on her skin.
Hannah announced that we were going out that night. She had a date and the guy had a friend for me too. We went dancing at a club. My guy kept clutching at my back, searching for a bra strap. I didn't wear a bra, but that was the exact spot of my horrific sunburn. Perhaps he thought my gyration was thrusting closer to him as opposed to trying to avoid his hands altogether, but it was awful and painful. I finally pushed his hand away with anger. The guys decided we should go back to one's apartment. Hannah knew him from her army stint. She and that one went into his bedroom, leaving me and "Roaming Hands" on the couch in the living room. He tried again, placing a hand on my leg. I removed it. This was repeated several times. His English was good. He asked if I had a boyfriend. I told him I did. He asked if we would get married. I told him we would not. Then what was the harm in being with him? Because I was in love with someone else and not interested in this this guy!
Hannah came out of the bedroom, not looking too rumpled. I honestly do not know what happened in there. The guys went into the kitchen and had a confab. They decided to switch partners! How rude and insulting to us. The other guy was a bit more subtle, less handsy, but I was still not interested. This was my introduction to Israeli men. They did not make a good first impression. Hannah and I went home, got into bed and had a good laugh.
I had to plan the end of my trip. I had not heard from my cousin Alan, so a trip to Geneva did not materialize, but, through our temple, someone made contact with a family at a temple in a suburb outside of London with a daughter my age who would be willing to host me for a few days, so I would stop over in London and NYC before going home to Detroit. I had to go to the El AL office in Tel Aviv to arrange my flights. I thought this would be easy and I went in to an agent to explain my wishes. He looked at my ticket and immediately said I owed another $300. Impossible, I proclaimed, that was not how my student fare worked. He was uncooperative and bullied me. This went on for a while. No one seemed to understand or care and I couldn't make myself understood. I was standing in the Tel Aviv office of El Al, crying. I didn't have $300 and they had no interest in helping me. No customer service. Finally, after telling my story for the fourth for fifth time, a manager showed up who understood and booked the appropriate passage correctly. It was a small victory, but I felt humiliated.
I walked out into the street, dazed. It was noon, the street was busy. Men brushed past me, grabbed at me, said things to me in Hebrew. I was glad I couldn't understand what they said. I didn't want to know. Yes, we are in the midst of the #MeToo era now and that was 48 years ago, hopefully people have evolved, but those men were pigs.
I returned to the loving embrace of my cousins. Hannah decided we would go to see the rest of her family who lived in Dimona in the Negev desert. We took the bus and arrived in time for Shabbat. Her two married sisters, their husbands and children greeted me like the long-lost cousins we were. One little girl and her brother reminded me of Rick and me at that age, as they bickered and played with one another. The apartment we stayed in was small, with couches for us to sleep on and one bathroom for all of us to share.  I was acutely aware that I was a guest, but we all made the best of it. I remember that moussaka was served for dinner. It didn't agree with me and I spent much of the night in that bathroom! But the next day we went to a beautiful fresh water spring and I felt a bit better.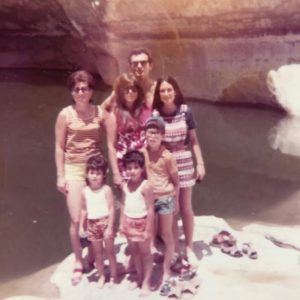 It was July 8. I flew to London the next day, so my Israeli adventure drew to a close. It had been a mixed bag, definitely some good mingled with some bad. It was wonderful to see my brother after two years apart. The accommodations were not ideal, the heat overwhelming. I have always thought it would have been better had I been on a guided tour with peers. Rick did the best he could, under the circumstances.
Even my flight from Israel to London was awful, as if those; well, fill in the appropriate word…"creeps" at El Al planned it. I was in a window seat in the last row next to a VERY large man who took up all of his seat and some of mine on that long flight!
Amanda (I no longer remember her last name, but she was my age) had my high school graduation photo to use to track me down, sent by my father. She met me at Heathrow and took me to her beautiful home just outside London where her whole family was gathered watching the finals of Wimbledon, eating strawberries and cream! It was perfect.
The next day, she needed do renew her passport, so dropped me off at Westminster Abbey (after snapping my photo).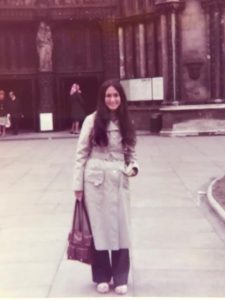 I couldn't have been happier. I have been an Anglophile my entire life. Seeing where Elizabeth I is buried was a true highlight of my life. Finding that her heir, James I (son of Mary, Queen of Scots) got a bit of revenge by burying his own mother in an equally magnificent tomb opposite the monarch who killed her was sublime. Amanda returned and we took a tour of the Tower of London. The next day, Amanda and I went out to Hampton Court, Henry VIII's palace, another great take. The Tudor period is my favorite. Just a brief, but wonderful visit to London. I bought Antonia Frasier's biography of Mary Queen of Scots to read on the flight back to New York.
Bob met my flight. He was done painting walls at JFK, now was working as a summer replacement mailman. I spent the night in his parent's Flushing, Queens apartment (he gave me his bed and slept on the couch; his father was home). After work the next day, he took me to my college roommate Nettsie's parent's Jackson Heights home. I spent a week in New York, visiting Nettsie and camp friend Emily in Manhattan, and lots of time with Bob, which made me SO happy. On Saturday, July 16, Nettsie went to her sister's bridal shower, but her boyfriend Bob (yes, we really were "Nettsie and Betsy, Bob and Bob" through sophomore and part of junior years at Brandeis, though Nettsie remains happily married to her Bob), my Bob and I drove out to Jones Beach for a day of fun in the sun. By this time, my sunburn had healed and my tan had really ripened.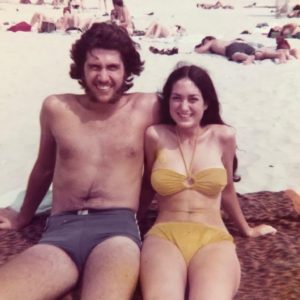 No comments from the peanut gallery, please. Don't be like those men on the streets of Tel Aviv. It may not entirely have been the "Vacation from Hell" but it had its hellish moments for a naïve, shy 19 year old.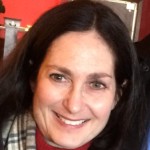 Betsy Pfau
Retired from software sales long ago, two grown children. Theater major in college. Singer still, arts lover, involved in art museums locally (Greater Boston area). Originally from Detroit area.
Tags: Israel, archaeological dig, cousins, hamsin
Characterizations: funny, well written