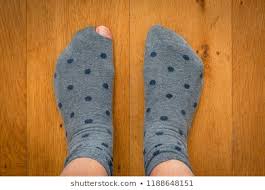 Just a quick story about my honeymoon with my first wife.  We flew to Hawaii the day after our wedding.  As we were married near my wife's family home on Long Island and had an early flight out, we had a very romantic (not) wedding night at the uber-fashionable JFK Hilton. Indeed, the most memorable part of that stay was what didn't happen there — which is that we didn't order a ton of fancy food and drink from room service.  Nonetheless, when I got the Hilton bill when we returned, this was all included on it, and I spent my first few weeks as a lawyer not only dealing with my firm's legal matters — and learning which partners to work for and which to avoid — but straightening out this screw-up with some of the lesser lights in Hilton's legal department.
Thus was I presented with the first moral struggle of my marriage, not yet 24 hours into it.  I knew I had a hole in one of my socks. 
In any event, before I knew I had to deal with this Hilton mess, we flew out, as mentioned, to Hawaii.  Not surprisingly, most everyone else on the flight was also going on vacation, not business, so things were fairly festive on-board.  Near the end of the flight, one of the flight attendants cheerily announced that there were some extra bottles of Champagne and that she would be giving them out to passengers in a little contest.  (Imagine that happening now.)   I can't remember what the others questions were, but at some point she announced that the first passenger who could show her that he/she was wearing a sock with a hole in it would win a bottle.
Thus was I presented with the first moral struggle of my marriage, not yet 24 hours into it.  I knew I had a hole in one of my socks.  I also knew that it drove my wife nuts that, as fastidious as I generally am, I never threw out my socks with holes in them. And I also knew that I couldn't ponder this dilemma too long or some other slob would win the Champagne.
So, having quickly weighed the pros and cons — and there were both — I rang my call button, walked up to the flight attendant with my shoes off, showed her my sock and claimed my prize. Walking back to my seat with the Champagne, I got exactly the look from my wife that I expected: it said "Well, I'm really glad you got us the bottle of Champagne, and you were right to claim the prize even knowing how I would feel about your damn sock. But don't view this one serendipitous victory as a basis for not throwing out your ratty old socks in the future.  You are on notice."
I am skeptical about the adage that people keep falling in love — and sometimes marry — the same person over and over again.  I certainly think that my former and current wives are very different.  That said, as I considered this story, I realized that my current wife, at least in this situation, would have had the exact same reaction and given me the exact same look. I am still on notice.
John Shutkin
Characterizations: funny, right on!, well written