It was in third grade that my myopia began to be noticeable. I had to squint to see the blackboard. I discovered that you could make a tiny pinhole telescope by curling your index finger just enough and peering through the little gap inside. I asked the teacher if I could sit closer. The teacher told my Mom.
This upset me terribly.
I needed glasses.
This upset me terribly. Already small, shy, unathletic, a geek, a nerd, a poindexter, prime bully bait, I knew that wearing glasses would basically be hanging a "kick me" sign…on my face. I begged to be allowed to keep squinting in relative peace. But it was no use. I would join the bruised, sobbing ranks of the four-eyed.
As a sign of my denial, my rage, I went the full Clark Kent route, and got the plainest black frames the optician had. If I was going to be made ugly on top of all my other flaws, then DAMMIT I'd be as ugly as I could be! I'd be uber-nerd!
The glasses turned out not to be that much of a problem. The psycho kids had so many reasons to beat on the kids like me, the glasses, stylish or grotesque, were superfluous.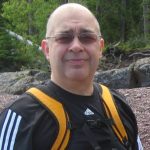 Dave Ventre
A hyper-annuated wannabee scientist with a lovely wife and a mountain biking problem.
Tags: glasses, nearsighted, myopic, nerd, geek
Characterizations: moving, right on!