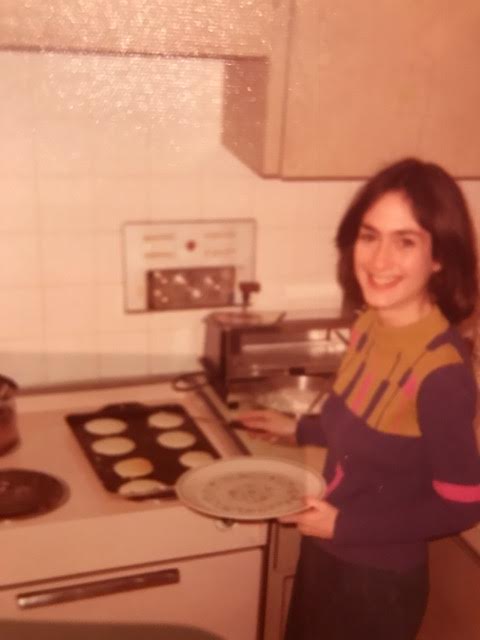 My grandmother had given up cooking by the time my mother lived at home with her parents after her year studying dance in New York in 1935, so she didn't learn to cook from her own mother. After she married at age 32, she learned a few basic recipes from her oldest sister's housekeeper. That sister also didn't know how to cook.
As a result, she didn't like to cook, claimed that having me around her in the kitchen made her nervous, so I had only basic skills when I married at the age of 21 in 1974. I had taken Home Ec rather than being in the 8th grade choir, understanding that I wouldn't learn anything from my own mother. I could follow a basic recipe. I enjoyed baking brownies from scratch from the recipe on the Baker's Chocolate box. Those are still in my repertoire.
My father, being the youngest in a large household and, like my mother, also single until the age of 32, enjoyed cooking, even making his own mayonnaise at times. He taught me the famous "Sarason family pancake" recipe (add syrup and vanilla to the batter), which is what I'm making in our first apartment in the Featured photo, and he always made them for me whenever we were together, as in his last visit with us in Oct, 1989. He died four months later.
I received many cookbooks as wedding gifts; here is one shelf's worth (I have several more). I rarely use them.
My mother wrote me letters with her recipes; I used some. Her brisket was dry, but I make a good spaghetti sauce from scratch. Dan always liked my meatloaf. I used my mother-in-law's recipe for macaroni and cheese, which of course used Velveeta. Dan wouldn't have it any other way.
I talked to a cousin who had been in the Boston area during my four years at Brandeis. She typed up lots of 3×5 cards with various recipes and I tried many. My in-laws moved away when we had been married only three years, but I always make her Thanksgiving dinner, using her exact recipes. Thanksgiving Forever. She lent me her recipe box in 1984; I took it to work and copied the entire collection, which I still have. The sweet and sour meatballs were a big hit. She used to say she wished she had more time with me; she could have "done something with me".
There was a fantastic meat shop up the street from us when we moved to Newton in 1986. Not only did they sell the best meat and poultry, they also provided recipes on how to cook everything. They expanded and became a gourmet shop, but no longer exist. Their rack of lamb was my go-to company meal.
I had long ago assembled my own looseleaf of menus, collected through the years, broken out by meat, poultry, dessert, salad, Thanksgiving; everything is neatly taped inside for easy reference.
And random articles that I find and clip might just be slipped into the front. I am amazed at what I found.
While visiting Patti in Palo Alto (she is a fantastic cook), I watched her work and learned to make carbonara, which became a favorite of Dan's, but it took a lot of prep work. I often made it when we had others over for dinner.
Too bad Dan has such a limited palate. When he retired, more than 20 years ago now, he had so little to occupy himself that going out to eat (not fancy, just neighborhood restaurants) gave him something to look forward to, to break up the day, so we eat out almost every night. It is his daily entertainment. Plus, he does not help with the shopping, food prep, cooking or cleanup, so if he is retired, I thought it was time for me to as well. And that is why I no longer do much cooking.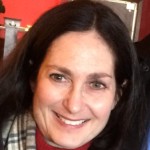 Betsy Pfau
Retired from software sales long ago, two grown children. Theater major in college. Singer still, arts lover, involved in art museums locally (Greater Boston area). Originally from Detroit area.
Characterizations: funny, right on!, well written