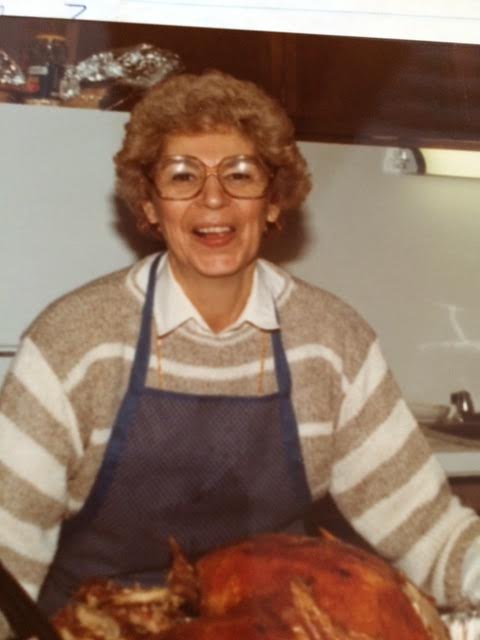 Imagine my surprise when my dear mother-in-law called, saying she wanted me to host Thanksgiving in 1982. I had never cooked a meal like that before and at the time we lived in a 5th floor walk-up, rented condo, left partially furnished by the owner, with some of our own furniture strewn about. It had a non-existent kitchen in the corner of the "open plan" living/dining space. This was well before that concept was in vogue. It was just the way the floor plan was carved out when this old brownstone was renovated.
Gladys and Erv recently moved from New Orleans to Hamilton, NY. He had taken a job at Colgate University. They lived in campus-provided housing while they built their own home and Gladie wanted to be with her aging mother, our Nana, who lived a few miles from us. She assured me that she would cook, I just had to do all the grocery shopping and have the pots, pans, dishes, etc. for everyone who would attend. In addition to my in-laws and grandmother, Dan's brother Gerry came up from Washington, DC and my mother came in from Detroit. She stayed with us. The others stayed with Nana in Brookline and other friends in Newton. We had quite a feast in our cramped abode that year.
Gladie sent me a three-page letter with all the grocery items to buy, section by section, according to each item to be cooked for our feast. The last words at the end of the letter: Don't Panic! Though we were used to living in a 5th floor walk-up and I had great quads at this point in my life, carrying so many bags of groceries up was quite a chore. A neighbor took pity on me and carried the 20 pound turkey.
All went well, Gladie came early and cooked the food in batches in my little kitchen. I opened up the dining room table, usually folded against the wall, and we had a great time. We all admired Nana, now in her mid-80s and using a cane, for making it up the 5 flights.
I saved that letter through all these years and it is the basis for all Thanksgivings since then. Gladie hosted some, when they lived in Up-State New York, but in retirement, moved to Florida, and we usually visited for Christmas instead, as it was no longer a drivable distance. So making Thanksgiving either fell to me, or we went to friends. I wrote notes on the shopping list about how to make the cranberry sauce (always from scratch, none of this canned jelled stuff for our family).
The recipe that Dan MUST have, even if I am not cooking, is his mother's yams with caramelized brown sugar. These days, I double the amount of brown sugar called for in the recipe. That, more than anything, spells Thanksgiving. You can see my well-used, stained recipe. For some years, we went with friends to our Martha's Vineyard house (bringing all the fixings with us). I made copies of these letters and hand-written recipes, and at some point, laminated them. They remain in a folder in a kitchen drawer there, though we stopped the custom when kids went off to college and wanted to see friends when home over the holiday, not traipse off to an island.
One year, when our niece was at Brandeis, the pot with the caramelized brown sugar was too heavy to handle and I dropped it all over the floor. Funny kid that she is, she immediately made it look like the crime scene at the start of a Law & Order episode. Yes, Thanksgiving is for having fun with family, and even the yams can provide some comic relief.
Some years, if my family comes in from across the universe, I cook. But more often, we go to friends and bring items to add to their feast. Though no one else eats this, I always have to make the yams for Dan. I do know how to make the mashed sweet potatoes with marshmallows on top, but Dan won't eat them. That's not what his mother made. These brown-sugared yams remind him of growing up in his mother's house, of childhood; it is his ultimate comfort food. So that is the recipe I make for him, no matter where we go or what we do.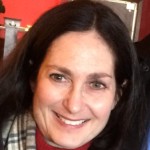 Betsy Pfau
Retired from software sales long ago, two grown children. Theater major in college. Singer still, arts lover, involved in art museums locally (Greater Boston area). Originally from Detroit area.
Tags: Back Bay, 5 flights, don't panic!, Thanksgiving
Characterizations: funny, well written