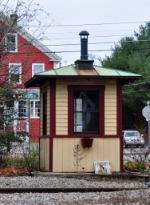 Then: Waiting in the railway crossing shack with the gate keeper, hoping for a Boston & Maine diesel to come along.
Now: Wishing I could feel the earth shake as a steam locomotive rolled past with a full load of freight, throttle wide open to make the grade.

Then: Watching my mom crank the phone to get Rozzie the operator on the line. Listening to them gossip while Rozzie sat at the switchboard plugging and unplugging callers. Watching my mom remember she had a call to make. We had a four-digit phone number.
Now: Suppressing the impulse to text while driving on the Interstate.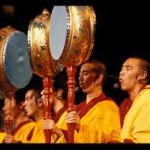 Then: Listening to the Red Sox game on the radio.
Now: Dialing in Tantric Chants by Tibetan Buddhist Monks on Spotify.
Then: Sitting in Harvard's men-only Lamont Library, Cliffies excluded, circa 1966, reading the Crimson as it reported that the presence of female students might distract the young gentlemen.
Now: Whaaat???

Then: I was supposed to be rooting for Stevenson but Eisenhower had these cool 'I Like Ike' t-shirts.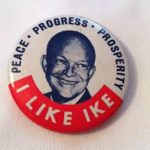 Now: Unable to watch the election news.
#  #  #
Charles Degelman
Writer, editor, and educator based in Los Angeles. He's also played a lot of music. Degelman teaches writing at California State University, Los Angeles. 
Degelman lives in the hills of Hollywood with his companion on the road of life, four cats, assorted dogs, and a coterie of communard brothers and sisters.
Characterizations: been there, funny, right on!