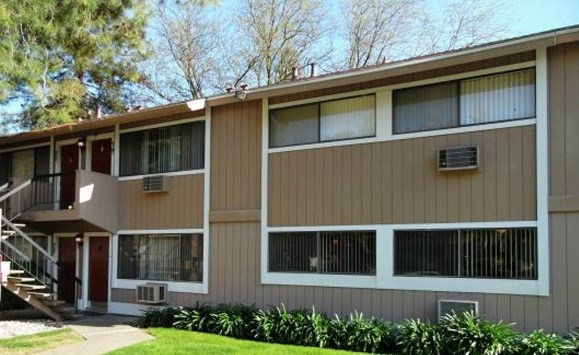 This chance encounter didn't change my life, but it certainly changed the lives of the other two people involved. It occurred in September 1974, when I moved from Cambridge, Massachusetts to Davis, California, to go to law school.
This chance encounter in September 1974 didn't change my life, but it certainly changed the lives of the other two people involved. 
During the summer the law school had sent out a list of everyone in the entering class, with addresses and phone numbers and where they had gone to college, presumably with the idea that people might want be in contact before school started. There was one other person listed who had gone to Harvard, a guy named David who had graduated three years before me. He sent a letter to me (and apparently a few other carefully chosen people), saying that he was trying to put together a group to rent a house, and asking if I was interested. He was living in San Francisco at the time, so presumably could have driven to Davis to look at houses if he got enough responses.
I was on the waiting list at NYU and was still hoping to get admitted there, so I didn't respond to him initially. However, I met in person with someone else on the list, a woman named Karen who was living in Boston, and we hit it off right away. It turned out that she was on the waiting list at Berkeley, and I told her about NYU, so we both felt comfortable making a tentative commitment to each other, knowing that it might not happen at all. As it turned out, she did get in to Berkeley, but I did not get into NYU. At that point I called David to see if his offer was still open. But by then he had given up on the house idea, and had committed to an apartment with two other guys, one from the list of law school classmates, and the other a graduate student who was a friend of the first guy. He apologized for not being able to offer me a place to live, but said that when I got to Davis, I was welcome to stay at that apartment as long as I needed to while I looked for a place of my own.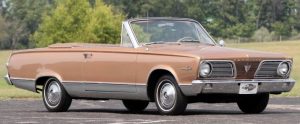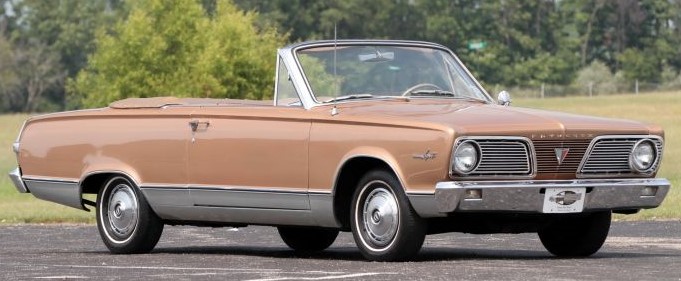 In early September I packed up my house in Cambridge, left my furniture with various friends, and drove across country in my Valiant convertible (which has its own Retrospect story), making overnight stops in Pittsburgh, Pennsylvania; Gary, Indiana; Loveland, Colorado (staying at my sister's house for a couple of days); and someplace I don't remember on the border of Utah and Nevada. I had all my possessions packed in the trunk and back seat. Initially I went all the way to San Francisco, passing the exit for Davis on Interstate 80, both because I had a passenger who had agreed to share driving and expenses in exchange for being dropped off at a certain location in SF, and because there were friends of friends who had a nice house there and were happy to have me stay with them for a few days to do some sightseeing and recover from the cross-country drive.
Since I knew that David was still in San Francisco, I believe that I called him when I got there, and we spent an afternoon together seeing the sights, just before he moved up to Davis. When I talked to him while writing this story, he didn't remember that, but conceded that it could have happened. I think it did, because I feel like I knew him well enough to be comfortable with him before I got to Davis. However, we'll never know for sure.
After a few more fun days of being a tourist in San Francisco, I made my way to Davis and somehow found David's apartment on a street called Pole Line Road (maybe my AAA TripTik had a detailed street map of Davis). I met his roommates, and spent the night on their living room couch. The next day it was time to find a place to live, and as quickly as possible because the couch wasn't that comfortable. I knew that I didn't want to live by myself, and that I needed a place that was furnished, because I hadn't brought any of my furniture with me. My first stop was the UC Davis Housing Office, because looking for housing through a college housing office had worked so well for me in Cambridge when I needed a place to live after college. There was an entire wall where people had posted "roommate wanted" notices, so I started looking at those, and writing down names, addresses and phone numbers. I don't remember how many I called or even how I called them. I think there must have been phones available in the Housing Office to make these calls. (Isn't it funny how hard it is to remember how we functioned before cell phones? At least it is for me.)
I made several calls and most of them didn't pan out, either because the person wasn't home, the place had already been rented, it wasn't available right away, or whatever. However, a woman named Diane (a) answered the phone, (b) sounded nice, and (c) said sure, come on over this afternoon. The address was 1111 J Street, which was reasonably close to campus.
Downtown Davis is laid out on a grid of letter streets that run north-south and number streets that run east-west. The northern border of the UC Davis campus is 5th Street and the eastern border is A Street (the beginning of the downtown area), so the 1100 block of J Street is 6 blocks north and 10 blocks east of campus. Too far to walk, but a 5-minute drive or 10-minute bike ride. Not that I had a bike, but that's another story.
I drove over to J Street and looked for Eleven-Eleven. It was a sprawling complex of rectangular boxes, each one two stories tall with four apartments in it, two up and two down. (See Featured Image.) Her apartment, #101, was on the first floor of a building close to the parking lot. I parked my car, found the right door, and knocked. The young woman who answered, Diane, first informed me that her name was pronounced Dee-Ann, not Dye-Ann as one would expect. She said it in a friendly way though, since she was obviously used to people mispronouncing her name. She was attractive, about my height, with short dark hair and a perky smile. She showed me around the apartment, which had two bedrooms and one bath, a living room and an open kitchen area off the living room. Pretty basic, but it was fully furnished, and she had pots and pans, dishes, glasses, and cutlery, so I wouldn't need to worry about any of those things. Also, the room was available now because her previous roommate had already moved out.
We sat down on the living room couch and talked for a while to get to know each other. She was not a law student, in fact she was not a student at all, she had just finished her master's degree at UC Davis and was looking for a job. While I had initially thought living with another law student might be nice because we could study together, I could also see benefits to a roommate who was not freaking out from the pressures of law school. We had enough in common that I felt very comfortable with her, and apparently she did too, because she asked me to move in right on the spot. None of this "I have a few more people to see, I'll let you know" business. I had a moment's hesitation, because it was, after all, the first place I had seen and I had no idea what else was out there, but the moment quickly passed and I said yes.
Later I found out that she wanted me to move in that day because the rent was due the next day, and she didn't have enough money in the bank to cover the full amount. She was very relieved when I accepted and would therefore write a check for half the rent.
She asked if I wanted to have dinner with her in the apartment. I told her that I was supposed to have dinner with the guy I was staying with, and she said, well, invite him to come to dinner too. I went back to David's apartment to gather up the few things I had unpacked from my car. I told him I had found a place and was moving right in, and did he want to have dinner with my new roommate and me. He said sure.
I didn't remember what Diane made for dinner, but both Diane and David reminded me when I talked to each of them (separately) a few days ago. It seems we had ham, which is pretty funny because all three of us are Jewish AND it was Rosh Hashanah!
Two years later Diane and David got married. They are still happily married 44 years later, with two children and three grandchildren. And since Diane was not a law student, indeed not a student at all, it is almost certain that they would never have met if it had not been for the chance encounter between Diane and me that resulted from an index card she posted in the UC Davis Housing Office.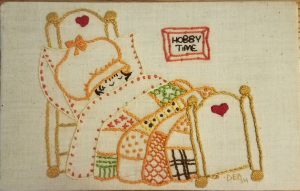 Because it's so cute, I'm ending with the gift that Diane embroidered for me for Chanukah that year. The design was inspired by the fact that when people asked me what my favorite hobby was, I generally said sleeping, so that is a picture of me in my bed having hobby time.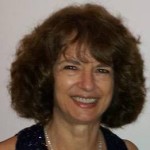 Suzy
Characterizations: funny, well written