I went to college at Cal Poly San Luis Obispo in 1967.  It was a conservative state college as demonstrated that when Governor Ronald Reagan came there, the students waved and cheered his appearance.  One of the few liberal friends I met there was Ron from La Honda (it is on the San Francisco peninsula).  Two years later, I transferred to San Jose State University, and Ron and I lost contact.
Old college friendship rekindled.
One evening, a man came to my apartment trying to sell life insurance.  I thought I recognized him, and it was Ron's Cal Poly roommate. He had kept in touch with Ron, and told me Ron now lived in the SF Bay Area.  I contacted Ron, and a life long friendship was rekindled. Ron and I did some camping, traveling and other activities, and he was an usher at my wedding.  The odds of this chance encounter happening were very low, but I am glad it did.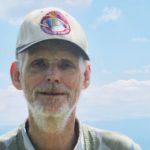 Joe Lowry
I was a child that moved so often, (8 elementary/middle schools) and finally went to to high school in Arroyo Grande California. I ended up at San Jose State University graduating in Chemistry, minor in Biology. Got married, and had two sons. Unfortunately, my wife passed 35 years later. I worked initially in the pharmaceutical industry. After being down-sized, I ended up in the aerospace field, working on satellites. I still live in the San Francisco Bay Area.
Characterizations: right on!