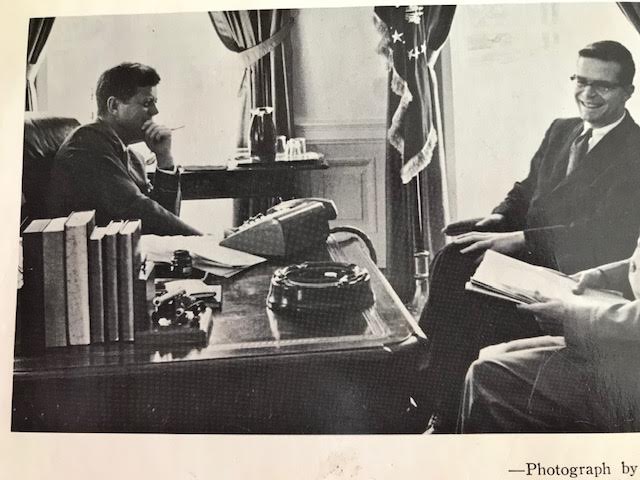 All of us of a certain age remember the "duck and cover" drill, as if ducking under our desks would shield us from nuclear fall-out. We labeled it the "kiss your ass goodbye" move. After World War II, as more countries, particularly our mortal enemy, the Soviet Union, obtained nuclear capability, some built their own bomb shelters. Fall-out shelter signs went up on many civic buildings including our schools and free-floating paranoia was the coin of the realm.
We watched with a mixture of rage and disbelief as the fearsome Soviet leader Khrushchev took off his shoe at the UN and pounded it on his desk, threatening the US. This was a formidable opponent. He had a summit with JFK in Geneva, early in the new president's administration, and though charmed by Jackie, the report was that he ate JFK's lunch. The young president was no match for this wily older statesman.
Though the cold war went on for many years, I seemed most aware and focused on it during the Kennedy administration, perhaps because I was so enchanted by that particular President and First Lady, or because after them, our country focused on other issues, like Vietnam, Watergate, domestic issues.
But during the early '60s we learned that Cuba, with the strong backing of the Soviet Union, was a hostile actor just off our shore. So the "Bay of Pigs" came into the lexicon, a CIA operation that was a fiasco for the administration.
The space race commenced. The Soviets first launched a dog into orbit, then Yuri Gargarin, but JFK was determined the US (aided by ex-Naxi) know-how would win the space race and we watched Alan Shepard be the first American in space, followed by John Glenn who orbited the earth three times in 1962, and returned to space decades later, on the Space Shuttle. Months before he died, JFK challenged Americans to get to the moon in that decade, "not because it is easy, but because it is hard". That feat was accomplished in July, 1969; 50 years ago this summer. Newly married Onassis commissioned gold and ruby "moon" earrings for his bride to commemorate this great feat, dreamed of by her late husband.
Weeks before his death, JFK signed the Nuclear Test Ban Treaty. Jackie considered this the singular greatest accomplishment of her husband's administration, as he worked toward peace, having lived through the end of World War II and seen the devastation of nuclear holocaust. Jackie pleaded with her mother-in-law to purchase the ornate, antique desk on which the treaty was signed and kept it in her 5th Ave apartment for the remainder of her life. It was among the items auctioned after her death.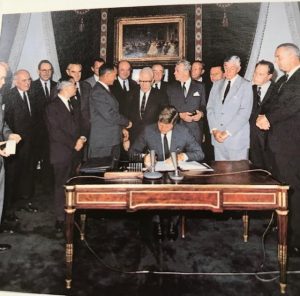 But it was 13 days in October of 1962 (October 16-28) that may well be remembered as among the most significant of the cold war era. Movies have been made, books written, tales told of those 13 days, hidden from the public when we were as close as we have ever been to the brink of nuclear war. Aerial photography taken by U-2 spy planes picked up missile sites being built in Cuba, just 90 miles off the shore of Florida. It was clear that the Soviets were preparing launch sites for nuclear weapons that could strike anywhere in the continental US.
Kennedy called in his closest advisers. They huddled for days. The generals wanted to bomb the sites, but cooler heads wanted to try diplomacy with the Kremlin. Back channel methods were used to communicate. Khrushchev wanted our sites removed from Turkey (and Italy). Negotiations went on. Eventually there was evidence of the Cuban sites being dismantled. Much later, we also took apart the Turkish sites, but didn't admit that. That has only come to light through historical records.
My older child went to the Commonwealth School in Boston's Back Bay. It is a marvelous school that has an assembly every Thursday afternoon. For many years, even after David graduated in 2003, I remained closely involved as a member of the Visiting Committee. I noticed on their calendar one Thursday, shortly after David graduated, that Ted Sorensen, Special Counsel and Advisor to President Kennedy, would be the Assembly Speaker. I had to go hear him speak.
I arrived just as he entered the building with Bill Wharton, headmaster of Commonwealth School, who I knew well. Mr. Sorensen was now an old man. Though fully recovered from an earlier stroke, it had left him blind. As he sat in his chair in the lobby, I approached and introduced myself. I told him my maiden name was "Sarason", but during the Kennedy years, it was often mispronounced as "Sorensen", which was fine with me. We both laughed about that. He asked me a few personal questions, then it was time for the assembly to begin.
He was led into the multi-purpose room by Bill, seated comfortably and given an appropriate introduction. His full head of hair was now gray, but he was instantly recognizable as Ted Sorensen. He spun his tale of being in the room during those tense, long-ago 13 October days. He gave us all inside information of what transpired, who wanted to bomb, who kept a cool head (and thank goodness cooler heads prevailed). Kennedy felt he had been burned by listening to the generals during the Bay of Pigs. He wasn't having it this time. Though Khrushchev missed deadlines, he gave him more time, trying to delay a potentially horrible outcome. He wanted a "win-win" with everyone able to save face, and that is what he got as he pulled the world back from the brink of nuclear war. It was fascinating to hear it told from the perspective of someone who was an eyewitness and full participant. It was he and Robert Kennedy who ultimately drafted the letter that was sent to Khrushchev with the terms that were accepted and saved the day.
After the talk, and Mr. Sorensen was led out, I listened to the chatter of the kids, most of whom I still knew. I think they were too young to understand the value of what they had just heard, so I said to them: "I hope you appreciate, you just got an eye-witness account to one of the most important moments of the 20th century. Let that sink in for a bit. You are very lucky."
In fact, we were all very lucky that we had a leader who thought before he impulsively acted, stayed calm, sought advice, but ultimately trusted himself and the wisdom around him during those 13 days in October, 1962; and everything turned out as it did for the whole world.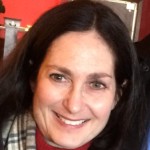 Betsy Pfau
Retired from software sales long ago, two grown children. Theater major in college. Singer still, arts lover, involved in art museums locally (Greater Boston area). Originally from Detroit area.
Tags: 13 days in October, duck and cover, space race, Ted Sorensen
Characterizations: right on!, well written