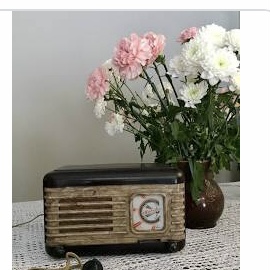 Back in the 50s it seemed – much to my childish angst –  my parents were the last on our Bronx block to get a television set.   But of course we always had the radio.
My dad was a self-taught classical pianist and we had what was then a state-of-the-art hifi system and radio in the living room.   That radio was always set to WQXR,  the New York classical music station that simulcast the Metropolitan Opera production every Saturday – and still does.
My folks had a clock-radio in their bedroom,  and my sister and I each had one in our attic bedrooms.   And I remember taking a transistor radio,  and later a cassette player and a bunch of cassettes with me to the beach..
And back then,   before the advent of cell phones and social media,  and 24/7 news cycles,   folks kept well-informed nevertheless.   We had both a morning and an evening newspaper delivered,  and of course we listened to the news on the radio.   And for my family that radio was often the Emerson that sat on our kitchen counter.   Although we ate in the dining room on holidays and when we had company,   when it was just the four of us we ate dinner at the kitchen table.
My dad was a GP whose medical office was in our house,  and several nights a week he had evening hours from 6:30 to 8:00.  (See Fluffy, or How I Got My Dog )
Because of his schedule we'd eat an early 6:00 dinner,  and during dinner the radio would be on so that from 6:00 to 6:15 we could listen to the news with Lowell Thomas.
Thomas,  as you may remember,  was a World War I correspondent,  journalist,  prolific author,  memoirist and travel writer,  and the radio broadcaster who brought T. E. Lawrence,   known as Lawrence of Arabia,  to the public eye.
And always fascinated by the movies,  Thomas narrated 20th Century Fox' Movietone newsreels,   and using the new Cinerama format he filmed and produced several documentaries.   In 1976 Gerald Ford awarded him the Presidential Metal of Freedom,   and in 1989 he was inducted posthumously into the National Radio Hall of Fame.
But as a child I knew Lowell Thomas simply as the familiar voice we heard every night.   And although I knew he was speaking from a radio studio,  and to a wide listening audience,  it seemed to me that he and my family had an intimate relationship.   When his voice came over that Emerson radio in our kitchen,  and he'd say,  "Good evening everybody" ,   I felt he was speaking just to us.
Dana Susan Lehrman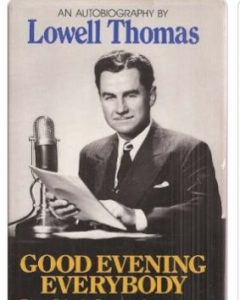 Dana Susan Lehrman
This retired librarian loves big city bustle and cozy country weekends, friends and family, good books and theatre, movies and jazz, travel, tennis, Yankee baseball, and writing about life as she sees it on her blog World Thru Brown Eyes!
www.WorldThruBrownEyes.com
Tags: Radio, Lowell Thomas