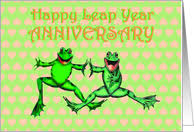 I can usually come up with a story about a Retro prompt, though sometimes not without a further, well, prompt, from the Retro Administrator/Muse.  But I really came up empty on this week's prompt.  I'm an August baby, but early in the month, so I don't even have to deal with the sort of half-birthday celebration dilemma that the Administrator/Muse has had inflicted upon her.
Best I can do this week is mention a recent Leap Year-themed event of some good friends of mine, Greg and Sandy,  who were, like my former wife, law school classmates of mine. But their marriage has happily lasted, and so my current wife and I recently received an invitation from Greg and Sandy to what they claimed was their 40th anniversary party in New York this past Saturday (the 29th).  Though we have remained close over the years, I had not been invited to their wedding and only now focused on the fact that they were married on February 29th, 1980.
Unfortunately, my wife and I were hosting a long-scheduled small dinner party on the 29th, so had to decline.  And even my efforts to send Greg and Sandy a gift certificate from the gift shop at New York's Museum of Sex — which I thought was a brilliant inspiration —  failed since, at least per its website, the Museum doesn't do gift certificates. So I had to settle for an apologetic email regret to their evite and an appropriately snarky anniversary card.
But the stories by both Suzy and Betsy about the "Pirates of Penzance" plot line at least got me thinking.  Is this really Greg and Sandy's 40th anniversary, or only their 10th?  And if the latter, how do they explain this to their now adult sons?
I intend to follow up with Greg and Sandy and get their thoughts on this.  Not exactly the sort of legal research we were all engaged in in law school, but much more fun to investigate.
John Shutkin
Characterizations: funny, right on!, well written