Until December of 1969, I had never been on an airplane. When it became clear to my father that I'd go away to college (the choice came down to Northwestern in suburban Chicago, or Brandeis in suburban Boston) and I would fly to either location, Dad agreed to let me go to a mini-camp reunion in the Washington, DC area over New Year's Eve. Valerie, visiting us from Wichita after Christmas, would accompany me on this first flight, which made both my father and me feel better about the whole thing. She was an experienced traveler and could show me the ropes.
We flew to Washington National on December 30, 1969 and went straight to Alexandria, VA where WC Frome hosted the group on the first evening. He was Emily's camp boyfriend, his younger sister also attended camp and several people stayed with him. After dinner, the group staying in DC-proper made our way to Chris Kelley's stately home. I believe her father was in the diplomatic corps, but I'm not really certain. Both our hosts had been Voice and Drama majors at camp, like all of us.
The following day, the last of the year, we gathered in DC and saw some of the fantastic sights our nation's capitol has to offer: Folger's Shakespeare Library (most of us had been in "Midsummer Night's Dream" the previous summer, so relished this opportunity), Arlington National Cemetery (paying our respects to JFK's grave), ending the day as the sun set on the Lincoln Memorial, which was even more haunting and impressive as the sun went down on 1969.
Chris hosted the New Year's Eve party, which was good fun (the Featured photo). And finally, on New Year's Day, we flew back to our respective homes. It was my first time flying alone, without the support of my girlfriend. There was no security in those days, so we could sit with each other for a while before our flights. Of course we dressed for our flights. We weren't allowed to wear pants at school yet, we certainly didn't wear pants to fly. My father was at DTW to meet me. All had gone well and I had a wonderful visit with my dear friends. Since August, 2020, many of those listed above have Zoomed on the first Tuesday of each month, more than 50 years after we first met. These are deep, lasting friendships.
Valerie invited Emily and me to visit her over Spring vacation and Dad thought I needed the practice to learn how to check in by myself and this time, I'd have to change planes in Chicago to connect to Wichita – another lesson to learn on my journey. Big airports can be overwhelming, but I looked carefully, took my time, read the signs and made it all the way. Valerie met me at the other end. Emily had already arrived, so got to room with Valerie. I was in older sister's Kyra's room. This was Easter weekend. We ran around with Valerie's boyfriend and his friends, had a great time, but also went to her father's country club for a big Sunday lunch on Easter, after attending services. I had appropriate clothing for each event. I had good manners and knew how to behave (even if my date and I came in late for curfew one night…oops!). The three of us remain dear friends.
Valerie gave me a crêpe paper flower to take home, which I hand-carried. I made it to Chicago and sat at that gate for some time, holding my large blue flower. I'd had such a good time that I was tired and fell asleep. When I awoke, the gate area was empty. I was panic-stricken. Where was everyone? Why had no one bothered to wake me up? I rushed to the counter. The plane had NOT taken off; they were making the last boarding call – I ran onto the plane. Hindsight is everything. And a lesson learned about flying and paying attention. I guess that is why my father wanted me to practice before going off to Boston on my own for four years.
Flying During Covid
We expected our first grandchild in mid-December, 2021, in London. And my birthday is December 10, so we decided to spend most of December in London, since due dates are only approximations and we thought it would be fun to celebrate my birthday with our London kids and get to meet Anna's mother and sister as well. However, the Omicron variant was rising, particularly in the UK (they tended to be several weeks ahead of the US in the pandemic trends). In fact, new testing regulations went into effect the morning that we flew. As we thought about ways to stay safe, we decided to do something we'd never done before: we flew first class! We each had our own personal seat pod (and the seat folded flat on our overnight flight so we could actually sleep), but best of all, we were not sitting close to anyone else. We know that planes have good ventilation, and we had to wear masks the whole time (unless eating), but we felt much safer in less-congested quarters. Also, being away for a month, we carried large suitcases and first class allows more weight for package, so our big suitcases were no problem at all. We felt quite pampered the whole flight, both going and coming back, and totally safe. Still during peak COVID, the flight was also considerably less expensive than during normal travel times. We thought it was a good investment, but one we cannot repeat. It was just for COVID-times. Unlike in my early flying days, I wore very comfortable clothing. I confess, I am a bit aghast when I see what people wear on airplanes these days, but everyone wants to be comfortable.
One week after arriving, Omicron peaked in the UK. There were ads on TV, exhorting the citizens to get the "jab" and we tested every day before seeing our kids (David told us how to get free test kits, which were readily available; we came home with a good supply). We stopped taking public transportation, walked everywhere, or took an Uber to our kids' home (very high vaccination rate in the UK, no crazy vaccine hesitancy).
But we ate outside for my December 10 birthday dinner. There was a small overhead heat lamp for one side of the table, but my feet were frozen by the end of the meal.
Rosa was born on December 24 (a week after her due date). Anna had a tough delivery, stayed in the hospital for a few days, so we all celebrated a postponed Christmas on December 29 at their home. Again, everyone tested before getting close to the new baby and Anna's mother and sister prepared the wonderful meal, but we could be together and feel safe.
We stayed until January 3, 2022 and enjoyed our first class seats on the return flight home. First class check in is really something at Heathrow. We were driven to a separate entrance, exclusively for first class passengers, whisked through security, baggage check and into the first class lounge with free food ordered from a lovely menu, WiFi and superior accommodations as we waited for our flight to be called. We were far from any crowds and well-cared for. We could get used to that, but we knew it was a luxury just to keep us safe during the height of COVID.
And it did.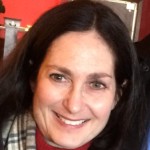 Betsy Pfau
Retired from software sales long ago, two grown children. Theater major in college. Singer still, arts lover, involved in art museums locally (Greater Boston area). Originally from Detroit area.
Characterizations: right on!