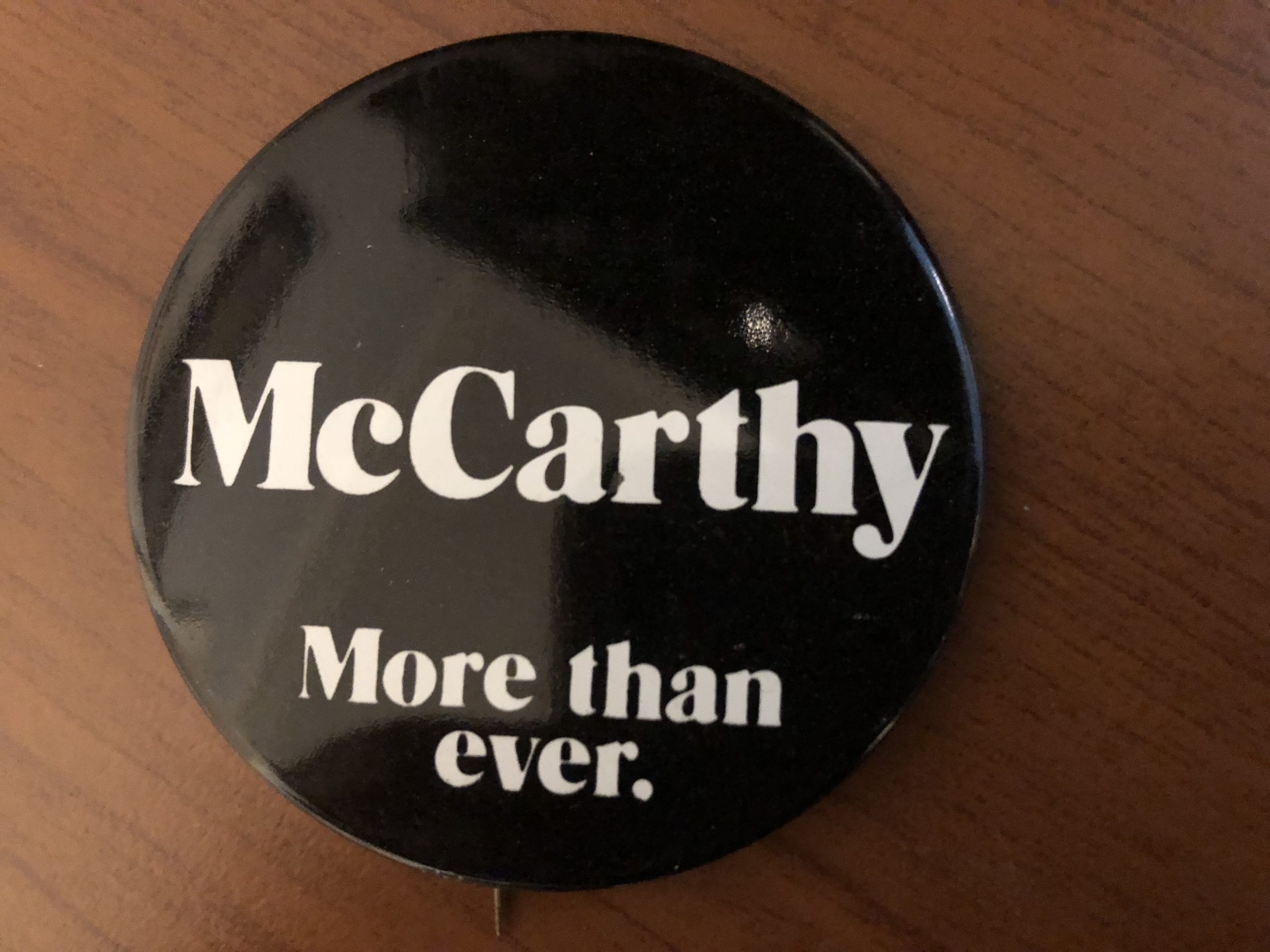 When we decided to downsize and move from our home of 45 years to a condo, we never dreamed we would have so much time to sort and travel down memory lane. Deciding what to keep or donate or discard became a DIY project during our #stayathome approach to being seniors who should avoid exposure to COVID-19 at all costs. Every day for weeks, we sifted through years of accumulated belongings and found some great memorabilia.
We dreaded going through our huge basement that held oh-so-many (too many) bins and boxes, so we decided to begin with the third floor and work our way down. The attic yielded photo boards from parties, complete with autographs. There were boxes of old LPs and cassette tapes we were going to take to the used record shop someday. Our kids' art projects from preschool, from hand and foot print creations to things like this, were jammed into the attic crawl space: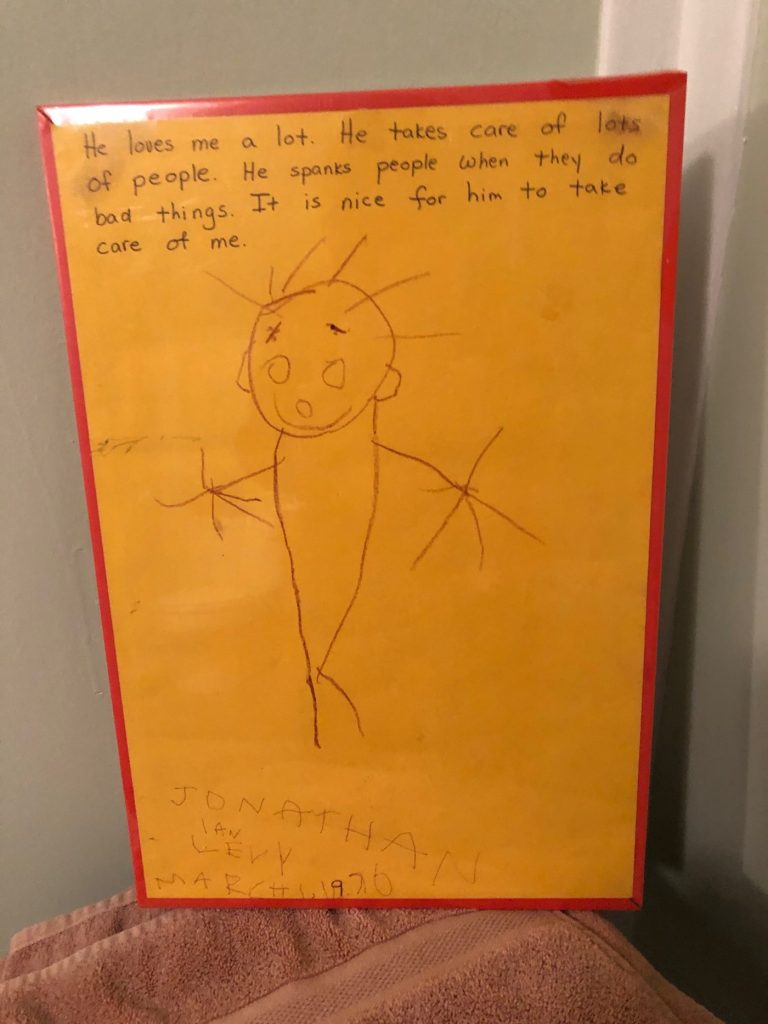 My son made this in preschool. It is dated "March 6, 1976." Perhaps it was part of a unit on "my family." At any rate, as a four-year-old, he had a strange understanding of what a psychiatrist did. While he knew his father took care of people, he also thought he spanked them when they did "bad things," which is weird because his father never spanked him or his sibs for anything. At least he got that his dad loved and cared for him.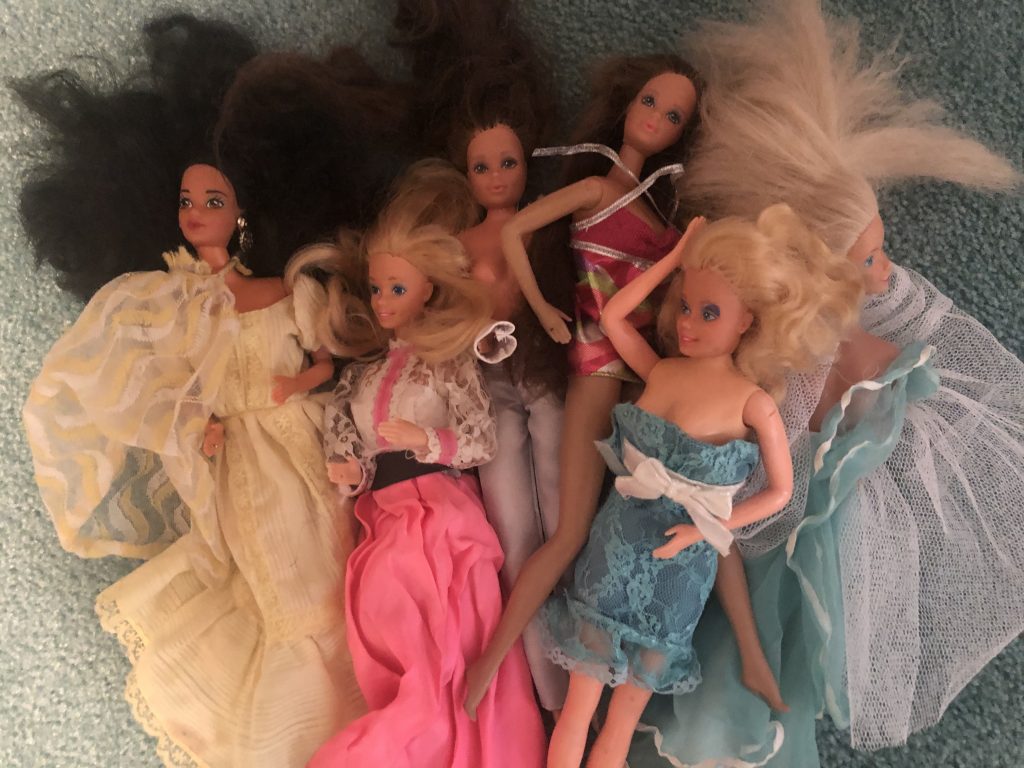 Also unearthed – tons of skating costumes and the remnants of my daughters' Barbie doll collection. My daughters spent countless hours on the third floor of the house acting out dramas based on their addiction to Days of Our Lives. Yes, I was a bad mother. I let them watch this soap and even watched it with them. I let them play with Barbies. I let our son watch The Six-Million Dollar Man, Saturday morning cartoons, and other assorted trash. Somehow, they all went to good colleges and have excellent careers. Two PhDs who are professors and one veterinarian. Not so bad for a mother who didn't monitor every minute of their lives.
OMG. Look what was hiding in a cubby up there: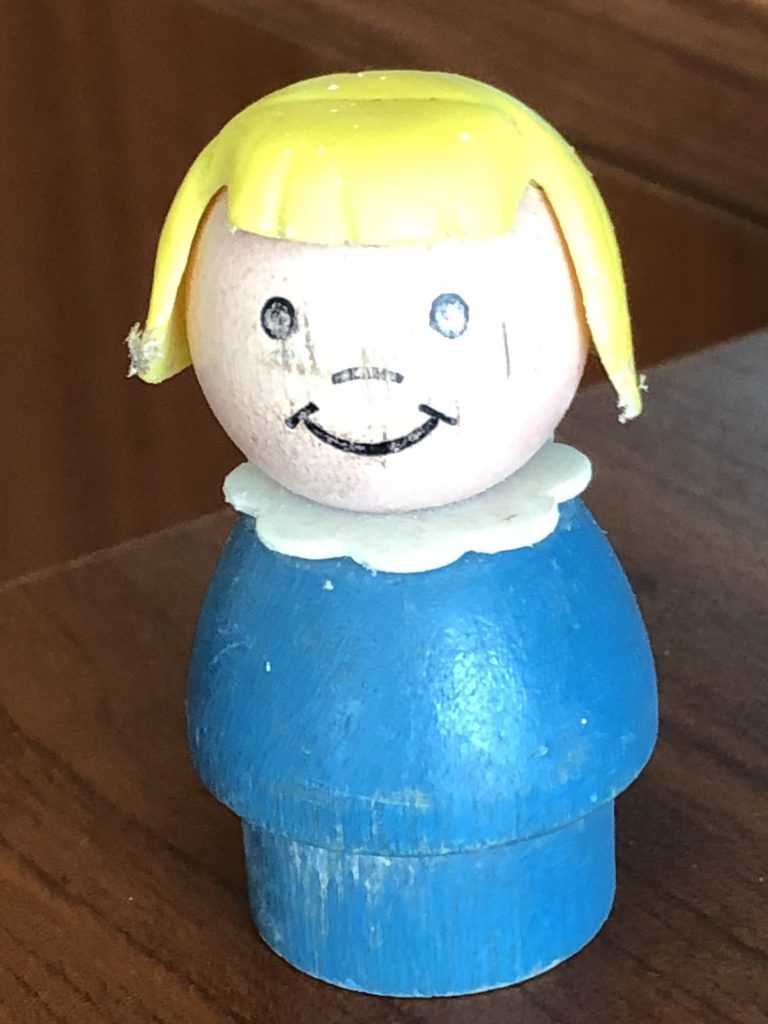 Remember when kids played with these Fisher Price little people before they were deemed choking hazards and became large plastic guys rather than cute little wooden creations? Also found in the attic: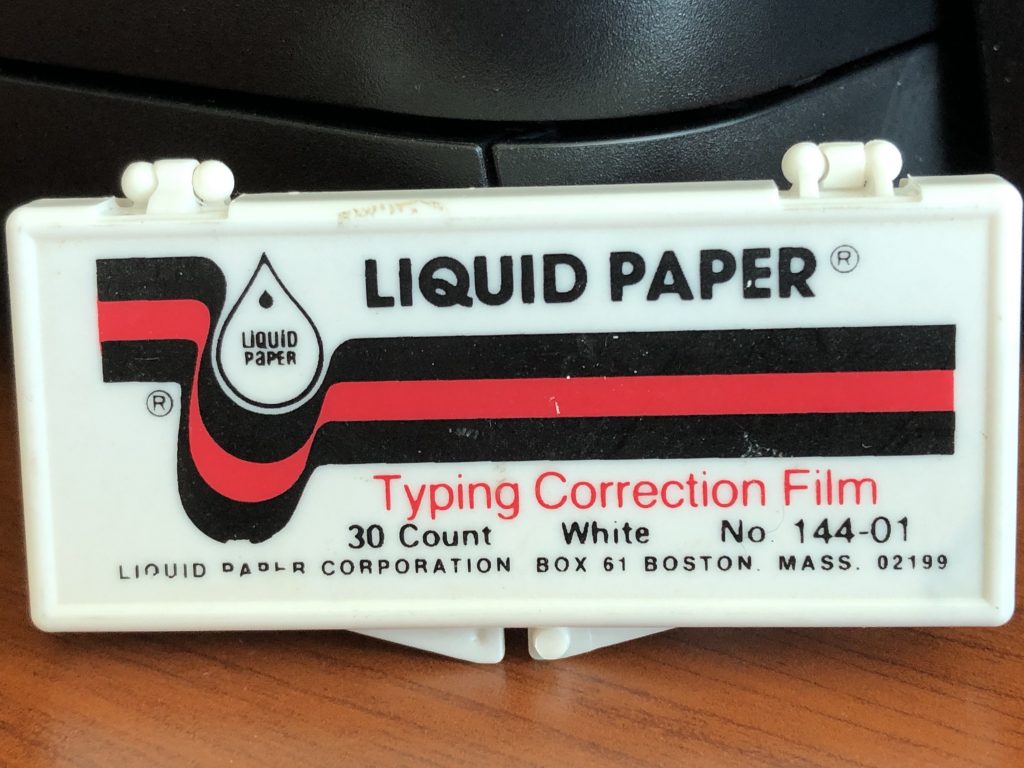 In case you don't remember this product, think back to the pre-computer era. It was used to correct typewriter errors without needing to remove the paper and use liquid cover-up, and then return the paper once it dried and try to line up the correction in the right place. For a hunt-and-peck typist like me, this was an amazing product.
We had already cleaned out our kids' bedrooms gradually over the past few years. Since none of them had lived with us since the new millennium, it was not that hard to donate the clothes they left behind. But the drawers in my family room wall unit were another matter, as they were filled with all of their report cards, grades K through high school. These were painful to toss, but not surprisingly, none of my children wanted them. They have their own kids' stuff cluttering their houses now.
We were finally forced to confront the dreaded basement. Into the trash went figure skating plaques and trophies, certificates of accomplishments great and small, Trivial Pursuit and Bears' Trivia from the 1980s. We also had to let go of a few treasured items that I photographed before tossing. Our daughter who lives in town spent hours culling through boxes of memorabilia before tossing most of it and bringing the rest to reside in her basement. We delivered several boxes of treasures to our other daughter, who lives in Indiana. We visited her and her family back on March 6, our last pre-pandemic outing, when we went there to watch two of her children swim in a divisional meet. Our son in Boston allowed us to reduce his memories to two large boxes, which we planned to ship there before the pandemic struck. They are still waiting for it to feel safe enough to drag them to UPS.
That took care of the back of the basement, but lurking down there was my box of memorabilia which my parents bequeathed to me 45 years ago when we bought the house. I decided it was time to let go of my report cards, bad art, sixth grade diary with only five pages completed, the letter I earned from the Girls' Athletic Association and my crush scrapbook featuring Edd (Kookie) Byrnes.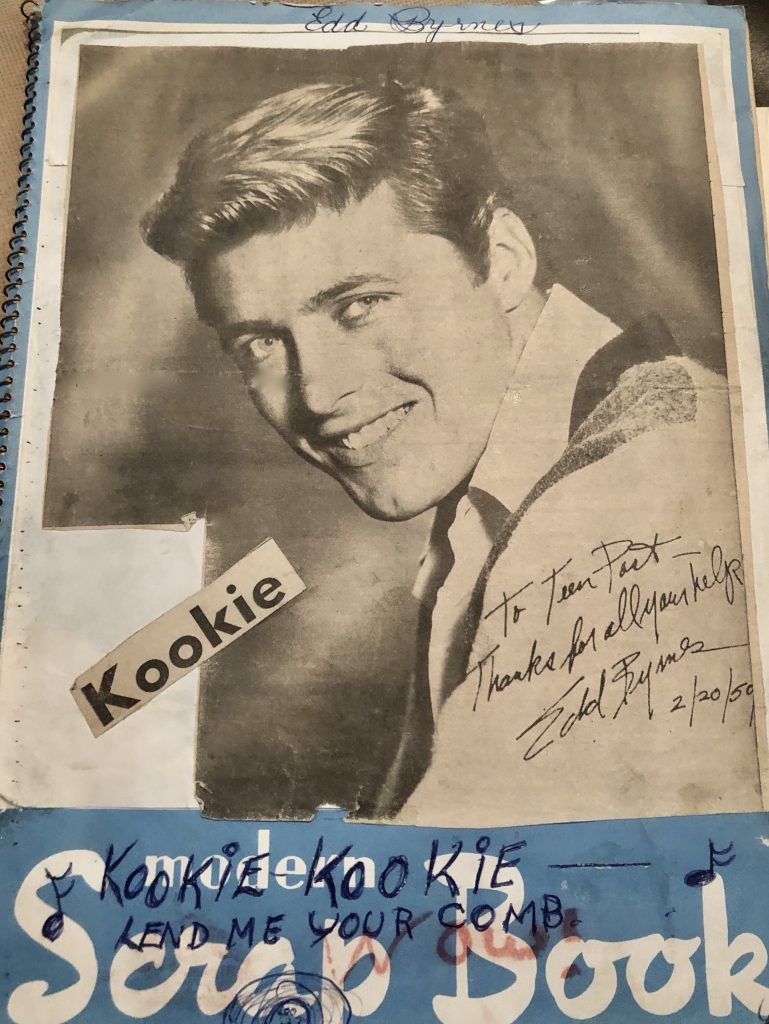 But how could I toss my autographed programs from my time as an apprentice (translation unpaid schlepper) at Northland Playhouse:
After reducing my memories to one plastic box, I turned to the many boxes I inherited from my parents after they died. There was their wartime correspondence, which had I read and written about before, (World War II Letters, World War II Letters – Marry Me, World War II Letters – How it Ended, and World War II Letters – The Women Who Stayed Behind) that I happily bequeathed to my niece. Photos I didn't scan because there were no recognizable or identified people in them were tossed. My father's incomprehensible genealogy research, and stacks of paintings he created but never valued enough to frame or display, will have to reside in someone else's basement when our house is sold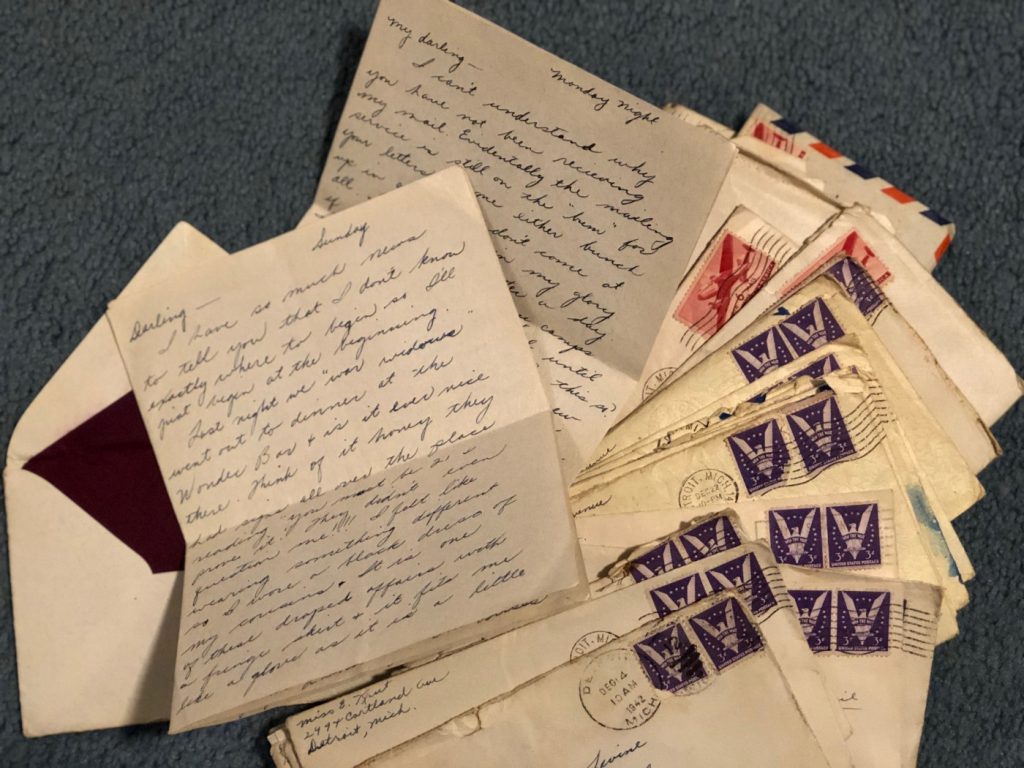 Our basement also held pieces of furniture retired from use but still important to me. I painted this chair yellow (why?) and rocked all of my babies in it. When I sit in it now, I still feel their warm, soft bodies and smell their baby shampooed heads. I hope there is someone out there who still could use a rocking chair. I'm not sure I have the heart to consign that to 1-800-Got-Junk.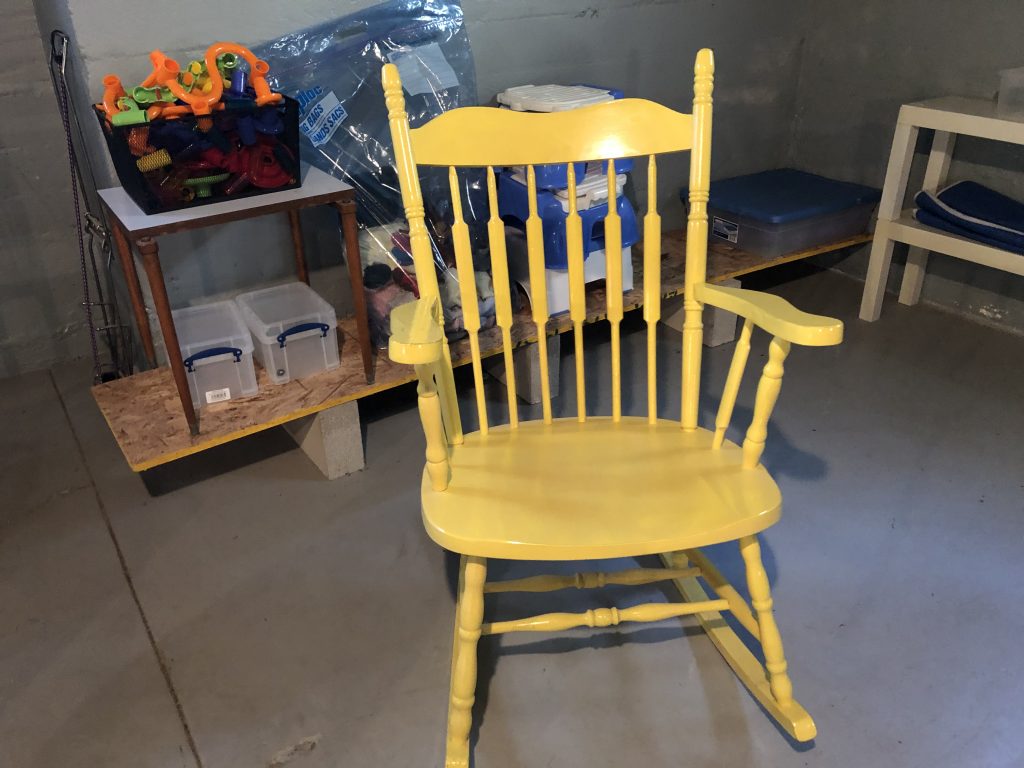 On the other hand, they can have this domino my granddaughters loved when they were in the throes of all things Disney Princess. That's a memory I'm sure they would like to forget.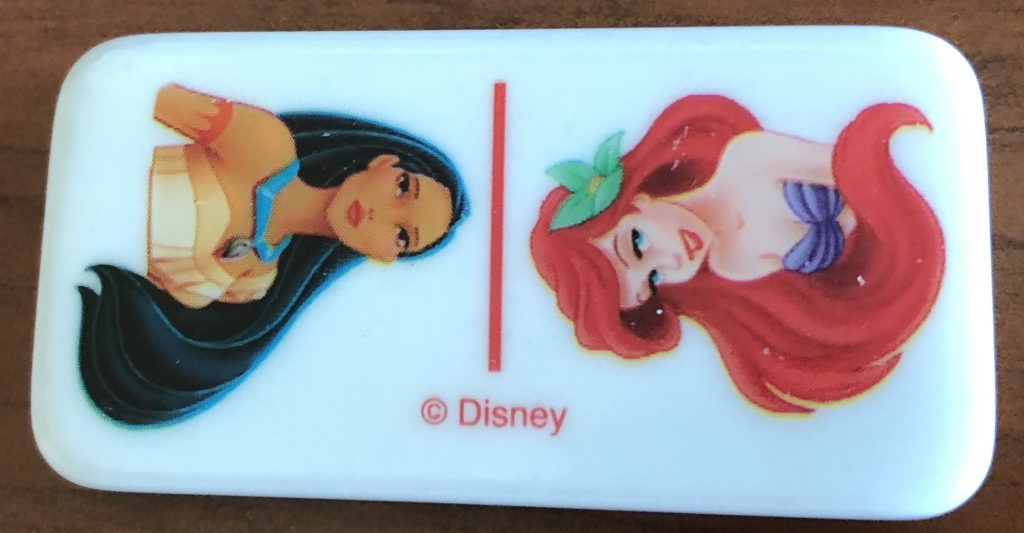 I invite you to read my book Terribly Strange and Wonderfully Real and join my Facebook community.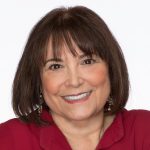 Laurie Levy
Boomer. Educator. Advocate. Eclectic topics: grandkids, special needs, values, aging, loss, & whatever. Author: Terribly Strange and Wonderfully Real.
Characterizations: funny, moving, right on!, well written