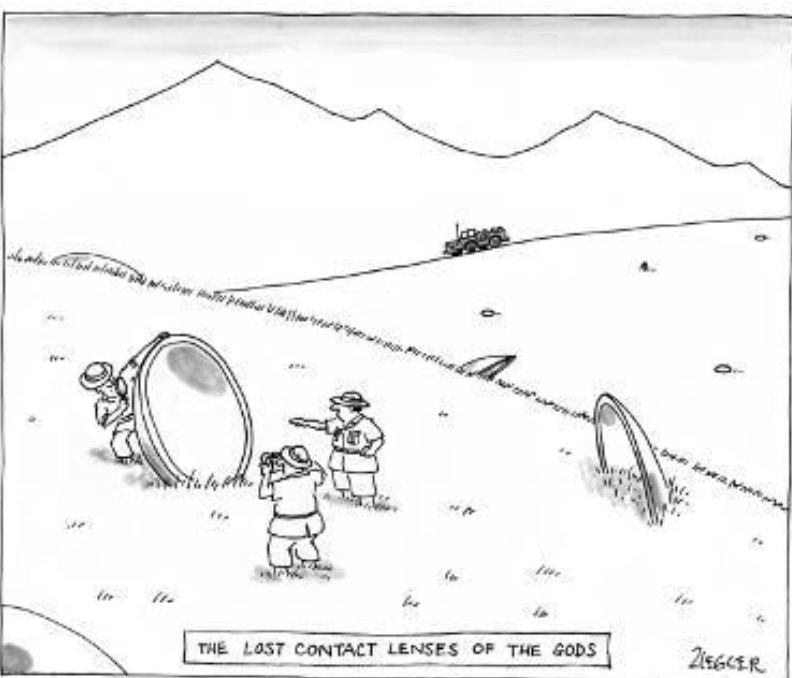 Let there be (properly refracted) light.  Please.
And then, I realized that a lens had fallen out.  Jeez.  While I was riding on the back of an open truck traveling at 65 miles an hour.
I was an early adopter of corrective lenses.  Age ten.  Couldn't see the blackboard clearly.  Straightforward.  World's ugliest glasses, worn only for school.  To my detriment.  This was Little League baseball age.  I was a terrific sandlot softball player, especially at the plate.  But playing hardball?  Fuhgeddaboutit.  In retrospect (ha ha) I think it was my somewhat impaired eyesight compounded by the usually well-worn, discolored baseballs used at that level.  No matter.
Age 15.  Contact lens time.  These were the state-of-the art at the time.  Rigid.  Not gas-permeable.  I had an ophthalmologist who was exceptionally good at fitting lenses and I was in heaven.  Perfect vision.  Vanity intact.  What could be better?  But then . . .
Episode the First:  A weekday evening at my prep school, walking back to my dorm.  Oops. Seems a lens just popped out and was.  Somewhere.  On the mica-laden walkway.  Those of us who have had the experience of losing a lens quickly learned that it's useful to look for the glint of light hitting the fallen lens.  But on mica?  I looked and looked and looked.  Hands and knees.  To no use.  I stood up, defeated.  And looked down. Could that be it? No.  Not possible.  But it was.
Episode the Second.  Several years later.  Summer before college.  I worked my tent-crew job, which involved a fair amount of travel to and from fairgrounds.  Sometime late in the season I was on a crew for one of the larger jobs, and due to circumstances I cannot reconstruct we found ourselves with a crew of four and but one truck that sat three in the cab.  So one lucky crew member would get to ride on the back of the open truck for the better part of two hours.  It was nighttime, of course. Being the rookie on the crew I was volunteered.  Fortunately not too cold.
I made myself as comfortable as I could on top of several of the canvas bags of tents.  And then, I realized that a lens had fallen out.  Jeez.  While I was riding on the back of an open truck traveling at 65 miles an hour.  Bye bye lens.  But when we turned into the parking area at the company headquarters and into bright light, lo and behold there it was.  Perched in plain sight on top of one of the bags.  Don't know how it held there.  But it did.
Episode the Third.  A number of years later.  Now in adult mode but with my original contacts.  On a flight from Hartford to Washington, D.C.  That familiar feeling.  Oh no.  This time, try as I might the lens was not to be found.  So I deplaned without it.  Makes me think that the lens became a kind of inanimate Charlie on the MTA, forever flying and never repatriating to its home.
Anyway, my trip was a short one, just one night.  And I adapted.  And looked forward to returning home to my standby eyeglasses (I had but one set of lenses).  Upon arrival I quickly retrieved my specs and relished my return to the land of sight.  Only to find . . .   Huh?  This can't be right.  Things are blurry and out of focus. Blinking and blinking and blinking changed nothing.  I scheduled an emergency visit with my ophthalmologist who refracted me and, in response to my comment that the best he could do wasn't much of an improvement, said "Perhaps you never saw that well to begin with."  I refused to believe that.
A good friend referred me to his optometrist.  I explained what had happened and what my experience with the ophthalmologist had been.  He nodded and said "let me take a look".  He did a quick examination and said "everything looks fine, we'll schedule you for a return visit for refraction in a couple of weeks."  My expression spoke volumes.  He explained that the reality of hard lens (at that time) was that they worked as a constraint on the shape of the eye, which was useful because it retarded changes in visual acuity, but in the event that the wearer abruptly stopped using them the eyeball, free of its constraint, would reshape itself somewhat.  Once it settled down he would be able to do a normal refraction.
The ensuing two weeks passed without incident.  Mostly.  I discovered that I could see at least as well without my glasses as with them.  For a time.  The day finally came for my refraction; the results were excellent.  And I bought two pair of lenses.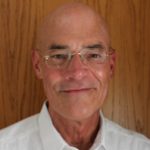 Tom Steenburg
Retired attorney and investment management executive. I believe in life, liberty with accountability and the relentless pursuit of whimsy.
Characterizations: been there, funny, right on!, well written