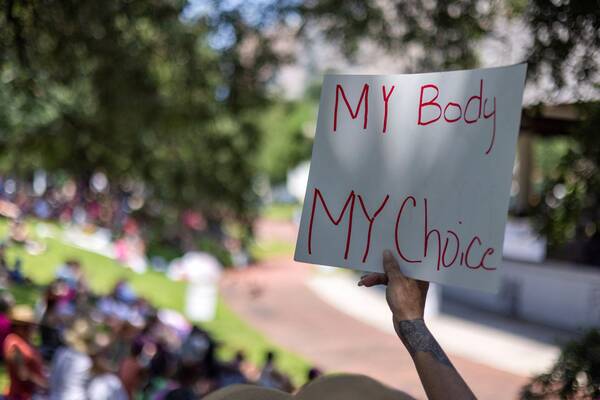 Constitution of the United States
Please note that the word "justice" never appears in this broadside.
Article III
Section.1.
The judicial Power of the United States, shall be vested in one supreme Court, and in such inferior Courts as the Congress may from time to time ordain and establish. The Judges, both of the supreme and inferior Courts, shall hold their Offices during good Behaviour…
*
"Good behaviour" huh? Three of the current Supreme Court justices —Neil Gorsuch, Bret Kavanaugh, and Amy Coney Barrett — lied in Senate confirmation hearings about their stated position on Roe v. Wade. They had declared under oath that Roe stood as law under the doctrine of stare decisis.
Stare decisis requires courts to apply the law in the same manner to cases with the same facts. Roe v. Wade, as originally recorded in the U.S. Supreme Court decision contains the same facts, word-for word, as the recently nullified Roe v. Wade decision. Oh yeah, and screw the Fourteenth Amendment.
The Fourteenth Amendment was written in 1868 to counter the attempts by Southern states to make laws that excluded former slaves from access to democracy. Heard that one before? The Fourteenth Amendment says that "no state (e.g., Mississippi) shall make or enforce any law which shall abridge the privileges or immunities of citizens of the United States; nor shall any state deprive any person of life, liberty, or property, without due process of law; nor deny to any person within its jurisdiction the equal protection of the laws."
The Fourteenth Amendment's Due Process Clause lies at the heart of many defining 20th-century Supreme Court decisions, such as Loving v. Virginia (1967), which deemed laws against interracial marriage unconstitutional in part because they denied liberty without due process, and Roe v. Wade (1973), which upheld a women's right to an abortion under the right to privacy.
But by nullifying the Roe decision, through Dobbs v. Jackson Women's Health Organization (a case originating in, yes, Mississippi), the court deprives hundreds of millions of Americans of their privacy and hence, their liberty.
So the robed Medievalists reversed a law and withdrew a Constitutional right. According to these malicious and arrogant jurists, there's a first time for everything.
Who are these people?
SCOTUS Justice Amy Coney Barrett serves as 'handmaid' (their term) in People of Praise, a male-dominated Christian group practicing shared living, faith healing and speaking in tongues. Apparently, their elders like to watch their flock engage in intercourse to make sure everything is going okay. Husbands attend their wives' gynecological appointments to ensure that no contraception passes hands.
Amy Coney Barrett grew up under the aegis of the all-male People of Praise elders. Daniel Bennett, a professor at a Christian college in Arkansas, recently said that Barrett is "more embedded in the conservative Christian legal movement than any Justice we've ever had."
Barrett should have recused herself from the Roe v Wade reversal in recognition of her deeply religious morals, values and — yeah — her "behaviour."
Her actions in the Roe ruling and her presence on the court makes a travesty out of impartiality. She, like her kooky Senate colleague Kirsten Sinema both exude the kind of energized, suppressed hysteria that suggests childhood domination. I'll leave it at that. That may not be good journalism, but Barrett's jurisprudence stinks. And I'll refrain from digging too deeply into "equal treatment" as manifested between Barrett's biological children and her adopted Haitian kids.
SCOTUS Justice Brett Kavanaugh carries thousands of complaints of sexual abuse registered with the FBI and has a drinking problem. A large portion of his confirmation hearing revolved around the testimony of Christine Blasey Ford, a Stanford research psychologist who claims Kavanaugh sexually assaulted her when they were both teenagers. The FBI under Trump suppressed evidence of dozens of other complaints from women Kavanaugh had abused.
Just before Senate Majority Leader Mitch McConnell tapped Kavanaugh for Supreme Court candidacy, Kavanaugh, while still sitting on the D.C. circuit court, denied access to an abortion for an immigrant teenager, being held under then-President Trump's draconian ICE policies.
I could go on. Justice Alito, who wrote the infamous draft decision reversing Roe takes authority from two 17th-century English witch burners. I shudder to think of what lies beneath Justice Alito's zealotry. Moving along…
Uncle Clarence Thomas refused to recuse himself from efforts to suppress evidence that his wife is under investigation for actively participating in violent attempts to reverse the 2020 election. In an earlier life, Uncle Thomas festooned his sexual relationships with pornography. Most of us remember Anita Hill from Uncle Thomas's Senate confirmation hearings. Earlier, he violently abused his live-in partner unless he was under the sedation of alcohol. Bad "behavior."
It seems a bit ironic that Uncle Thomas wants to block more Constitutional rights, including contraception and same-sex marriage. He would not have been able to marry his seditious current partner, Ginny Thomas, were it not for the abovementioned Loving v. Virginia.
Neil Gorsuch reminds me of a snake. Tall, good-natured, and preppy-looking, I keep watching to see signs of a forked tongue darting out between his thin lips.
Finally, comes Chief Justice John Roberts. His milky leadership resembles the energy and alacrity of paint drying or grass growing. His efforts to stabilize and legitimize his court have been ominously ignored by the ambition and energy of his youthful, overzealous subalterns.
Two days after this court eschewed on the Fourteenth Amendment and reversed the constitutional rights of women to control their own bodies, I don't give a damn who can argue with the positions I've put forward here. The court has rarely lived up to its potential to give equal protection and due process to the American people. Too often, its "good behaviour" seems lost in translation.
#  #  #
Charles Degelman
Writer, editor, and educator based in Los Angeles. He's also played a lot of music. Degelman teaches writing at California State University, Los Angeles. 
Degelman lives in the hills of Hollywood with his companion on the road of life, four cats, assorted dogs, and a coterie of communard brothers and sisters.
Characterizations: been there, moving, right on!, well written