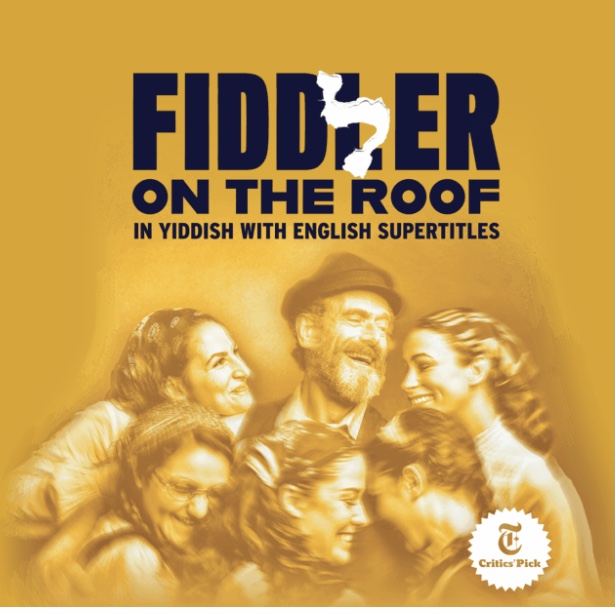 As a child I heard Yiddish spoken by my European-born grandparents and my first-generation American parents,  yet I never had the curiosity to learn to speak it myself.
But my parents subscribed to New York's Yiddish theatre company,  the Folksbiene,  and I'd go with them and follow the plays by reading the English supertitles.
When I met my husband I learned,   surprisingly for our generation,  that he spoke Yiddish and loved the language.  And so we continued to go to the Folksbiene and other venues,  where we saw wonderful Yiddish productions of plays including Death of a Salesman and Waiting for Godot,  with me still reading the supertitles.
Then in 2018 the Folksbiene presented a highly acclaimed Yiddish production of Fiddler on the Roof directed by Joel Grey.  It was mounted first at New York's Museum of Jewish Heritage,  and later transferred off-Broadway to Stage 42,  and we saw both amazing productions.
Based on the Tevya stories by Sholem Aleichem,   which were originally written in Yiddish,   the play's dialogue and lyrics were displayed creatively on the back of the stage in both Russian – to reflect its setting in czarist Russia's Pale of Settlement  –  and in English.
But I knew the emotional story and its songs so well,  I had no need for the English translation –  all I needed were the tissues to wipe away my tears.
Dana Susan Lehrman
Dana Susan Lehrman
This retired librarian loves big city bustle and cozy country weekends, friends and family, good books and theatre, movies and jazz, travel, tennis, Yankee baseball, and writing about life as she sees it on her blog World Thru Brown Eyes!
www.WorldThruBrownEyes.com
Tags: Yiddish, Yiddish Theatre, Folksbiene, Fiddler on the Roof
Characterizations: been there, funny, moving, well written