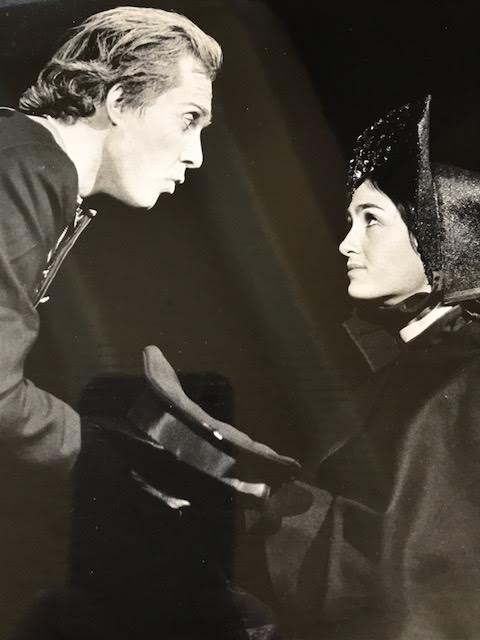 I came to college incredibly naive about all things sexual and gender-related. As a theater major, I was certainly surrounded by gays; I was totally unaware. Perhaps they were too, as many were still closeted in the early 1970s.
My junior year, I won the role of Sarah Brown in "Guys and Dolls". The show opened on Wednesday, November 3, so we had long tech rehearsals the weekend before, pausing for a rollicking Halloween party off-campus at a house inhabited by a group of theater grad students. It wasn't exactly a costume party, but I still didn't go in blue jeans. I borrowed a flattering dress from one of my petite suite-mates. It was full-length (common in those days of the maxi-dress), beige, boucle wool, form-fitting, cut low over the bosom with colorful laces criss-crossing the bodice. I paired it with platform high-heeled sandals. I thought I looked smashing with my long, dark hair.
Chuck Pacheco lived in that house. He played the role of Uncle Arvid in the play, one of the older members of the Salvation Army troupe; the one Sarah turns to when she comes back from Cuba, smitten with the gambler Sky Masterson, who she knows isn't right for prim little her. Arvid carries the bass drum in the processions and is Sarah's father-confessor. He looks out for her, and at this point in the play, sings his advise to her: "more I cannot wish you, than to wish you'd find your love, your own true love this day". The song was cut from the movie, if it doesn't seem familiar.
I thought Chuck was very good looking. He had beautiful features, though was made up to look older in the play. I was involved in a hot and heavy relationship, but Bob would graduate from Brandeis in a month, so I was looking for someone new. I was interested in Chuck that night at the Halloween party. The little house was jam-packed with Halloween revelers and in full-swing when I arrived. I knew everyone there. We danced and drank and partied. I sought out Chuck, who seemed receptive. We danced fast, then slow, and slowly made our way to one of the couches and sank into a deep embrace. We lay there, entwined, making out for a long time. I excused myself to go to the bathroom.
When I returned, my place on the couch had been usurped by Joseph, an undergrad from the chorus, prettier than I! I was taken aback. They didn't look up. I awkwardly moved to another room to resume dancing and soon found a ride back to campus. This was my first encounter with someone openly gay. Going back to rehearsals the next day, nothing was mentioned. Chuck and I pretended that I didn't notice and we went back to our roles in the play. He continued to date Joseph. I continued dating Bob until the end of the semester, then Dan, whom I would marry 19 months later.
We never mentioned our night on the couch. We were in one more show together, second semester; "Black Comedy", a funny trifle directed by a close friend. I played Clea, Chuck's sexy ex-girlfriend, come back at an in-opportune time to mess things up. We had a fun time with the production. Chuck graduated and went on with his life without ever discussing the Halloween party. In his own way, he had signaled his decision to me. I came to respect and admire that.
I heard from our director friend that Chuck was running a book store and years later, I ran into him there. We exchanged pleasantries as I went about my business. In 2006, I saw his obituary in the Boston Globe. He had died from a brain tumor at the age of 56. He ran the Harvard Book Store for the last 13 years of his life. And he was in a committed relationship for 23 years, before same-sex marriage was legal in Massachusetts, which was the first state in the U.S. to legalize same-sex marriage. I clipped the obit and put it in my album with the photo of my Uncle Arvid from "Guys and Dolls".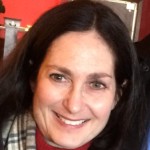 Betsy Pfau
Retired from software sales long ago, two grown children. Theater major in college. Singer still, arts lover, involved in art museums locally (Greater Boston area). Originally from Detroit area.
Tags: Brandeis theater, changing partners, naive, brain tumor
Characterizations: been there, moving, well written