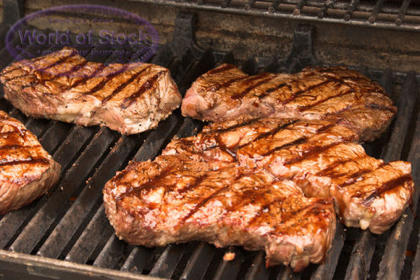 Kids these days don't know where their food comes from, complain the curmudgeons, but when I was a kid, I knew. I often had to hunt for it. "Go down and get three steaks for dinner," my mom commanded, and I'd have to rifle through the basement freezer until I found the packages marked "steak" in my grandfather's neat, angular hand.
My father employed the same grilling method as every other suburban Michigan father in the '50s: incineration.
Grandpa owned three meat markets in Chicago, a successful businessman despite having to drop out of school after fifth grade. When we'd visit, he'd take me on his morning rounds. He'd work in the back office while I played with the office equipment. I loved the check printer: I'd type in a random number, which it would emboss, in rainbow colors, on a piece of paper. For lunch he fried up a steak in an electric skillet, a lunchtime extravagance never indulged in at home.
Grandpa put my photo, and my sister's (and my mother's before us), on egg cartons. Customers who had bought "Johnny U Eggs" would recognize and greet me when I entered the storefront.
Occasionally he took me to the stockyards—so I really did have some insight about where our meat came from. I found these trips grim; I hated wandering among the huge sides of beef, hanging forlorn from hooks. But Grandpa could tell the best meat at a glance, and our stays there were gratefully short. We'd go back to my grandparents' apartment where he'd fall asleep watching the Cubs lose on TV.
Back in Detroit, every month or so Grandpa sent us a wooden crate full of prime meat, packed in dry ice. I'd help my mother pry off the top and, once I learned (the hard way) not to touch the dry ice, we'd unpack it. I'd hand her the packages of strip steaks, roasts, lamb chops, and kosher hot dogs, wrapped in heavy butcher paper, and she'd load them into the enormous basement freezer.
My mother's domain was the kitchen, but my father ruled the porch. The rest of us didn't use it much anyway. Lined with floor-to-ceiling jalousie windows, it was underinsulated with a southern exposure, freezing in winter and sweltering in summer. But in the corner was my father's virtuoso instrument—an indoor charcoal grill.
So, every two or three weeks in summer, I'd be sent to the basement to bring the steaks from the freezer. My mother would put them on a rack to thaw and then coat them in Lawry's seasoned salt, a.k.a. MSG—an additive this prime beef emphatically did not need.
As dinner approached, my mother put baked potatoes in the oven, while my father prepared Caesar salad from scratch. (No bottled Caesar dressing in those days!) It should have been my favorite meal—and I always said it was—but secretly I was ambivalent. My father had a touch for meat: his steaks were always tender, juicy, and perfectly pink inside. But he employed the same grilling method as every other suburban Michigan father in the '50s: incineration. He'd pile charcoal in the bottom of the grill, pour in a quarter can of lighter fluid, warn us to stand back, and then, without waiting for the fluid to saturate the briquettes, ignite the conflagration. Once the flames had died down a bit, he'd put the steaks on the grill, without waiting for the charcoal to ash over. So the fire would keep dying down, and he'd pour on more lighter fluid, direct from the can. Not only was this a fire marshal's nightmare, scorching the porch wall behind the grill, but the surface of the steaks, charred by flames rather than seared by heat, was burned and unappetizing. I would try to eat around the char, but my mother would admonish me, "that's the best part."
The grilling ritual continued until I was ten, when my father died of cancer (unrelated to charcoal). My mother remarried, but my stepfather couldn't find the kitchen—or the porch grill—on a map. So my mother put steaks under the broiler after that.
I escaped childhood with at best minimal cooking skills; cooking was not considered necessary, or even appropriate, for boys back then. I think I could make egg salad and grill a frozen burger. But when Patti and I got together, she craftily began teaching me. I soon learned to appreciate, even before you got to enjoy the meal, that cooking itself was relaxing, even fun. You have to pay attention and be there in the moment. After we got married, we worked our way through a wedding cookbook called Gourmet Cooking for Two and I was hooked.
I took manly responsibility for most of the meat dishes, and we acquired a series of hibachis, Weber kettles, a wood-burning oven, and (currently) a covered grill/smoker called a Big Green Egg. The first time I actually read the instructions on a can of lighter fluid, and realized that you were supposed to let it burn off and turn to ash, I was stunned. But you couldn't argue with the results. Soon I graduated from briquettes to mesquite, and dispensed with lighter fluid (and its oily aroma) altogether.
In addition to learning techniques from Patti, cookbooks, and cooking shows, I also inherited my ancestral meat sense. Somehow I know intuitively when to take the steaks off the grill, how long to let them set. This uncanny intuition has earned me the nickname "Mr. Meat Guy." Everyone raves about my steaks and no one has to eat around the char.
Still, I'd give a lot to have my father charcoal one more steak for me, or my grandfather fry one up in his skillet. Better yet, I'd love to grill them both a steak of my own.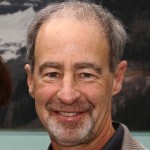 John Zussman
John Unger Zussman is a creative and corporate storyteller and a co-founder of Retrospect.
Characterizations: been there, funny, moving, right on!, well written