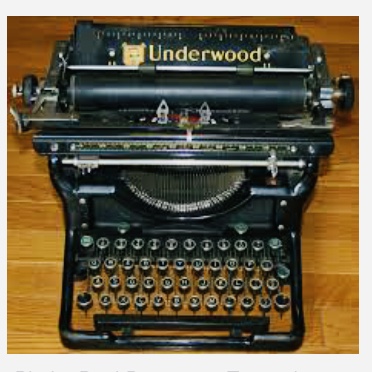 My dad was knowledgeable and proficient in so many areas,   we thought of him as a Renaissance man.  (See Saying Farewell to a Special Guy,   Six Pack)
In fact during the last few decades of his life he was even writing his memoirs,  not with an eye to publication but for his own satisfaction.   He'd write a chapter in long hand and then type it up on his trusty old Underwood.
Then when word processors had all but replaced typewriters a few years before he died,  my sister and I had the bright idea of getting him one so he could type,  edit,  and save as he added chapters to his opus.  And we solicited Josh,  a neighbor's 12 year old kid who liked my dad,  to help him learn how to use it.
My dad,  stubborn as usual,  said he was perfectly happy with his old typewriter.   But begrudgingly he accepted our gift,  thanked us,  and promised he would let Josh teach him to use it.
Whether the kid did or not,  I don't know.   But visiting my dad some time later he admitted that after all he liked his fancy new electric typewriter.
"Good dad,  but of course it's not just an electric typewriter,  it's a word processor.   And you must admit that being able to edit and save your memoirs is great!",  I said.
"You mean I can edit and save?"   he said.
– Dana Susan Lehrman 
Dana Susan Lehrman
This retired librarian loves big city bustle and cozy country weekends, friends and family, good books and theatre, movies and jazz, travel, tennis, Yankee baseball, and writing about life as she sees it on her blog World Thru Brown Eyes!
www.WorldThruBrownEyes.com
Tags: Technology, Word processors
Characterizations: funny