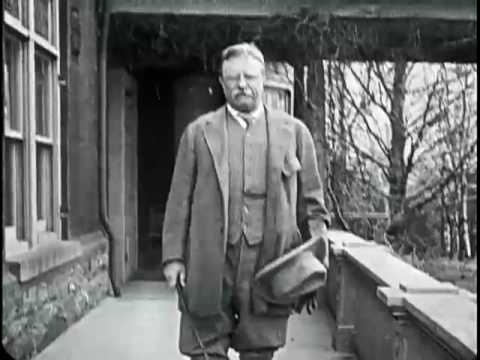 This is sort of a trick story, since my titular neighbor had been dead a long time before I became his neighbor.  His name was Theodore Roosevelt; you may have heard of him.
This is sort of a trick story, since my titular neighbor had been dead a long time before I became his neighbor.  His name was Theodore Roosevelt; you may have heard of him
My former wife and I bought a small house for weekends and summers in 1981, just after our first daughter was born, in Oyster Bay, NY.  We had house sat in the town for some friends of my wife's parents and found it to be a lovely town, much closer in to NYC than the dreaded Hamptons and close-but-not-too-close to her parents on Long Island. A few years later, having grown even more fond of Oyster Bay, we bought a much larger home high on a hill overlooking Oyster Bay Harbor.
I knew our new home was near Sagamore Hill, Teddy's historic home and now a National Park, but I didn't initially realize quite how near, since our house was on a separate, but parallel, road just before you drove up to Sagamore Hill if you were coming from town onto the peninsula.  And I guess I didn't look at the area map too closely when we were buying; I only knew we were on a lovely piece of property.  However, right after we moved in, I decided to tromp through the woods that were just on the other side of the split rail fence at the end of our backyard.  And, once I got to the clearing in the woods; voila!  There was the sign for Sagamore Hill with the house itself looming behind it. Here was my view: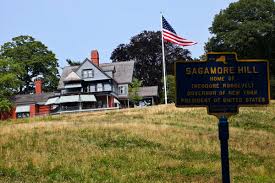 I have always had mixed opinions about Teddy's legacy —  fierce environmentalist and trust buster, but equally fierce imperialist and racist.  But, of course, he is a legend in Oyster Bay. The first telephone in Oyster Bay was run out to Sagamore Hill for Teddy when he was President and the town phone exchange was SAgamore.  And I loved walking the grounds or bringing our kids and friends over for the wonderful tours given of the house by the Park Rangers.
Apropos of this week's prompt, Teddy was the perfect neighbor.  The house itself is set way back from our property line (and, as noted, through the woods). And no wild parties, other than a terrific Fourth of July celebration with a brass band (John Phillips Sousa was a neighbor and good friend of Teddy's) and a Teddy impersonator giving one of his speeches from the front porch.  (You can see the real Teddy on the porch in the featured image.)  .  More importantly, Sagamore Hill is a National Park, so little risk that the neighbors are going to sell and sub-divide it into a bunch of McMansions. (Though in the 80's, James Watt, Reagan's odious Secretary of the Interior, did threaten to "de-commission" and sell off a number of National Parks, including Sagamore Hill.)  Moreover, at some point after we moved in, the Town of Oyster Bay, with a lot of federal money thrown in, extended its water service up to Sagamore Hill due to the risk of fire to the house and other buildings.  Because the shortest route required an easement through our property, the Town agreed to hook up to our water line virtually for free and also put a hydrant on the road right in front of our house.  Again, thanks, good neighbor Teddy!
My former wife is still happily at the Oyster Bay home most weekends and summers, as are our daughters (and my grand-dog), and that gives me great joy. Last time I checked the Sagamore Hill website, Teddy had had a beautiful new Visitors Center built on his property, and, all in all, he seems to be keeping up the neighborhood.
John Shutkin
Characterizations: funny, well written