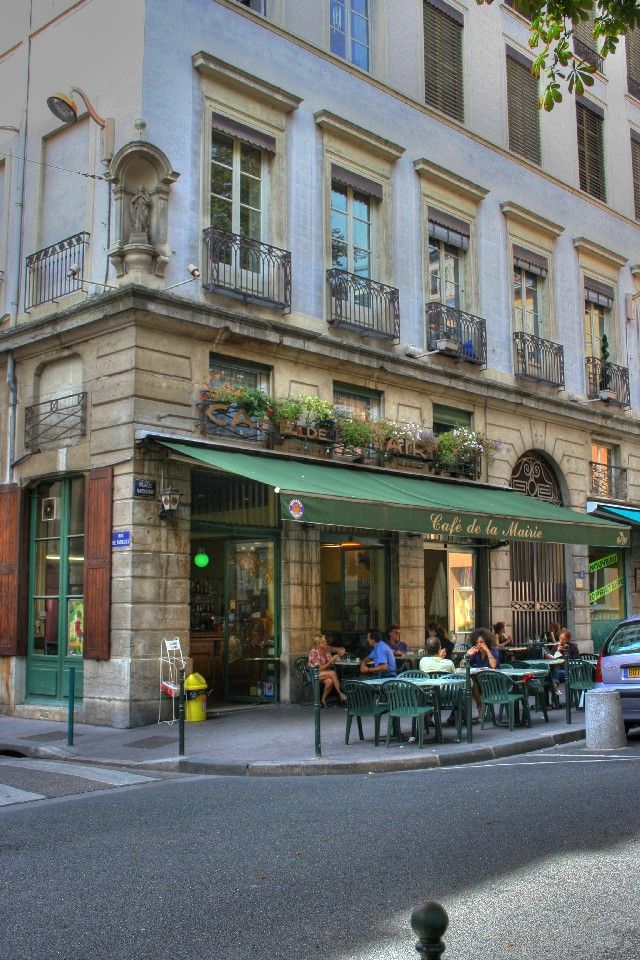 "He makes the best omelets!" said the man seated on the barstool, gesturing to the one tending bar, who seemed to be the proprietor.  "You should definitely come here for breakfast." Each of them looked to be in their fifties and gave the impression of being good friends, not just a customer and a server.
I had learned that as a general rule in France, one could eat breakfast much more economically in a bar—and more swiftly too--than in a bistro, restaurant, or brasserie.
"What would you want in your omelet?" asked the bartender. "Perhaps some onions, tomatoes…of course, cheese," I answered. "However you like to make them is fine."  The man on the barstool prompted, "what about some ham?"  "Oh, one of us is vegetarian, but perhaps one or two of us might enjoy some ham; only if that's what you make, normally."  "He makes the best omelets with ham, I assure you!" exhorted the seated man.
This conversation took place in French, in the Café de la Mairie ("Town Hall Café") in Lyon, the third largest city in France (after Paris and Marseilles). It was early evening on a winter day in January, 1998, near closing time. It was dusk; at most two or three other customers were around, although I noticed there were many tables. I was not looking to order any victuals right then, but inquiring about the options for breakfast the next morning.
Betty was an invited presenter at a neuroscience conference in Morzine, a ski resort in the French Alps. We were traveling to the conference with her son Daniel, a student at Brandeis. He was not yet my stepson because Betty and I had not yet become engaged: that would happen in the spring and our marriage would take place in the fall of that same year. Piggybacking on the conference schedule, we had plotted an itinerary that included a couple of days and nights in Lyon.
A friend of mine had recommended a day trip to the famous walled medieval town of Perouges, just an hour from Lyon by train. We were staying in a one-star hotel in the old section of Lyon that had no dining service, so I was on a mission to find us a place for a satisfying breakfast before we caught the train the next morning. I had learned that as a general rule in France, one could eat breakfast much more economically in a bar—and more swiftly too–than in a bistro, restaurant, or brasserie. Even if it was nowhere written on a menu or posted on a wall, most bars would willingly prepare eggs to order in addition to providing coffee or tea and baked goods. So I walked from our hotel to the train station and began snooping around to find the right spot—the nearer to the station, the better–for our early-morning petit dejeuner.
I no longer remember if I entered any other establishments before I encountered "les deux messieurs" in the Café de la Mairie. This place looked old but charming. "Parfait," (perfect), I thought to myself. I crossed my fingers and put forward my best foot and my best French. (I have never regained the fluency I achieved at age sixteen, when I studied French for an entire summer and lived with a French family in Brittany, under the auspices of the Indiana University Honors Program for High School Students in Foreign Languages. But I could still make myself understood.)
"Good evening, Messieurs," I said with some enthusiasm, nodding to both of them. I received their friendly acknowledgment, and then continued. "We are a party of three, boarding an early train in the morning. I am looking for a place not far from the train station where we can have breakfast around eight o'clock. Do you, for example, make omelets?"
To my surprise, the full-throated response came more from the man on the barstool than from the proprietor. After clarifying our preferred ingredients in an omelet, the friend asked "do you want to be served precisely at 8:00 am?" I mentioned the time the train departed, and suggested that perhaps if we could arrive at a quarter till eight, that would be perfect. We could order and be served by 8:15 and get to the train promptly.  Both of them were nodding their heads in agreement, and I finally pressed the friend on the barstool, "do you work here as well?"  "Non, pas du tout" (not at all), he answered.  "This gentleman will make you the greatest breakfast."
I left, full of gratitude, and an enthused, "A demain, monsieur" (see you tomorrow, sir).
When Betty, Dan, and I arrived at the appointed hour the next morning, we were the very first customers. The man I took to be the proprietor greeted us cheerfully, wearing chef's whites (but minus the chef's hat), and let us in the door. He gestured to some tables and asked that we choose any of them. There were already place settings on many of them; we picked one by a window.  He didn't offer us a menu but immediately announced his plans for omelets and asked us to confirm that the ingredients mentioned were in accord with our wishes. I noticed there was no mention of the ham his friend had been promoting the day before, but I didn't mind.  He also confirmed that we were all interested in café au lait (coffee with heated milk).
He sauntered back and forth a couple times between us and the kitchen, which was audible but not visible to us. He was seemingly starting up the preparation of the omelets, and it was becoming obvious that no other staff were on the premises.
Next, our host announced he was going to step out for a few minutes to the boulangerie (bakery): would we prefer bread sliced from a baguette with our eggs, or did we want croissants?  We all quickly agreed on the fresh baguette. He smiled and as he departed, locked the door behind him.
"Wait a minute," I whispered to Dan and Betty. "Is this place even open?"  "No, it seems like it's not." "I thought we were the first customers, but obviously, we're the only customers." "He opened it only for us—that's why he's locking the door."  "And he's making a run to the boulangerie to buy us custom-ordered bread!" "Oh my gosh,," I said, "if his friend hadn't been there insisting that he makes a great breakfast, who knows? Would he even have agreed to this!" "Has he even ever served omelets to his customers?" "I doubt it." "Well, let's just enjoy it."
The chef/proprietor returned with a couple of fresh baguettes, relocked the door behind him, sliced the bread for us, and. provided us with butter and apricot preserves on small white ceramic serving plates. The café au lait was ready, and soon after, he served the omelets. Everything was delicious. We were full of happiness, combined with a growing sense of disbelief at our amazing good fortune.
We finished our meal, thanked him profusely, and paid our check.  On the way out, I tried to acknowledge our recognition of how fortunate we were. We realized now, we told him, that he had opened his business extra hours just to feed us: one family of hungry Americans on their way to catch a train to Perouges. He wouldn't hear of it.  He was happy to do it for us.
The walled city had its own wondrous delights. We tasted some delicious "medieval style" hard cider at the inn where visitors first enter. Later, on a street full of artisans, we had a wonderful interaction with a female Jewish blacksmith. She forged artistic objects–not horse shoes–from iron.  Some had symbols of Judaica on them. The train rides to and from Lyon were comfortable and on time.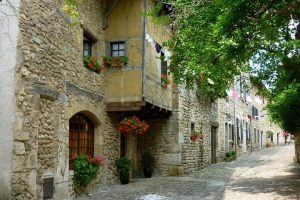 The delights of visiting the walled town of Perouges come back to light up my memory from time to time. But those memories can never outshine the random act of kindness with which our day began. Some might not classify it as random, because I walked into his bar with my own agenda. Nor was it purely selfless, in that he charged us the going (quite inexpensive) rate for what he served.
But we were travelers in a foreign land. We asked if he could prepare us an early breakfast. He could have explained, truthfully, that his business wasn't open that early. And that furthermore, omelets were not part of the repertoire at the Café de la Mairie. Instead, he said yes. And the passage of 20 years and more has not dimmed the glory of that small act.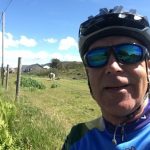 Dale Borman Fink
Dale Borman Fink retired in 2020 from Massachusetts College of Liberal Arts in North Adams, MA, where he taught courses related to research methods, early childhood education, special education, and children's literature. Prior to that he was involved in childcare, after-school care, and support for the families of children with disabilities. Among his books are Making a Place for Kids with Disabilities (2000) Control the Climate, Not the Children: Discipline in School Age Care (1995), and a children's book, Mr. Silver and Mrs. Gold (1980). In 2018, he edited a volume of his father's recollections, called SHOPKEEPER'S SON.
Tags: France, bar, chef, breakfast, cafe
Characterizations: funny, well written