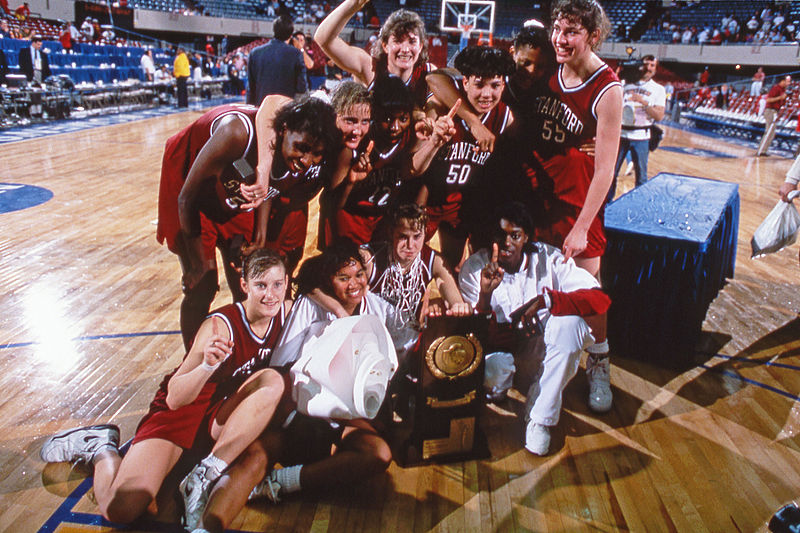 I grew up with two older brothers, providing me a front-row seat in the stadium of male privilege. And also a basement that rivaled the warehouse of a sporting goods store. Seriously, how many hockey sticks does one boy need? (And how many hours did I observe him taping them? Black tape wound around and around the business end for protection, and the handle for grip. I think each taping probably lasted one game.) Ditto: pads, guards, pucks, baseball bats and mitts; cleats and balls of every sort. Golf clubs, tennis racquets, bowling balls. We didn't live near the ocean or I'm certain there would have been surfboards. Needless to say, not one of these items belonged to me, although I always had skates, both ice and roller.
Title IX's detractors said equality would be the death of college sports.
In those days girls didn't DO sports, but because of my brothers I at least got some exposure to them. In winter, once there was enough snow they would flood the backyard into an ice rink and host neighborhood hockey games. I only occasionally got to play with the stick (which was much too big for me), but I could skate all I wanted. In the summer I'd borrow a glove and they would play catch with me.
Because I was the youngest, I got dragged to happily attended their many games. The baseball games were a favorite. The summer evenings were blissful, the field expansive, and it was mainly an opportunity to run around under the stands and eat junk from the concession stand. But my oldest brother was a really good pitcher, and sometimes when the games were close in the final innings it was very exciting.
Never once in all that time did I expect to play myself. I certainly chafed at all the gender restrictions in place at the time, but in truth, I was never going to play baseball, hockey, or football.
But basketball—now that was another thing entirely. All you need to play is a ball and a hoop, and the neighborhood school had many outdoor courts. There wasn't much chance of getting hurt or (worse as far as my mother was concerned) disfigured. I practiced a lot and got pretty good at it, for a girl.
My one abbreviated experience with team sports happened in the 7th grade. We had a girls' basketball team that played a half-court game. I loved it! I had a good free throw and, if I had position under the basket, a reliable hook shot. But my career was cut short when there was some kind of scandal in the league and most of the season was canceled. The next year I made the cheerleading squad, so once again I became a spectator. It didn't matter since there was no girls' basketball team at my high school anyway.
So imagine my surprise in 1972, when an act of congress leveled the um, playing field. Title IX states in part:
No person in the United States shall, on the basis of sex, be excluded from participation in, be denied the benefits of, or be subjected to discrimination under any education program or activity receiving federal financial assistance.
It was too late for me, but I watched with a mix of joy and envy as the next generation of girls got the support we didn't. I've also watched with wonder and awe what they've been able to accomplish. I still love basketball, and women's college ball is more enjoyable to me than the men's game. And as this generation transitions into coaching roles, I expect the level to continue to improve.
But that's not even the point. As we all know, team sports is about more than the game—the lessons learned there are just as valuable for girls as boys.
Besides, it's just fun.
Patricia
Patricia is a co-founder of Retrospect, and generally can be found two standard deviations from the mean on most issues. Lover of chef's tasting menus, cute shoes, and the music of Brahms.
Tags: Basketball, Title IX
Characterizations: moving, right on!, well written