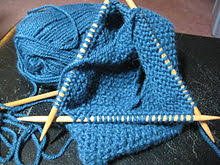 Last year, the year of lockdown and confinement, I was finally able to achieve a longtime goal: to walk the entire Camino de Santiago–a journey of about 480 miles. And then I decided to climb Mt. Fuji, a short hop of only 46 miles. I am currently traversing the Southern Island of New Zealand, on an Alps to the Ocean challenge of 180 miles. Next up: Kruger National Park in South Africa, for another 256 miles.
Like everyone else, I've also been staying home.
Denied the ability to attend my beloved  aqua aerobics class once the pandemic shut down the pool, I searched for other ways to keep moving. Somehow, and I don't remember where or when because time has lost all meaning, I discovered the Conqueror Virtual Challenge app. Every move I make, every step I take, is entered into my activity tracker and transferred to the app at the end of every evening. It's been a great motivator to keep walking in my local parks and in my neighborhood while experiencing these virtual journeys across the world. And, when you finish, they send you a medal. What will I do with all this hardware? I don't know. For now, I'm putting them in a special place.
When we rebuilt our house after the fire, we designed a tap studio for my son who was in 5th grade. Adjacent to the garage, the long narrow room has a wall of mirrors, a floating hardwood floor and plenty of overhead light. My son used the room often enough to scuff the wood floor quite a bit. Since the pandemic started, my tap and exercise class went to Zoom, so I was spending more time in the room with bare, gray concrete walls and the scuffed up floor. Some time in the last year (see above for time losing meaning), I decided to get the floor refinished, paint an accent wall, and furnish the space with a couple of pieces to store equipment, DVDs, my tap shoes and other odds and ends. I researched painting on concrete and chose a very pleasing shade of blue (like Myrna Loy in "Mr. Blandings Builds His Dream House," I knew just what I wanted). While listening to "This American Life" and other podcasts, I primed and painted my blue wall to complement the new clock I'd bought on Etsy. I hung a couple of photographs on one of the concrete walls, put together the furniture I bought (both in white), and now every time I go down there to do my Yoga with Adriene or exercise with my  Zoom class, I feel as though I accomplished something that is both aesthetically pleasing and life-affirming. Also, I did a very good job with the paint and had no pieces left over when I put the furniture together. Win-win.
As the year at home began, I spent many hours on the couch also–don't get me wrong. I knitted baby blankets, scarves, fingerless gloves, another blanket, a pair of bees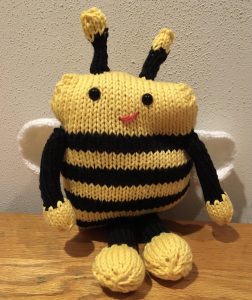 for grandchildren, and two little nurses for my daughter the nurse. This also involved a LOT of binge-watching.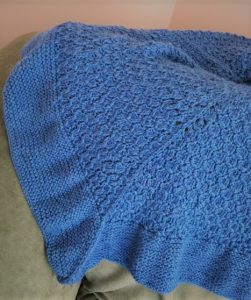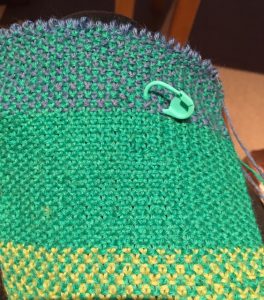 Keeping feet and fingers busy during this most challenging year, I have something(s) to show for how I spent my time. The blue blanket was supposed to be my "big pandemic project." I really thought it would take me so long to make that this whole shelter-in-place thing would be long past by the time I finished it. Little did I (or any of us) know…
Risa Nye
Characterizations: funny, right on!, well written