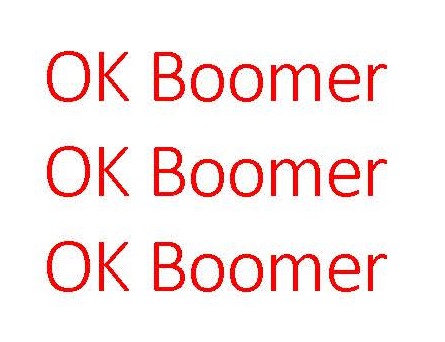 If we believe media, social and traditional, we'd think there was an all-out war going on between GenZ in particular and Baby Boomers. While there definitely is friction, think of what we all could accomplish if all parties stopped eye rolling and publishing memes (GenZ) and lecturing (Boomers) and started working together. Here's my take on an imagined conversation between the generations.
Think of what we all could accomplish if all parties stopped eye rolling ... and lecturing ... and started working together.
Z: The education system has failed us. You Boomers had all the advantages and could afford it.
B: You have a major point there in terms of how expensive education is today, and the lack of support of K-12 education. We were more fortunate, and those of us in leadership haven't done enough to address the struggles you have.
Z: And the climate … you have screwed up our planet.
B: We haven't done enough, that's for sure, but with the exception of the climate-denying minority, we do care. Are we perfectly green? Far from it, but many of us are open to learning and working with you. Most of us have grandchildren and we want them to live in a sustainable world.
Z: Aren't you ready to retire? How about making room for the younger generations to move up?
B: I'm sure many Boomers would love to retire but can't afford it. We are experiencing the same challenges as you are in paying for our healthcare and helping our families. Not to mention that, if we lose a job, the chances aren't great that we'd fine another one. Ageism is real.
Z: Then why do you work so hard if you are helping your families? That's all you care about, putting in the hours!
B: Old-school expectations were different when we first got to the workplace. No one had heard of flex time or flex anything. As a large generation, we faced a lot of competition. If you didn't perform, there were a line of other Boomers ready to take your job.
Z: You are clueless about technology. Why can't you get on board?
B: Technology likely won't be as intuitive to us as to you, but many of us are tech-savvy. And, there is more to life than coding. For instance, how about studying history to understand the previous generations?
Z: Well, historically speaking, you had all the advantages of the post World War II economic boom!
B: Indeed we were born at a lucky time and had an edge, no question. But not all of us lived well at first, and we lacked what you'd consider necessities. My life was pretty spartan after college. I had no gadgets and devices, just a land line phone and a portable typewriter. As a grad student I often ran out of food before the end of the month. At age 24 I finally had a black and white TV with a coat hanger as an antenna. I was 29 before I got my first new car. You get the picture.
Z: So what have you done in terms of social activism and justice?
B: We fought for a lot that might seem "normal" to you. Have any of you been drafted? Thank the protests against the Vietnam war. Have you ever seen help wanted men/help wanted women ads? No? We jeopardized our jobs when we complained to advertisers. And, if you are female, your starting pay likely isn't 70% of your male colleague's, and you can get a credit card. Are you in the LGBTQ community? Our efforts have helped it become safer for you to come out.
Z: How about helping us out? Can't you get out of your house?
B: Absolutely. Can you look up from your phone more? Let's get out on the street and work together!
Marian
I have recently retired from a marketing and technical writing and editing career and am thoroughly enjoying writing for myself and others.
Characterizations: right on!