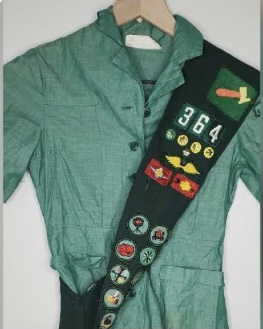 I was never a Brownie – I don't remember why,  I guess it was just another example of my parents' negligence.  (See Tennis Woes)
Instead,  when I was in 4th or 5th grade,   too old for Brownies,  they signed me up for Girl Scouts.   But most of the other girls in my troop had been Brownies first and had "flown up" in a ceremony that sounded very special to my envious 9 year-old ears.
To be honest I don't even remember what we did at those scout meetings other than memorizing the Girl Scout Promise.
"On my honor I will try / To serve God and my country / To help people at all times / And live by the Girl Scout Law"
And other than selling Girl Scout cookies,  I don't remember what I did to earn those coveted badges.  (I do remember that one of my badges was for sewing,  but since my stitches weren't very neat I insisted my mother sew my badges on my uniform sash.)
And I remember that many of the girls in my troop were also in my class,  and we proudly wore our Girl Scout uniforms to school on the days we had our after-school meetings.
However one classmate who wasn't in my troop was my very best friend Myra.   And although I shared all my secrets with Myra,  and we hardly ever had a fight,  it bothered me that she wasn't a Girl Scout.
For would you believe –  my very best grade school friend Myra was a Campfire Girl!
Dana Susan Lehrman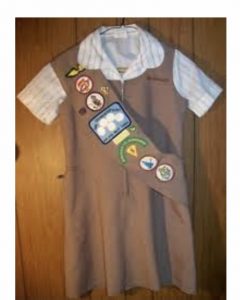 Dana Susan Lehrman
This retired librarian loves big city bustle and cozy country weekends, friends and family, good books and theatre, movies and jazz, travel, tennis, Yankee baseball, and writing about life as she sees it on her blog World Thru Brown Eyes!
www.WorldThruBrownEyes.com
Tags: Girl Scouts, Campfire Girls
Characterizations: funny, well written