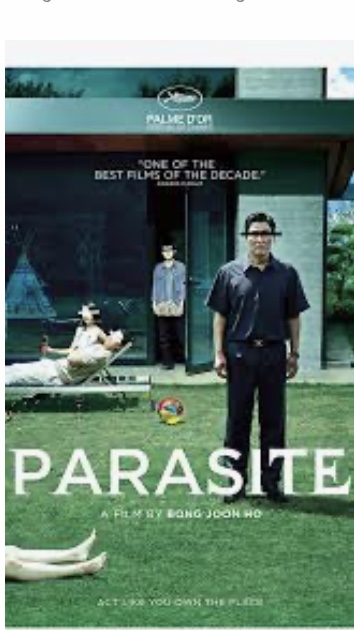 I love the movies and try to see all the good stuff.
Last month I read the glowing reviews of Parasite ,  the new South Korean film directed by Bong Joon-Ho,  the Palme d'Or winner at Cannes.  And then when friend after friend after friend recommended it,  I was really intrigued and put it on top of my must-see list.
We had planned a weekend visit to out-of- town friends and they had suggestions for fun things to do.  I asked if they hadn't seen Parasite might we also see that one night,  and so we did.
And despite the rave reviews and all the enthusiastic recommendations from friends,  all four of us disliked it.
I understand the film's condemnation of the classism and inequality that's rampant,  not just in Korean society but  elsewhere in our sorry world.   And I grant that the violence in the film is not gratuitous,  and the acting is first-rate.   And I don't demand happy endings in books or in films,  but might I get just a glimpse at redemption,  or a sliver of hope for some resolution?
On the other hand a film whose theme is also the disparity between the rich and the poor is the beautiful and wondrous Roma, written and directed by the gifted Mexican filmmaker Alfonso Cuaron.  You may remember at last year's Oscars Roma garnered well-deserved awards for best foreign film, best direction and best cinematography.
If you must see Parasite,  go ahead,  but then please watch, or watch again the magnificent Roma and tell me what you think,
Dana Susan Lehrman
Dana Susan Lehrman
This retired librarian loves big city bustle and cozy country weekends, friends and family, good books and theatre, movies and jazz, travel, tennis, Yankee baseball, and writing about life as she sees it on her blog World Thru Brown Eyes!
www.WorldThruBrownEyes.com
Tags: Movies