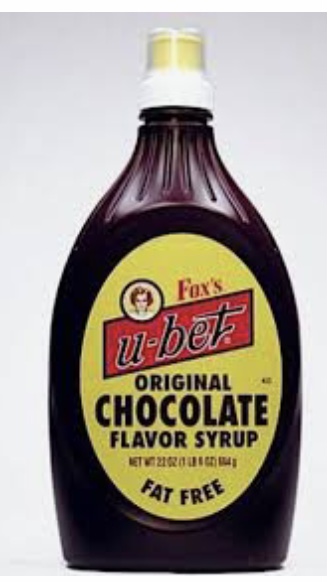 Egg creams are like mother's milk for us New Yorkers and they're on the beverage menu in every coffee shop and diner in the five boroughs.   Yet apparently in other parts of the country this ambrosial comfort drink is practically unknown!
After visiting friends in Pittsburgh years ago,   we were waiting for our flight home when we went into an airport coffee shop.   My husband Danny asked for a chocolate egg cream and the guy behind the counter looked puzzled.
"I can make malteds and cream sodas and milkshakes,  but I never heard of an egg cream,"   he said,  "what is it?"
"It's a fountain drink made with three simple ingredients," Danny told him, "but the key to making a good one is the order you mix them.   If you're willing to try I'll tell you how."
He was willing,  and following Danny's  instructions,  he took a tall glass,  poured in about two fingers of chocolate syrup,  mixed in about the same measure of milk,  and then poured in seltzer while stirring briskly,  leaving a few inches at the top to create a foamy head.
"But what about the egg?",  he asked.
And Danny explained,  "The term 'egg cream' is really a misnomer,   it refers to the foam that LOOKS like beaten egg whites,  and makes a white mustache on your upper lip when you drink it."
Then Danny tasted his Pittsburgh egg cream and gave a thumps up.   The counter guy beamed.  "It's on the house."  he said.
But what about the cream you may ask since the recipe calls only for milk.   Well,  not always it seems.   We've had the best egg creams at Silver's out in the Hamptons where we've spent many beachy summers.   (See The Great Hampton Babysitter Heist and Skinny Dipping)
We once asked them what makes Silver's egg creams so rich and delicious.  They use cream instead of milk,  we were told,  and the heavier the better.
And it makes a better mustache too!
Dana Susan Lehrman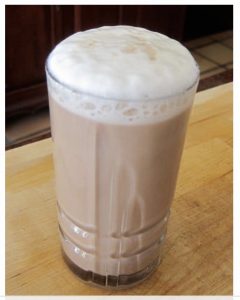 Dana Susan Lehrman
This retired librarian loves big city bustle and cozy country weekends, friends and family, good books and theatre, movies and jazz, travel, tennis, Yankee baseball, and writing about life as she sees it on her blog World Thru Brown Eyes!
www.WorldThruBrownEyes.com
Tags: Beverages
Characterizations: funny, right on!, well written