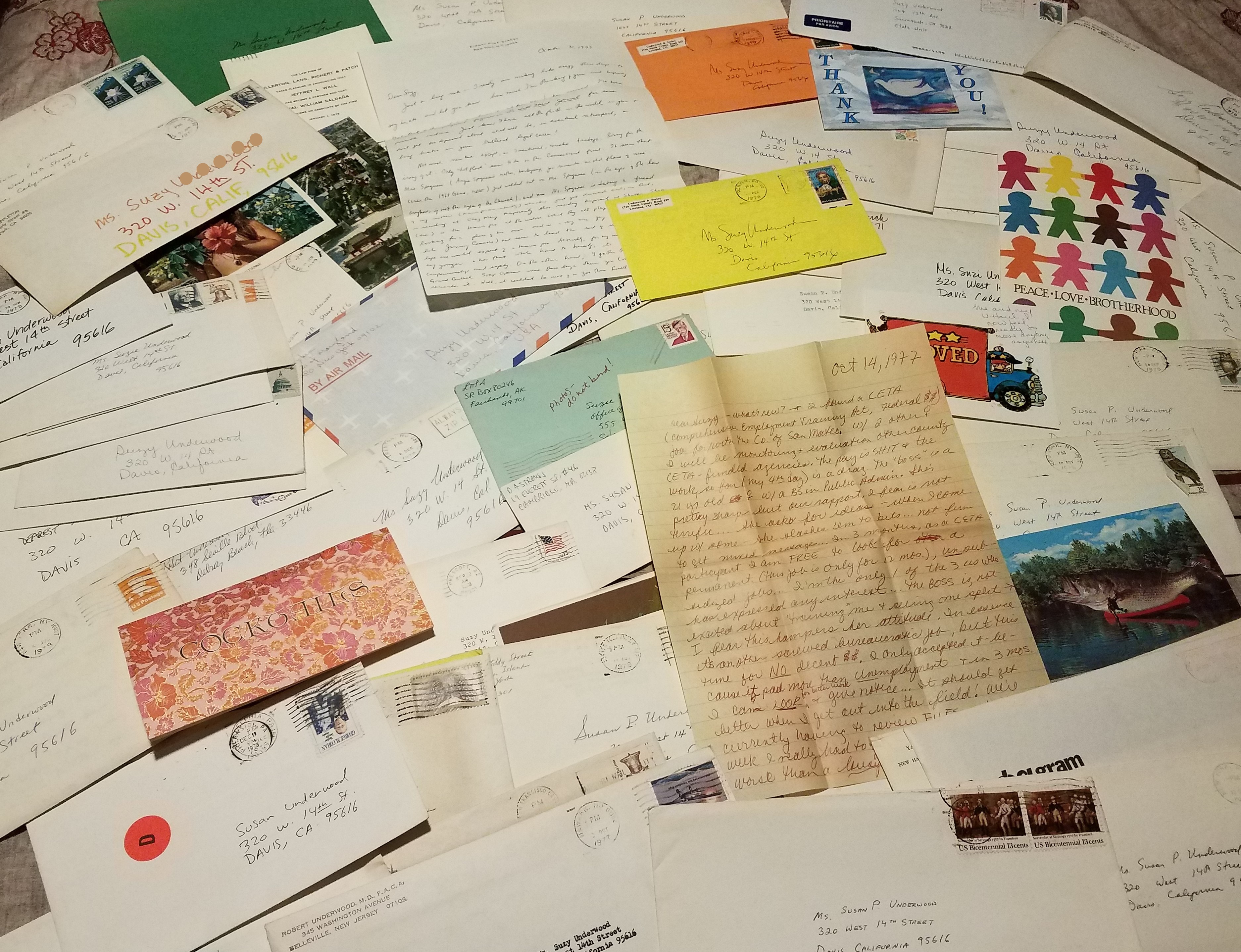 The Marvelettes had it right with "Please Mr. Postman." Back in the pre-electronic days, waiting for the postman to come with the day's mail was agonizing when you were hoping to hear from someone ("Is there a letter in your bag for me?"). If there was nothing it was such a letdown. ("So many days you passed me by/ You saw the tears standin' in my eye/ You wouldn't stop to make me feel better/ By leavin' me a card or a letter.")
From the time I started going to summer camp in 1959, there were always letters flying back and forth during the winter with camp friends. When you received a letter, it was expected that you would sit down that very day or at worst the next to write an answer, so that it would get there within the week. At least, that's how we started out every fall. Once school and other activities got into high gear, the speed of replies got gradually slower, but they always came eventually.
The summer after 10th grade, when I went to Mexico, I corresponded copiously with my friend Robin who was spending the summer down the shore (she filled me in on the Jersey gossip, and gave me advice about dealing with my Mexican boyfriend Vicente). After college, I kept in touch with my closest college friends by letters. Long-distance phone calls were too expensive, so it was really the only way to communicate.
Nowadays the only things that come in the mail are bills and ads and requests for money. And the New Yorker. But even the New Yorker can be read online, and usually that's how I find myself reading it.
To do my research for this story, I started going through boxes of old letters. Then I couldn't stop. It's a wonder that I have finally exerted the self-discipline to stop reading and start writing. Just handling these old letters is such a powerful experience. Looking at the envelopes I can easily identify whose handwriting is on each one, even now so many decades later.
There are many picture postcards sent by friends or family who were traveling abroad. I remember every time I went to Europe I always had to make a stop in each new city or country to buy postcards, and then another stop at the post office to buy local stamps and mail them. Even if it was towards the end of the trip, and I was likely to get home before the postcards arrived, it was still necessary to perform this ritual. That also reminds me of going to the American Express office in every European city I visited to pick up mail. There would always be a long line of young people, mostly American, checking for mail. It was a fun place to meet people, but still so disappointing if, once I reached the front of the line, there were no letters for me. Usually there would at least be a note from my mother, and sometimes from friends as well.
The letters and cards in the featured image were in a box of correspondence from 1977-79, all addressed to me in the last house I rented in Davis, before buying a house in Sacramento. It has been quite a trip down memory lane to read them again. In many cases, the envelopes had resealed themselves, so it was like opening a new letter.
Some were congratulating me on graduating from law school or on passing the bar.
There was an invitation for Cocktails on Wednesday, December 20, 1978 from my boss at the Attorney General's Office and his new wife (it's the orange rectangle on the left side of the picture, two-thirds of the way down). I wonder if I went or not.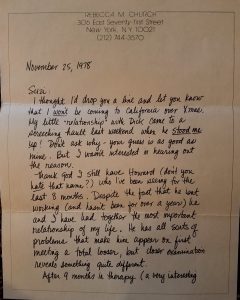 A letter from my friend Rebecca who was an artist and graphic designer is written in her neat and perfectly straight handwriting, on stationery that has her name and address printed on it. She was writing to tell me that she would not be coming to California to visit me, because she broke up with the guy who was going to pay for the trip. She is another person I would very much like to track down, but the multiple times that I have tried, I have had no success whatsoever. There are dozens of women with the same name as hers, and she might not even be using that name any more.
A law school roommate writes to me from Palo Alto with lots of news about the renovation she and her now-husband (who she met through me) are doing on the house they just bought. That is the same house where I went for the first of two New Year's Eve parties described in Closing Out the '70s in my 20s. And they are still living in that house now! So apparently the renovations, as annoying as they were at the time, have held up well.
My friend Arlene writes, "Just a short note to let you know that I'm still alive and to find out if you are too." That letter was written from Mount Pleasant, Michigan, where she had spent the year teaching at Central Michigan University. In the same box are letters from her that were sent from Philadelphia and from Belgium, and none of them are dated (and the postmarks are illegible). I know she had jobs in both of those places, but I can no longer remember in what order or for how long. Not that it matters at this point, but I'm sure at the time I thought I would never forget any of it.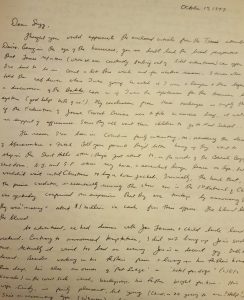 A college friend who has become a lawyer in New York has numerous letters in that box, some several pages long in very small handwriting, written on the stationery of the law firm where he worked. They generally start out with phrases like "Just your basic hello note . . ." and then go on to fill me in on all the doings of our various college friends. Sometimes they refer to something I must have written in an earlier letter. At the time I know I could read them with no problem, but now his tiny cursive is a challenge to my aging eyes.
A letter from my college boyfriend responds to one from me, in which I apparently chastised him for not writing. He says, "I confess I was taken aback by your note. I had thought that it was you who owed me a letter, for whatever that's worth. In any event, for myself I would have thought that the way to improve a relationship or a correspondence is to improve it, not to demand that it be improved. I also am not sure that the application of confrontation tactics to personal affairs is such a good idea, or indeed that it can ever be more than self-defeating, but maybe that is wrong too." Wow! I am mortified all over again 42 years later, and feel as if I should write to him now to apologize. He did have another chatty paragraph after the one I quoted, and he signed the letter "Love," so maybe once he got that out he felt better.
There are many letters from my mother, usually containing clippings of newspaper or magazine articles she thought I would be interested in. Now that she is gone, it makes me happy to see her handwriting on the envelope and on the cheery note inside, even if it just says "Thought you would like this article."
There are some envelopes from my father too, in his distinctive doctor handwriting. The letters are usually about financial matters, sometimes just sending brokerage statements or tax-related documents, but always with a handwritten note stapled to them. The most touching one said, "your mother just left for Colorado. The house is like a morgue." She must have been going to visit my middle sister, who had had a baby the year before, and since this was before he retired, he hadn't been able to go with her.
There are many more, from friends that I am still in touch with and from friends that I have forgotten. But with all of them, there is pleasure in the feel of the envelope, the act of taking out the letter and unfolding it, and then reading the words in that person's distinctive handwriting. With email and texting we have lost all of that, and I miss it.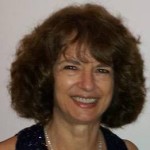 Suzy
Characterizations: moving, well written