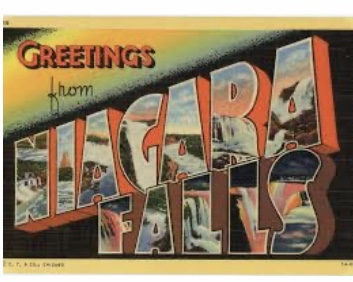 I don't remember how it started, or which one of us sent the first one,  but when we were in junior high my best friend Stephanie and I began sending each other picture postcards that we'd sign "Love from your Secret Admirer".
I know it sounds like a silly adolescent game – which of course it was – but the surprising thing is we continued playing it through high school,  college and beyond!
We kept it up when we were both young marrieds  living in Manhattan directly across town from each other – Stephanie and her husband Harvey on West End Ave @  W 90 St,  and me and Danny on East End Ave @ E 90 St.
Harvey and Danny became good friends – both having grown up in Queens and both somehow Yankee fans – and as a foursome we had wonderful times day-tripping and vacationing together.
But then juggling newborns and demanding careers we saw each other less often.  And then with our growing kids in different schools,  and our differing commitments,  months might go by until one of us called,  we made plans to meet,  and it was like old times again.  And although those postcards from trips, museum exhibits,  restaurants, and tourist attractions arrived less frequently,   they continued to criss-cross the city.
I had always greatly admired Stephanie,  and was in awe of her beauty,  her intelligence,  her compassion,  her ethical stance,  and her activism.  She was soft-spoken,  yet self-possessed,  suffered fools gladly and spoke wisely,  and involved herself in the important social justice initiatives.   A compassionate social worker,  she ran the social work program at Jewish Theological Seminary,  and her work and her passions kept her very busy.   But happily in later years with our kids grown we both found more time to reconnect.
And then 11 years ago Stephanie was diagnosed with uterine cancer.  My beautiful and brilliant friend died soon after her elder daughter's wedding.
Harvey was devastated but coped as best he could.  Then one day he asked me to help him go through Stephanie's things.  I knew she was a saver,  and wasn't surprised when he showed me boxes and boxes of letters and memorabilia.
And then,  in the back of Stephanie's closet we found a shoebox filled with picture postcards,  all signed  "Love from your Secret Admirer".
You see my wonderful Stephanie,  it was me all along.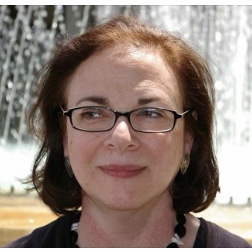 – Dana Susan Lehrman
Dana Susan Lehrman
This retired librarian loves big city bustle and cozy country weekends, friends and family, good books and theatre, movies and jazz, travel, tennis, Yankee baseball, and writing about life as she sees it on her blog World Thru Brown Eyes!
www.WorldThruBrownEyes.com
Tags: Friendship, Postcards
Characterizations: moving