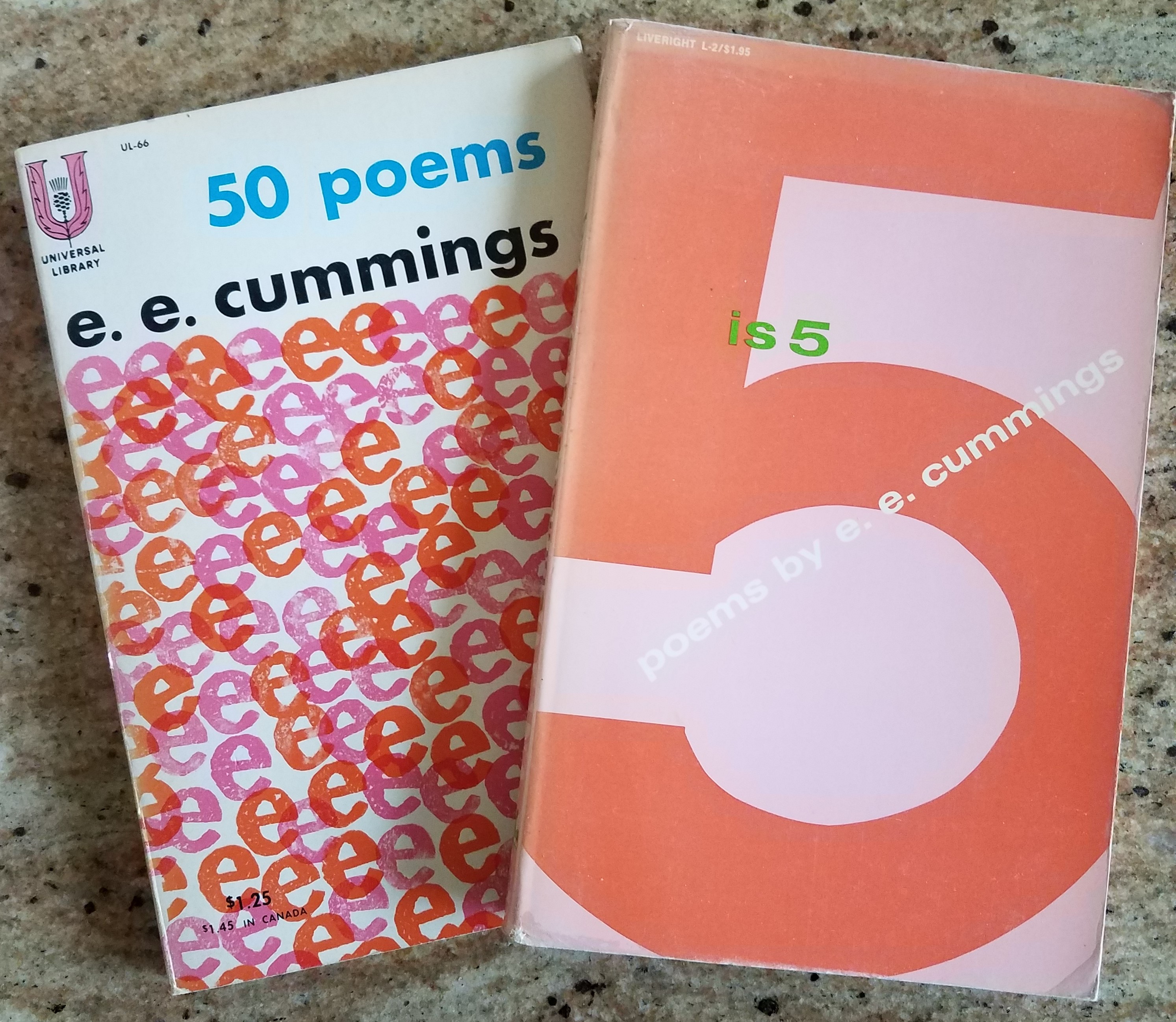 There are many poets whose work I cherish. For instance, Robert Frost. I can easily recite all four stanzas of "Stopping By Woods on a Snowy Evening" and most of "The Road Not Taken," although I don't recall ever intentionally trying to memorize them. I love anything by e. e. cummings. I don't know any of his poems by heart. They don't rhyme, which makes them harder to memorize. And his unorthodox spacing of words and lines makes his poems better to read than to hear anyway. My college boyfriend gave me two books of his poetry for our first anniversary, which I still take off the shelf and read from time to time. I also like to read women poets (or poets who happen to be women), like Emily Dickinson, Sylvia Plath, and Maya Angelou, to name a few.
However, when I first thought about this prompt, there was only one poem that immediately leapt into my mind. In eighth grade, for one marking period, instead of our English class we had Speech. I don't remember too much about the class, other than the fact that we all had to memorize the following poem. We didn't need to understand what it was about, we just had to practice reciting it with dramatic intonation.
Fat black bucks in a wine-barrel room
Barrel-house kings with feet unstable
Sagged and reeled and pounded on the table.
Pounded on the table
Beat an empty barrel with the handle of a broom
Hard as they were able- boom, boom, boom
With a silk umbrella and the handle of a broom
Boom lay boom lay boom lay boom.
I never knew until I googled it for this story that it is just the opening stanza of a much, much longer poem called "The Congo" by Vachel Lindsay. The poem is subtitled "A Study of the Negro Race." He first performed it in public to great acclaim in 1914. Later it became controversial. Certainly in the current times I cannot imagine any teacher assigning it to a high school or middle school class. But in my 1964 eighth grade class nobody batted an eyelash. Of course, that may be because we never discussed the meaning of the poem. I didn't realize until now that the "fat black bucks" he speaks of are actually people. What we were focused on was the cadence of our voices as we recited it. The booms had to be loud, of course. On the line about the silk umbrella and the handle of a broom, we raised our hands and our voices up and then back down again in an arc.
There were 31 students in my 8th grade class, 29 who are still living, and I have email addresses for all of them. While contemplating this prompt, I sent an email to everyone asking if they remembered the poem, in which year and which class we memorized it, and who was the teacher. I got numerous answers, with some disagreement about the year and the teacher, but EVERYBODY remembered the poem. And that was fifty-five years ago! We may not be able to remember where we left our car keys or who we had dinner with last week, but we have never forgotten this poem!
According to one source I read, Vachel Lindsay was the most popular poet in America in the 1920s. He was friends with W.B. Yeats, and Yeats looked up to him! His poems were in all the anthologies in the '40s, '50s, and '60s. However, by the '70s his poetry had fallen out of favor, and in the '80s he was removed from the Norton Anthology. He never knew about any of this, because he committed suicide in 1931 by drinking a bottle of Lysol. His last words were: "They tried to get me; I got them first!"
On a very different note, once I had children, I discovered the poetry of many children's books. A favorite of all my children when they were young was Madeline, which is written entirely in verse. We read it so many times that they easily memorized it. I have a vivid image of Molly, my youngest, at age three at the library with a big hardcover edition of Madeline on her lap. Even though we had our own copy at home, when she saw it at the library, she wanted to "read" it there too. She was reciting it as she turned the pages.
In an old house in Paris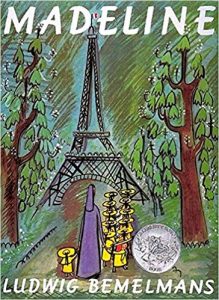 That was covered with vines
Lived 12 little girls
In two straight lines . . .
The smallest one was Madeline.
A six-year-old girl we knew was at the library that day, saw Molly and was astonished that she could read so well at such a young age. She made a comment to me. I was tempted not to, but I admitted that Molly was not really reading it, she knew it by heart, which made the other girl feel much better.
Song lyrics are yet another form of poetry, and my brain is filled with a million songs that I have learned, starting when I was a small child, and have never forgotten. I can easily memorize songs even if they are in a language I don't know. I learned the Marseillaise at age ten or so, entirely phonetically, and can still sing it even though I have only a slight knowledge of French. I can also sing the Ode to Joy from Beethoven's Ninth at the drop of a hat despite not speaking a word of German. In fact, I used to sing it so much to my daughter Sabrina when she was little that she knows all the words too, and she doesn't speak German either.
If I had gone to college at a different time, I definitely would have been an English major. But in the late sixties-early seventies, politics and revolution were all I could think about, so I majored in Government. Now, in my retirement, I am catching up on the novels — and poems — I didn't read then.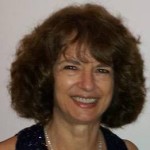 Suzy
Characterizations: been there, well written