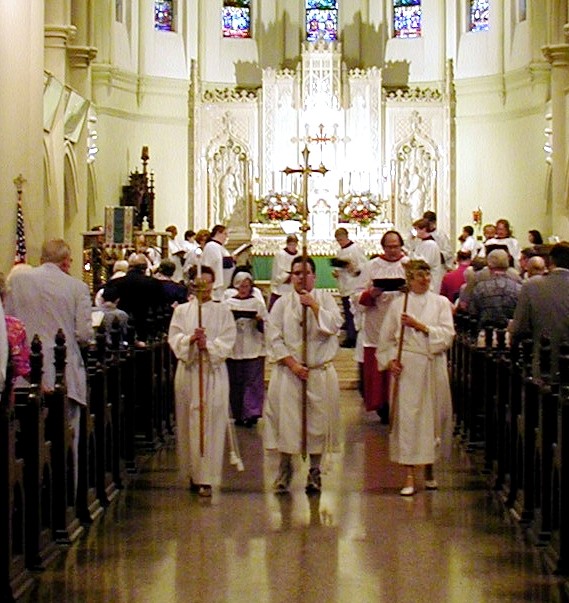 I. Python background
By Christmas eve, I was both sleep deprived and overstimulated ... As midnight approached, I felt positively grinchy.
I've enjoyed Monty Python's Flying Circus since the 1970s. In addition to all the slapstick and famous sketches, I appreciated the subtle and not so subtle satire of any "establishment" institution, including religious ones. While the Spanish Inquisition is one of the more popular sendups, often Anglican church bishops, priests, and officials appear as background in other sketches, in deadpan serious processions with beautiful vestments, holding crooks and crosses. These images must have stuck in my subconscious mind, only to surface in a rather crazy way many years later, as the following incident shows.
II. First and only Episcopal Christmas
As a Jewish woman raised in a conservative household, I didn't expect to know a lot about family Christmas traditions, but the Christmas of 2000 revealed how great my ignorance was. I'd been looking forward to winding up a very happy year by experiencing Christmas with my lover "James" and his housemate "Carol." But by the week before Christmas, I was feeling out of sorts.
Over at James' house, each night we'd been up until all hours arranging, decorating, shopping, and putting up a large tree in the family room. When it was time to decorate the tree, James handed me a bunch of tinsel and went off to the other side of the room to string lights on the fireplace mantel. I stood there holding the tinsel without the faintest idea of what to do with it. James and Carol turned around and burst out laughing.
By Christmas eve, I was both sleep deprived and overstimulated by all the Christmas glitz, but looked forward to attending my first midnight service for Christmas at Carol's church, All Saints Episcopal Church, in Palo Alto. A severely lapsed Catholic, James still appreciated the pageantry in the service and wanted to support Carol, who was very active in the church. In previous months I heard her stress over being called to do readings. All I could think was, "Stressed? Over readings in English? Nothing like trying in Hebrew. A different alphabet. Right to left. And possibly from a scroll. Caligraphy. No vowels or punctuation …" As midnight approached, I felt positively grinchy.
The night was chilly by California standards, and the three of us could see our breath as we got out of the car and walked toward the gray stone church, which took up a large portion of a square block in downtown Palo Alto. Inside the sanctuary, the pews were full, and there were beautiful fabric hangings. The room quieted as the priest walked in, a pleasant woman with short, silver hair, dressed in red and gold.
I don't recall much of the next few minutes, until, at the other end of the sanctuary, large doors opened, and then began a stately, slow procession of people, also dressed in red and gold, heading toward the altar. They wore dignified expressions and never cracked a smile. Alas, the procession looked exactly like the one in a Monty Python skit I'd seen years before.
I almost couldn't contain my laughter and must have turned as red as the vestments as I tried to maintain composure. Over the next few minutes, I tried coughing, taking tissues out of my purse, turning my head, pretending I dropped something. James and Carol were taking this service seriously, and every once in a while glanced my way, but I couldn't tell them what was so funny. I kept smiling through the rest of the service, suppressing the occasional giggle. At least my internal laughter banished the grinch. To this day, I smile when I recall that procession.
III. Coda
I wasn't able to find the exact video of a Monty Python church procession online, but if you like their humor, you can view the Dead Bishop sketch on YouTube to get a general idea.
James' and my relationship started to slowly unravel after the Christmas of 2000. The entire relationship is summarized in my story "Found-Lost-Found-Lost-Found?".
All Saints is a real Episcopal Church in Palo Alto, and no disparagement of it or their members is intended in this story. The congregation is liberal and generous, having run one of the first and best free food distribution services in the area. The church is involved in interfaith activities. Several years after the events in the story, they opened their doors to my small Jewish Reconstructionist congregation, which didn't have a building, so we could have a party to celebrate our 20th anniversary. From then on, we have referred to the church as Beit Kol ha Tzaddikim (house of all the righteous), the highest term of respect short of saints.
Marian
I have recently retired from a marketing and technical writing and editing career and am thoroughly enjoying writing for myself and others.
Characterizations: funny, moving, well written