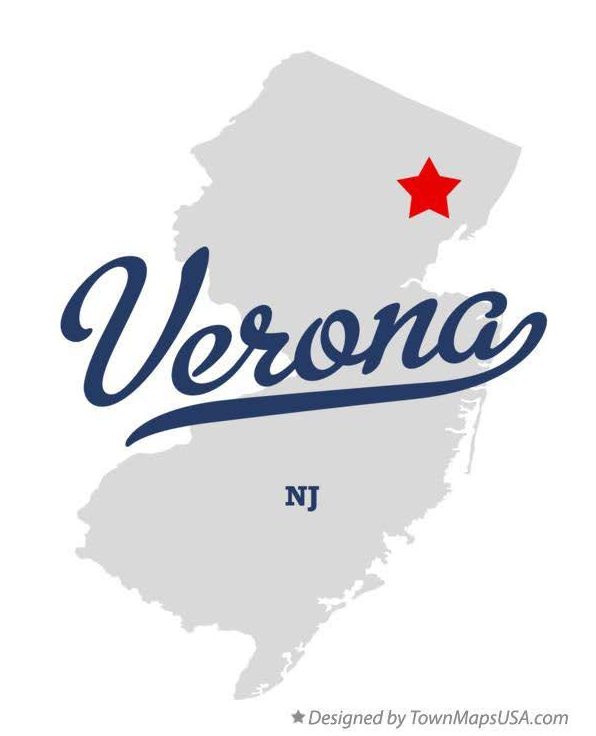 I have two hometowns, the first, Verona, New Jersey, where we lived until I was 11, and then North Caldwell, New Jersey, where we lived until I went to college. In most ways they were typical for those times. As long as I could remember, I felt stifled by the conformity demanded, and I didn't fit in. Perhaps it was more the era itself and every town would have elicited the same feelings. I don't know. Thinking about this prompt, I recalled a lot of interesting events and characteristics of the towns, along with some fun memories.
All seemed very normal in this town, as long as you stayed in your lane.
But, I was very glad to leave these towns, New Jersey, and the east coast in general when I got the opportunity. When my father had a job transfer to northern California and said I could stay on the east coast or come along, I thought about it for five seconds and replied that I was out of New Jersey. Coming to Oakland, California, was a revelation. I felt that, for the first time, I could breathe and be myself. Would I ever go back to live in either of my hometowns again? Absolutely not. After almost 50 years, I am truly a Californian.
In Verona, we lived in a new development of tiny split-level homes. In the entire quadrant of blocks lived Jews, with the sole exception of the Comisky's, Irish Catholics. Two houses down, where the development ended, began a more elegant, older neighborhood where the Protestants lived. There were a few black people who were restricted to small areas on the other side of town. Italians populated another section, most likely nearer the large church, Our Lady of the Lake (which the kids called Old Lady's Laundry). At the church, many of the Italian kids attended the parochial school, where they were subjected to the old-fashioned discipline of the nuns in their full-length black habits.
The church was near a good-sized lake, where I enjoyed learning to ice skate. The town center had a municipal building, a library, and a pretty park. Also downtown was a shopping street with a small department store, a soda shop, a five and ten, and a shop that sold tobacco, candy, and magazines. As a child, I enjoyed the park (except for the mosquitoes), looked forward to library trips, and of course ate candy from the tobacco shop.
All seemed very normal in this town, as long as you stayed in your lane. It wasn't until many years later that I understood what redlining was and that it had determined which neighborhood we lived in. Within the group you belonged to, your family was a certain way (working dad, stay-at-home mom), your religion was determined (a specific church or synagogue), and even your leisure activities controlled (where you vacationed and what you did). Deviation was discouraged, and you rebelled at social peril. People didn't move around much, and memories were long. Whatever you were like as a child, you were categorized that way for life.
The summer before I entered sixth grade, we moved to North Caldwell, where there were no shopping streets or public facilities, just homes on large lots–the classic bedroom community. My mother had long wanted a home larger than the tiny split level, and the schools in the North Caldwell district were excellent. North Caldwell turned out to be more interesting than Verona, in that there were inklings of social movement. We were only the second Jewish family in town, which created some mild rumblings. Fortunately, we were blue eyed (the real estate agent said that helped), and our surname could be mistaken for German, which quieted people.
All was still not well for anyone not a white Protestant, though. Country clubs and swim clubs, where most residents spent a lot of their summers, were restricted. For a few years we went to a Jewish swim club a few miles out of town, where I endured day camp, weaving lanyards, and making potholders. The only redeeming activities were tennis, swimming, and the Junior Life Saving course I passed. By age 14, I boycotted the club, and my parents joined another one, which was less regimented. Times were beginning to change. Both Christians and Jews were allowed at this club. Not all was perfect, though. In high school I had to explain to some non-Jewish friends that I couldn't come with them to one particularly awful club, run by members of the John Birch society, nor would I want to.
One of my favorite parts of North Caldwell was a skating pond, which its private owner allowed the town to use during the winter, and I loved coming home from school, grabbing my skates, and spending time whirling around the ice. Across from the pond was a 17th-century Dutch stone house, the oldest in town. I was fascinated by its quaintness and the beautiful landscape around it, although no one else seemed to notice. My mother, who was an artist, told me that the house belonged to Lawrence Wilbur, a respected painter, which intrigued me. Later, when I studied poetry, I learned that Lawrence's brother was Richard Wilbur, a poet renowned for his imagery and elegance. Wilbur's nature descriptions perfectly fit my memories of the North Caldwell outdoors.
The biggest change in North Caldwell became noticeable during my high school years, when a lot of new homes were built in the town. To the consternation of more conservative residents, wealthy Italian families began to move in, a whole group of them up the block from us. Their homes were brick and had floodlights in the front yard, and kitchens in the basement.* We tried to be friendly, but the people politely kept to themselves. Black Cadillacs began driving up and down the block. The police told us that if we saw black Cadillacs, we had nothing to worry about. The mob had made it to the suburbs. Turned out they were great neighbors, and we could leave our houses and cars unlocked and remain safe.
A generation later, television's Tony Soprano lived in North Caldwell, where the scenes of his home were filmed. When people asked me if I watched The Sopranos, I explained that I didn't need to, because I'd already lived it indirectly.
My high school classmates stuck close to home. Even if they went away to college, they came back to the area. Only four people who I know of out of a class of over 200 left the state for good. I have been back periodically and enjoyed visiting relatives, but I experience those echoes of conformity. Many of my cousins and classmates behave more like our parents' generation. And, within their group, people dress the same way, eat the same food, and do the same things as the others. Admittedly, I live in a Bay Area bubble now, but gratefully so, with the freedom to step out of my lane every once in a while and try something new.
*The family of the one close Italian friend I had from high school, the daughter of a mob lawyer, had a kitchen in their basement, the purpose of which was to protect wives and children from active threats during mob wars.
Marian
I have recently retired from a marketing and technical writing and editing career and am thoroughly enjoying writing for myself and others.
Characterizations: moving, well written