For me, I consider Arroyo Grande California as my hometown.  Our family moved there when I turned 14, just as I started high school.  Before Arroyo Grande, I had eleven different addresses, from New Mexico, Texas, South Dakota, Washington and California.  These frequent moves were the result of my father being in the US Air Force and then going to work for Boeing on various projects.  We did live in Bellevue Washington for a few years when I was in elementary school.  However, when I was in fourth grade, it was off to Los Angeles.  Finally,  dad decided to become a math teacher, and mom joined him as a teacher.  After a year at Cal Poly San Luis Obispo, we landed in Arroyo Grande.
A very nice place for me to spend High School on California's central coast, Arroyo Grande. It's my home town.
Arroyo Grande was a nice place to land.  Located on California's central coast, weather was good.  We were less than ten miles from the beach, so recreation opportunities were great.  However, the best thing for me was going to Arroyo Grande High School.  The school's students came from multiple elementary schools, around eight schools (elementary school was grades K-8 in that area).  For the first time, since Bellevue, I was not the new kid on the block trying to break into various cliques and establish friends.  While I still was the new  kid, new friendships were being formed by all the students since there were so many new kids in the mix.  During those tough years as a teenager, it was nice to be in a place where I felt accepted.
At Arroyo Grande High School, I grew in mind, body and maturity.  I was fortunate to have a few great teachers, including an outstanding math teacher, Mrs. Otsuji.  The skills she taught me were put to frequent use since I majored in chemistry in college.
The other good thing was Arroyo Grande was a small town.  You quickly ran into people you knew by just taking a walk downtown, a walk on the beach etc.  In a small town, you established your reputation quickly.  People knew if your word was good.  While the politics were conservative, most people respected other people's views.
The unfortunate fact of small towns is occupation opportunities are limited.  I ended up at San Jose State University, then working in the area.  Most of my classmates left the area for the same reason.  While you can "Go home again", it's not the same.  I guess that is what time does.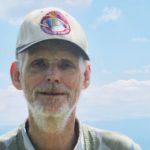 Joe Lowry
I was a child that moved so often, (8 elementary/middle schools) and finally went to to high school in Arroyo Grande California. I ended up at San Jose State University graduating in Chemistry, minor in Biology. Got married, and had two sons. Unfortunately, my wife passed 35 years later. I worked initially in the pharmaceutical industry. After being down-sized, I ended up in the aerospace field, working on satellites. I still live in the San Francisco Bay Area.