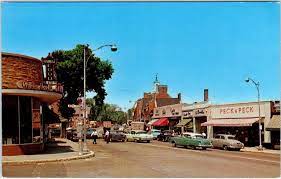 Do they even exist anymore— those small town centers where you know everyone and everyone knows you? I hope so, for the sake of children everywhere. I was lucky, and I hope you were too. My town's center was straight out of It's a Wonderful Life.
________________
I can't wait for you to see them as I do: the industrious shopkeepers, most of them married couples whose stores line our town's main street. Many are the parents of my schoolmates. In some ways they are like parents to me, too.
If you have the time I'd like you to meet Sidney and Teresa Lieb, owners of the only deli in town. Sidney has never known a bad day. He welcomes everyone and looks, behind the counter, like he has just heard (or told) the funniest story. In counterpoint is his wife Teresa, all business behind the cash register. Beneath her gruff mien is a warm, motherly woman who makes the best sour cream coffee cake you ever will taste.
Look now, it's Mr. and Mrs. Hoffman, the florists. They are inviting us in. The flowers' scent is almost too much, the air is too chill–except in July, when I'm eager to visit. Mr. is dressed in his smart dark suit. Mrs. has a thick German accent, the possible significance of which I won't understand until years later. Even to my young eyes they seem an especially simpatico couple. Their son just betrayed my brother in his final election for class president, but we have forgiven him. You can't stay mad in a small town.
Mind your P's and Q's and I'll introduce you to Mr. and Mrs. Rotholz, retailers of elegant women's clothing. Mr. is tall, reserved and sophisticated. He reminds me in looks of Jack Benny. Mrs. is dour, but I think hers is just a case of retailer's sore feet. She usually is seated. In any case, their merchandise is so very expensive. I worry, unnecessarily as it turns out, for their survival.
Mr. Rothenberg is the pharmacist and also a parent of friends. He can't join us right now. In fact, he never steps out from behind the cubicle where he makes up the prescriptions. Instead, let's say hello to Phil, the warm-hearted co-owner of Macy Drug. Phil makes you feel you are the most wonderful child in the world. He actually takes the time to talk with you. (Maybe he'll give us a candy from the dish on the counter.) In his immaculate white smock Phil is so very handsome, so very nice. I'm pretty sure I want to marry him someday, or somebody just like him.
As a kid and then as a teen, I can and do stroll casually into any of these stores and think nothing of it. If, for example, I need a ride home, I ask if they have seen my mother. And if they have seen her or see her later, they do their best to connect us. They watch out for us. It is just that easy.
Would you have just a few more moments? There are others who are equally as welcoming. We'll pick up our pace and meet Mr. and Mrs. Baker, whose store is bursting with fabric for sewing; Mr. Meister, the former commercial fisherman who sells the freshest fish and the best fried clams; Mr. Smith, who owns the old-timey hardware store with its creaky floor and tin ceiling; the jeweler we call "Mr. Bluebird" after the name of his store; Peter the Swedish cobbler, whose trade looks to be on the brink; the hairstylists at Fabyan's who send my mother home every week with blue hair; Mr. Olive, owner of the drug store where we get our popsicles in summer (his son will become our eye doctor); Mr. Ohlin, the prosperous baker who on rare occasions pops out of his kitchen wearing his tall white hat; the dainty, elderly proprietor of The Carriage House gift shop, whose tinkling door bell announces our arrival. Her tiny glass animals and other magical wares overflow their cases in a dark subterranean room reminiscent of Dickens.
Believe it or not, I could go on—but I expect you need to go.
Like this story, such an idyll cannot last forever. In the mid-1960s an historic house will be bulldozed to make way for an ugly new colossus, CVS. We will have a sense of foreboding and we will be right. CVS will deal Macy Drug a death blow. It will be the beginning of a new era of rise-and-fail retail ventures. The deli will survive, but over the years, one by one, shops will close and owners will retire. Slowly but surely just about everything personal will go out of the Center.
Please forgive me. I realize I have become my father, who wistfully recalled simpler days when horses still pulled fire trucks. I understand now how he felt. I will never forget these wonderful merchants, these wonderful friends at the center of our lives.
Our town was a very very very fine town
Susan Bennet
I'm so happy to have joined the gracious Retro family. The basics:
I have a background in marketing and museums.
I come alive when the leaves turn red.
I regret every tech mistake I have made or will ever make on this site.
I want a dog.
Characterizations: moving, well written