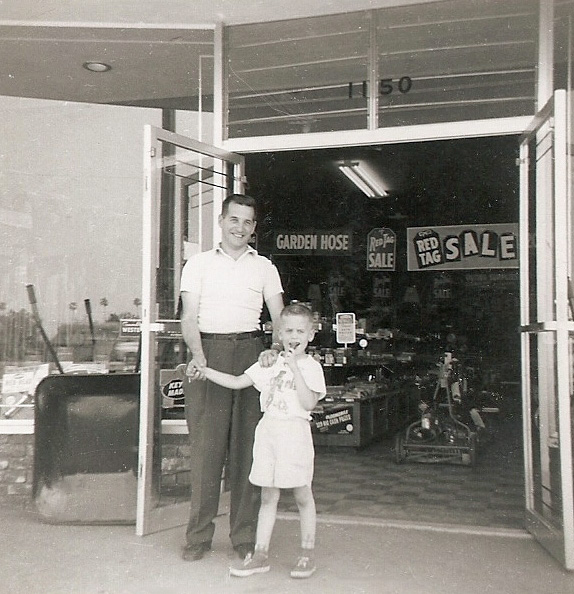 January 1, 1955. My father is watching the Rose Bowl on television. It's freezing in Chicago that day, but bright and glorious in Pasadena where Ohio State trounces USC. Everyone looks happy, healthy. "Wouldn't it be nice to raise these boys in California, where the sun shines all year long?" my dad asks my mother.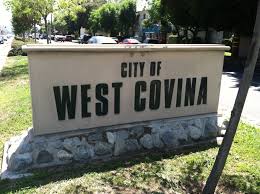 My dad Marv is a do-er, not a dreamer, and over the next three months he unloads his business, the Birchwood Garage, and sells the three-flat building where we live. Five Guthmanns squeeze into a station wagon — Davey is 9 months old — and arrive in California on April 19, Dad's birthday. We don't know a soul in California and Dad doesn't have a job. He places a classified ad in the newspaper ("Seeking business opportunity in the automotive field, can pay cash money"), receives a stack of offers and buys a Western Auto franchise in West Covina, 20 miles east of Los Angeles.
He finds us a three-bed, one-bath house at 916 Herald St. and pays $16,000. Our modest cul-de-sac has walnut trees and parched lawns, and we're surrounded by Baby Boom starter families with every reason to expect bright futures for their children. These are middle-class dads who fought in World War II, with names like Art and Joe and Ed and Maury. Moms wearing pedal pushers and Dinah Shore smiles, with names like Helen and Betty and Florence and Dixie. I go to Kindergarten at Sunset School, my older brother Danny to Coronado School with a teacher named Mrs. Crabtree, the same name as the schoolteacher in The Little Rascals.
Winters are clear and gorgeous in West Covina, and on crisp January days you see a crown of snow on Mt. Baldy. At Christmas, snowmen appear on front lawns, crafted from tumbleweed that blows into town during the sultry Santa Ana winds of early autumn. Neighbors stack the tumbleweed three high, the smallest representing the head, then give it a face and a hat and render it white with sticky spray flocking.
Summers are hot and dry, with sunshine so bright the colors bleach and flatten like an overexposed photograph. Butterflies, caterpillars and grasshoppers are abundant. Ladybugs, pill bugs, the occasional skunk or opossum. One day Dad kills a gopher by flushing it out with a garden hose and cleaving its neck with a swift, violent plunge of a shovel.
Few linger outside in the midday summer heat, but after dinner the Herald Street kids gather on the street and grown-ups fan out to gossip and referee. Screen doors slam, a manual lawn mower calls out kdop-kdop-kdop and baseball games linger until the coppery twilight darkens and the ball can't be seen.
One summer the talk revolves nonstop around Dr. Bernard Finch, the wealthy West Covina physician who killed his wife, Barbara, and whose trial is a media obsession. Suddenly everyone in town knows someone who was a patient of the monstrous Finch; or someone whose uncle dated his wicked mistress, Carole Tregoff; or someone whose aunt cut, dyed and set poor Barbara Finch's hair. It's West Covina's very own scandal and it creates a twisted, reverse civic pride.
I'm thrilled when The Wizard of Oz airs on television once a year. I watch The Mickey Mouse Club after school each day, and laugh hysterically at Andy's Gang when rascally Froggy drives grown-ups bonkers and then disappears in a sassy puff of smoke. I win the neighborhood hula hoop competition one year, and host an impromptu, kids-only political convention in the Guthmanns' garage. Everyone is gung-ho for the Republican incumbent Dwight D. Eisenhower — "I Like Ike" is his campaign slogan — and the one brave girl who raises her hand for Adlai Stevenson is immediately banished.
"How Much Is That Doggie In the Window?" and "Que Sera, Sera" are omnipresent on the radio and one day I hear "You Ain't Nothin' But a Hound Dog" emanating from an outdoor speaker at Cesar's Mexican takeout on Glendora Ave – my introduction to Elvis Presley. When I have a little money, in seventh grade, I buy my first 45 rpm record, The Four Seasons' "Walk Like a Man," at Marty's Music in the Plaza Shopping Center.
Once a week the butter-colored Helm's Bakery truck motors onto Herald Street and everyone gets happy. The driver – he's called the Helmsman — blows a whistle, parks mid-block and onto the street swarm bunches of kids and mothers to buy cookies, cinnamon rolls and sticky, sugar-covered jelly donuts. The trucks are beautifully designed with ultra-long lacquered wooden drawers that slide out the back of the truck, releasing the delicious fragrance of fresh-baked loaves of bread.
Like many Southern California towns, West Covina grows rapidly in the post-war years, its population exploding from 4500 in 1950 to 50,000 in 1960. As a youngster I have nothing to compare it with, so I think my town is pretty cool. There are kids to play with on our cul-de-sac; a movie theater in neighboring Covina where I go alone to see Disney's A Light in the Forest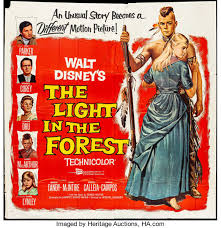 at age 7; and a public swimming pool called Covina Plunge. I can walk to the liquor store once a month to buy TV Guide and read about the upcoming installment of Shirley Temple's Storybook; or visit the Ranch Market on Vine St., where an enormous cooler hums and sweats, offering ice-cold Nehi grape, Hires root beer, Squirt grapefruit and RC Cola in glass bottles.
Housing developments are everywhere in West Covina, but between the swaths of lookalike homes are empty fields where you spot the occasional lizard, jackrabbit or garter snake. When I'm 9 we move across town to Azusa Ave. and close by is one of the city's last orange groves where my next-door-neighbor up-ends the smudge pots that growers install to save trees from winter frost. That neighbor later becomes a cop.
In the eighth or ninth grade, as the blinders of childhood start to lift, it dawns on me that West Covina – "The City of Beautiful Homes" — is in fact bland and homogeneous, culturally limited and deeply conservative. I yearn to roam beyond the immediate radius of our town, to see a play or a movie in Los Angles or Hollywood, but there is no rapid transit system in the Southland. My grade school hasn't a single Black kid, just a handful of Mexicans orJapanese, and in high school you can count six African Americans out of 2200 students.
The Congressional district that includes West Covina is first in the nation to send a member of the ultra-right John Birch Society, John Rousselot, to the U.S. House of Representatives. The man he defeats, George Kasem, is the husband of my second-grade teacher. There are crackpots afoot: at the town's health food store, you can't make a purchase without the bellicose proprietor lecturing you on the encroaching Communist scourge.
And then, at 13, I discover the enchanting The World of Henry Orient and my life is changed. The movie is set in New York City where two pre-teen girls romp through Central Park, go to concerts at Carnegie Hall and reside in cozy East Side brownstones. It affects me so powerfully that I vow to move to New York as soon as I'm able, there to soak up culture and become a new person. At West Covina's public library I study the New York Times' Sunday Arts & Leisure section to see what's opening on Broadway, and marvel at the variety of dance, classical music, opera and foreign films.
My New York fantasy lasts throughout eighth grade and four years of high school, so vividly that I draw floor plans for the brownstone I plan to buy on a leafy Manhattan street. There isn't anything to keep me in West Covina at this point: its politics, its uniformity and lack of imagination stultify me, and when I'm a high school junior and the campus newspaper polls students on their favored candidate for governor, I'm crushed that Ronald Reagan wins two thirds of the vote against incumbent Edward G. "Pat" Brown. I'm a writer for that same newspaper, the Spartan Shield, and when I'm assigned an editorial about marijuana, the vice principal rewrites my piece and adds this infuriating sentence: "The casual marijuana user may embark on his drug experiment innocently enough, only to emerge from his 'high' with needle marks in his arm."
Who wouldn't want to get out? In fact, I never moved to New York, but starting in 1975 I've made one or two trips per year and today I know it so well that I think of Manhattan as my second home. Instead of going to college in New York, I enrolled at Humboldt State in far-northern California, then moved to the San Francisco Bay Area where I still live.
I used to mock West Covina and take a dim view of people who never moved away like I did. I've shed most of that snobbery and realize now that my bias was largely a function of ego — a way to congratulate myself for being cooler than the Southland plebeians. I don't think you can neatly divide communities and regions into Hip or Not Hip any longer. We all occupy the same Information Highway, with identical access to facts and opinions, politics and culture. Also, people can surprise you; you can't reduce anyone to their zip code.
West Covina has changed enormously since I left in 1968. It's racially diverse, with Latinos and Hispanics constituting 53 percent of the population, Asians 25 percent, and has a correspondingly greater variety of restaurants and cultural factors.There are homeless people, the horrible smog of the 1960s and '70s is greatly reduced thanks to auto-emission standards, and a light-rail train now connects residents to downtown Los Angeles. When I make a rare visit, or when I watch My Crazy Ex-Girlfriend, the TV sitcom that made West Covina famous nationwide, I recognize almost nothing. My West Covina is a vapor, a dream; it exists only inside me.
---
Parts of this story appeared in slightly different form in Wild Seed, a memoir I wrote about my late brother Dan.
Edward Guthmann
Characterizations: funny, moving, right on!, well written